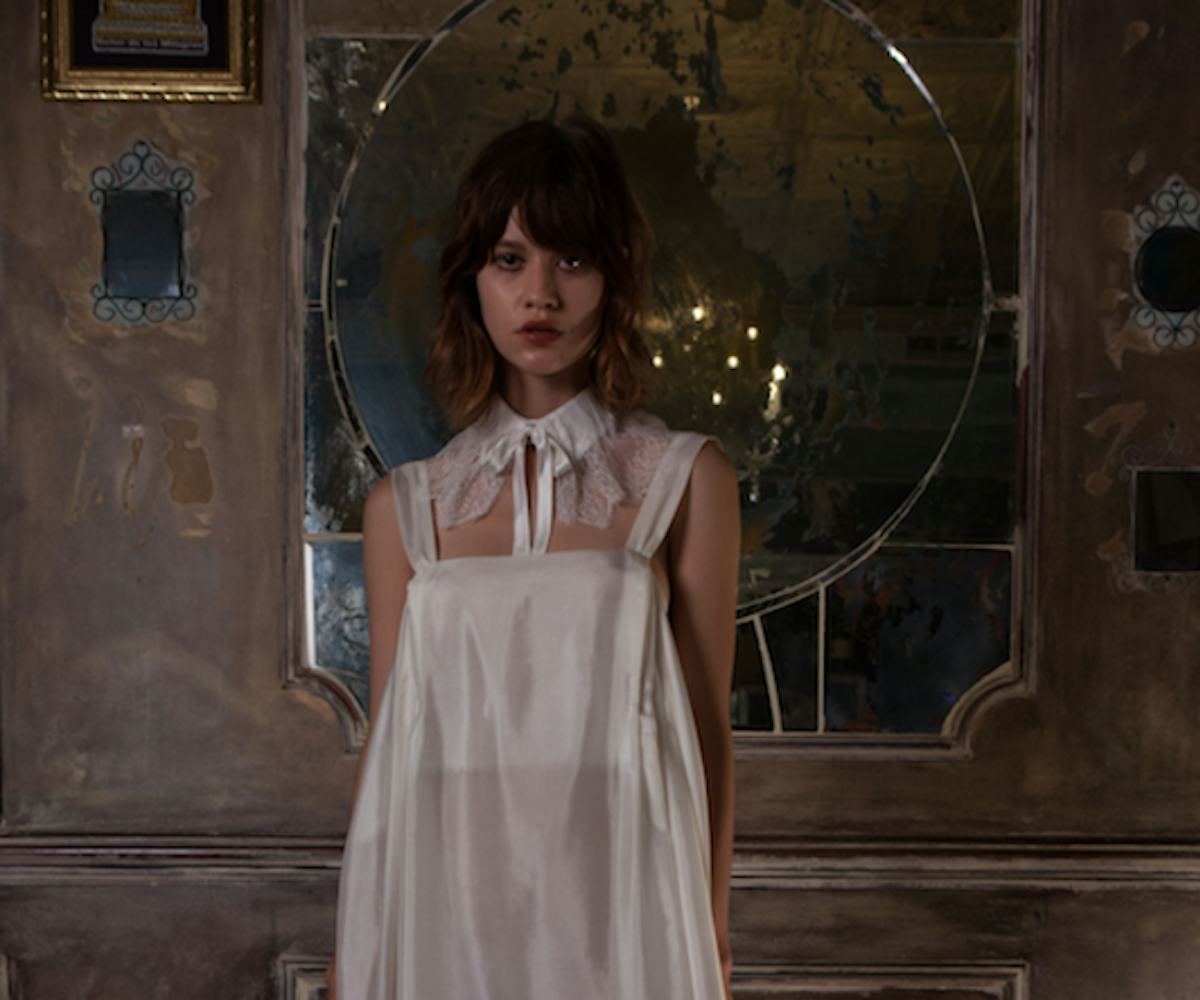 Photo by Cheryl Dunn
Inside The NYFW Show Featuring Crystals, Whip, And A Trump Diss
Wendy Nichol brought out the darkness for Spring 2018
There was a tiny cluster of very well-dressed women standing outside the old-school Italian, classic New York restaurant Emilio's Ballato, peering inside the windows, wondering if they were in the right place. It was an understandable question. While, yes, many fashion shows and presentations take place in unorthodox venues, few are as atypical as this dimly lit, though chandelier-bedecked, red sauce joint.
It didn't seem possible that the fashion show for Wendy Nichol's Spring 2018 line could possibly be taking place inside. Even once I stepped through the door, all I saw were tables populated by men busy talking to each other and twirling up heaping mouthfuls of what looked and smelled like some of the best spaghetti in the city. But my confused expression did not go unnoticed. One man looked up at me and gestured with his hand toward the restaurant's kitchen, "For the fashion? You go back there." He then went back to eating.
So back there I went, into a private room, with walls filled with art and speckled mirrors. There were tables in here, too, only rather than being filled with pasta-eating patrons, there were groups of models, all of whom were sitting there, some smoking, some whispering to each other, all seemingly working on something conspiratorial, some plot they were all secretly in on. But what?
It took a closer look at the tabletops to see that, in between the ashtrays and sundry accessories (there was a black cat eye mask, an ivory leather bullwhip, assorted crystals, and piles of $100 bills), were folders and files, photos and maps, and what looked to be dossiers on every prominent member of the Trump administration. Oh, yes, and one for Putin.
It felt like I had walked into a secret coven of immaculately dressed women, who had all come together with one mission in mind: to overthrow the government. I was, instantly, entranced. 
Fashion is, of course, inherently political. The way in which we spend our money has meaning behind it. The decision to be selective about our fast fashion purchases, and to seek out small brands, has an impact on everything from the economy to the environment. But more than that, fashion has embraced the political recently as a canny marketing move, as can easily be seen with the rise of clothes emblazoned with slogans like "The Future Is Female." It's not new, of course, for a designer to embrace a political message, and the Trump administration is an easy target right now.
And yet, despite the fact that political messaging is ubiquitous right now, Nichols' show had a very singular spin on the whole thing. This wasn't so much about letting the clothes do the talking for you, via pithy phrases stamped across your chest. Rather, this was about the people who are in the clothes, the people who are actually going to be making changes. This was a reminder that normalcy right now is an illusion, and that there are—and should be—people, particularly women, working behind the scenes to make some major changes. 
But what about the clothes themselves? They were pure sex goth, the kind of clothes an avenging goddess would wear to slay all those who betrayed her. I fucking loved them. There were silky lace collars that struck a demure note when worn with wispy flowing dresses. A couple of sharply tailored and impeccably fitted pantsuits were worn sans shirts, in one case with nothing other than a heavy gold chain as an accessory. Nichol only uses faux-fur, and she works with it masterfully, particularly in the case of one black-and-gold-hued, floor-length coat. There was lots of tulle, silk, and lace, all making for an incredibly sensual collection. These are the kind of clothes you want to throw on after rising naked from bed, prepared to take on the world, prepared to make it burn, so it can be born again. 
Sign me up. See some of the looks below.