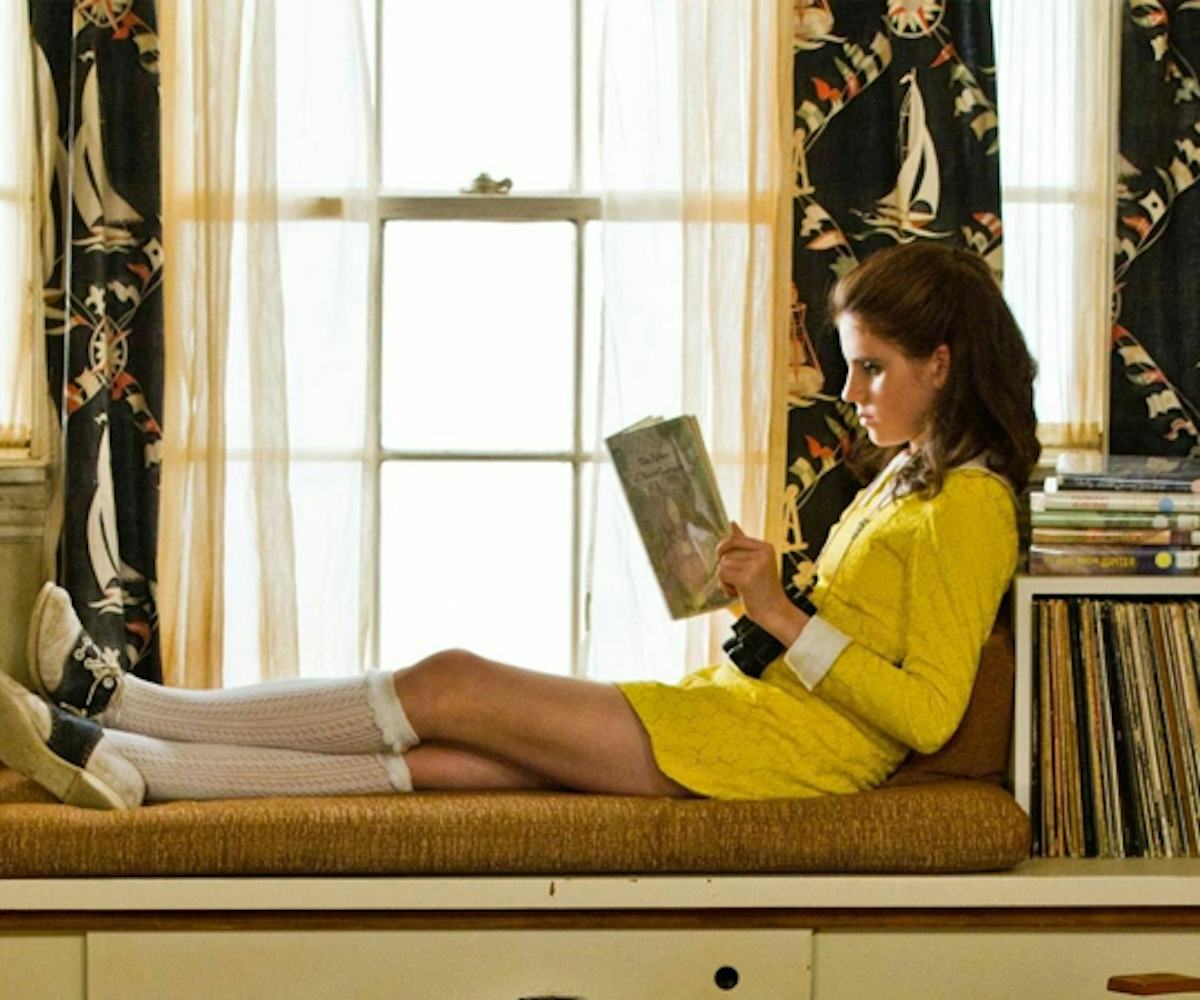 Photo via Indian Paintbrush
how to dress like you're in a wes anderson film
inspo from margot tenenbaum, suzy bishop, and more
Real talk: Watching Moonrise Kingdom always makes us lust over high socks. And no matter how many Margot Tenenbaum Halloween costumes we see, we still end up thrifting frantically for the perfect fur coat. While we're always intrigued by Wes Anderson's plots and characters, the outfits linger in our minds long after the closing credits have rolled.
Anderson's leading ladies always manage to look flawless. In honor of these well-dressed heroines, here is a guide to achieving their looks.
The Life Aquatic with Steve Zissou's Eleanor Zissou
Periwinkle, teal, royal—this a movie all about blues. While most of the characters don head-to-toe blue ensembles, Anjelica Huston's Eleanor Zissou shows a way to make an aquatic look still be fashion forward.
1. J Brand, L8001 leather super skinny in electric blue, $950, available at jbrandjeans.com. 
2. Ukulele, sheer white crop top, $170, available at Nylon Shops.
3. Anthropology, Talia necklace, $238, available at Anthropologie.com.
Moonrise Kingdom's Suzy Bishop
Channel your inner child in these whimsical Suzy Bishop approved pieces. Be warned: Those Band of Outsiders mules may not be as efficient for adventuring as Suzy's chosen footwear, but at least you'll look cute!
1. Forever 21, Ditzy Floral Pleated Dress, $24.90, available at Forever21.com.
2. American Apparel, solid knee-high rock in white, $10, available at AmericanApparel.com.
3. Band Of Outsiders, Stacked Heel Saddle Mule, $595, available at Zappos.com.
4. Urban Outfitters, We Are All Smith Silver binoculars necklace, $24.99, available at UrbanOutfitters.com.
The Royal Tenenbaum's Margot Tenenbaum
This may just be the most legendary outfit of all of Wes Anderson's heroines, and for good reason. What's not to love about a chic fur coat and smudged heavy liner?
1. Lacoste, stripe pique polo dress, $165, available at Lacoste.com.  
2. Stella & Bow, Karen Full Of Secrets hair clip, $55, available at Nylon Shops. 
3. Asos, Selected Linea coat in faux fur, $145, available at Asos.com. 
4. Bobbi Brown, smokey eye Kajal liner, $25, available at Sephora.com. 
The Grand Budapest Hotel's Madame D
Madame D proves that fabulousness knows no age. Pearls + red lipstick + a midi dress = timeless perfection.
1. Free People, Hyperion midi, $148, available at freepeople.com.
2. Nasty Gal, Marie earrings, $18, available at nastygal.com.
3. Chanel, Rouge Allure luminous intense lip color in Pirate, $36, available at chanel.com
Rushmore's Rosemary Cross
Despite having the most underrated style of all these ladies, Rosemary Cross manages to pull off the type of effortless simplicity that usually only Instagram filters can achieve.
1. Zara, knitted cardigan, $59.90, available at zara.com.
2. Glossier, Balm Dotcom, $12, available at glossier.com.
3. Pixie Market, mock neck crop top, $45, available at pixiemarket.com.
4. Benefit Cosmetics, Posietint, $30, available at sephora.com.