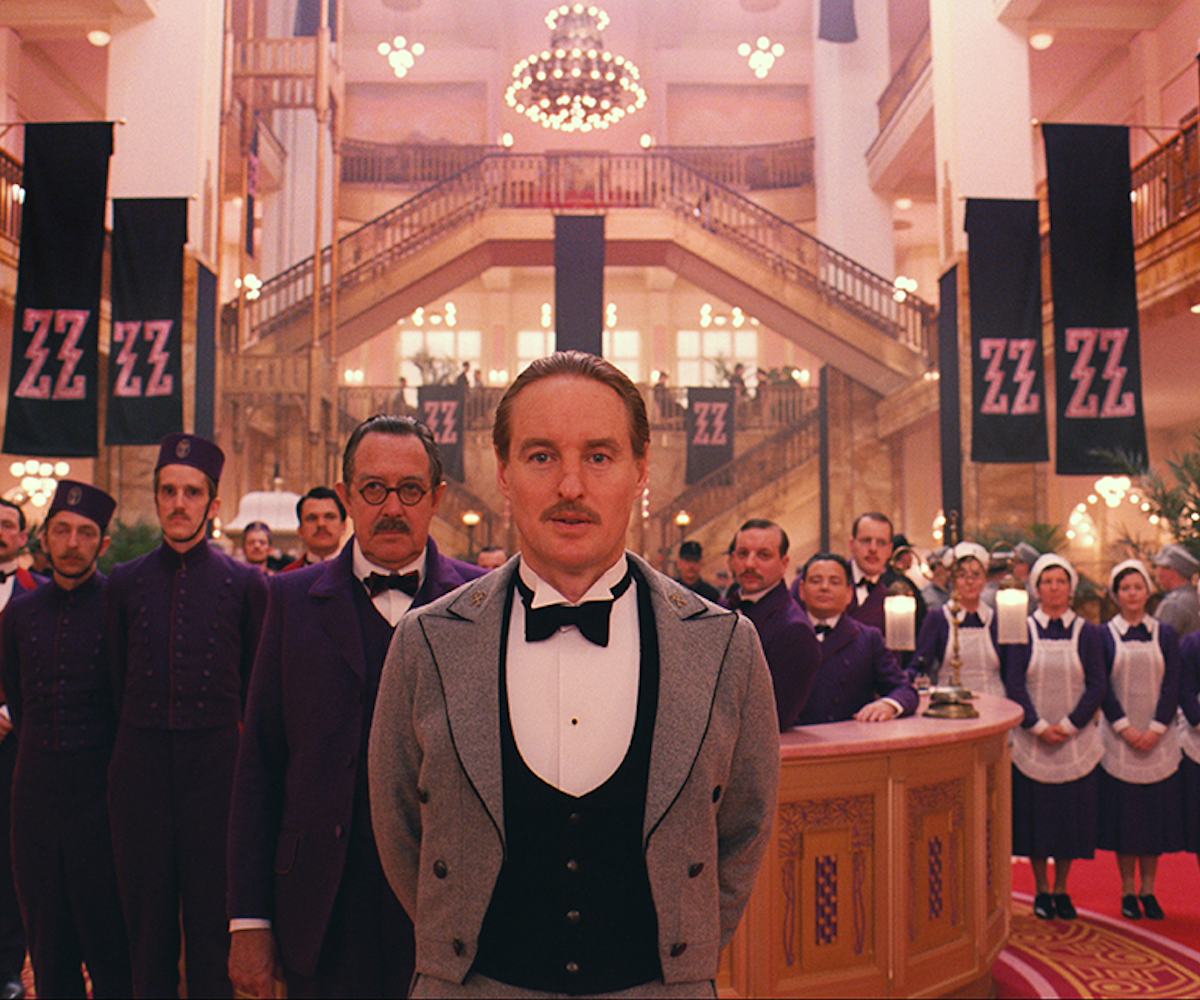 photo courtesy of fox searchlight
film review: the grand budapest hotel
everything you need to know about wes anderson's latest movie.
Fans of Wes Anderson's films are in for a real treat with his latest work,
In this complex story set across three decades, with two narrators, and filled to the brim with renown actors, Anderson has reached his peak
. Everything you loved from his past seven feature films is in this movie, and it's turned up to 11.
Let's start with the cast. Repeat Anderson cronies Bill Murray, Owen Wilson, Adrian Brody, Jeff Goldblum, Willem Dafoe, Tilda Swinton, Jason Schwartzman, and Edward Norton all appear in one way or another in the film, but the real stars are Anderson's first-time collaborators. Ralph Fiennes shines as the nostalgic M. Gustave H., the main concierge for The Grand Budapest Hotel, a pink labyrinth of a place perched atop a mountain in '30s Zubrowska, a fictional Eastern European country on the brink of military invasion.
gives an earnest performance as M. Gustave's protege, Zero, and Saoirse Ronan is brilliant as Zero's girlfriend and sometimes partner-in-crime, Agatha.
In typical Anderson fashion, the story is told in the past tense: first by Zero (played by F. Murray Abraham in this future timeline) to an author (Jude Law) in the '60s. It's then transformed by that author into a book in the '80s (Tom Wilkinson plays the author in this segment). And of course, in the most typical Anderson fashion, the costumes, sets,
, and comedic punchlines are gorgeous, decadent, and better than ever. The film is more complex than any of his past works, and covers more capital-T themes than ever before--love, death, war, sex, political terror, law, murder--and yet somehow still manages to feel less serious than any of his other movies. This is largely due to the fact that with a cast of big-name actors large enough to require a separate movie poster just for all their faces, no one is allowed enough screen time to truly burrow their way into the audience's hearts. So what if somebody gets whacked?! It still doesn't feel as important Richie's gallery of Margot paintings in the ballroom on the fourth floor. But maybe that's not a bad thing. 
I've read a lot of reviews of the film that criticize the increased twee-factors, two dimensionality of the shots, and starkness of the dialogue, and I understand. As someone who was enraptured by the casual goofiness of
and poignant oddness of
The Royal Tenenbaums
, I initially felt sort of ripped off by
The Grand Budapest Hotel.
Where were the characters I could fall in love with? The '70s rock? The tender glances? The carefree fun? The '30s equivalent of James Caan in white socks and Tevas?! The easy-breeziness of Anderson's films has been slowly depleting, but his choice to exert a forceful control of dialogue, blocking, and set design only makes
The Grand Budapest Hotel
an even more interesting film.
This is Anderson going where he wants to go. It's no accident that the aspect ratios change throughout the film, the shots are more asymmetrical, the design is more meticulous, the perfect-ness is all the more perfect. Even the things that threaten to tear the beautiful world of
The Grand Budapest Hotel
apart are gorgeous and odd, like Edward Norton's boyish grin--granted, one that's attached to a body dressed in the uniform of brutal military captain. In this world, the past is perfect even in its flaws. Sometimes it's a nice relief to pack up your 21st century necessities, turn off your phone, and just let the nostalgia sink in. 
The Grand Budapest Hotel opens today, March 7.