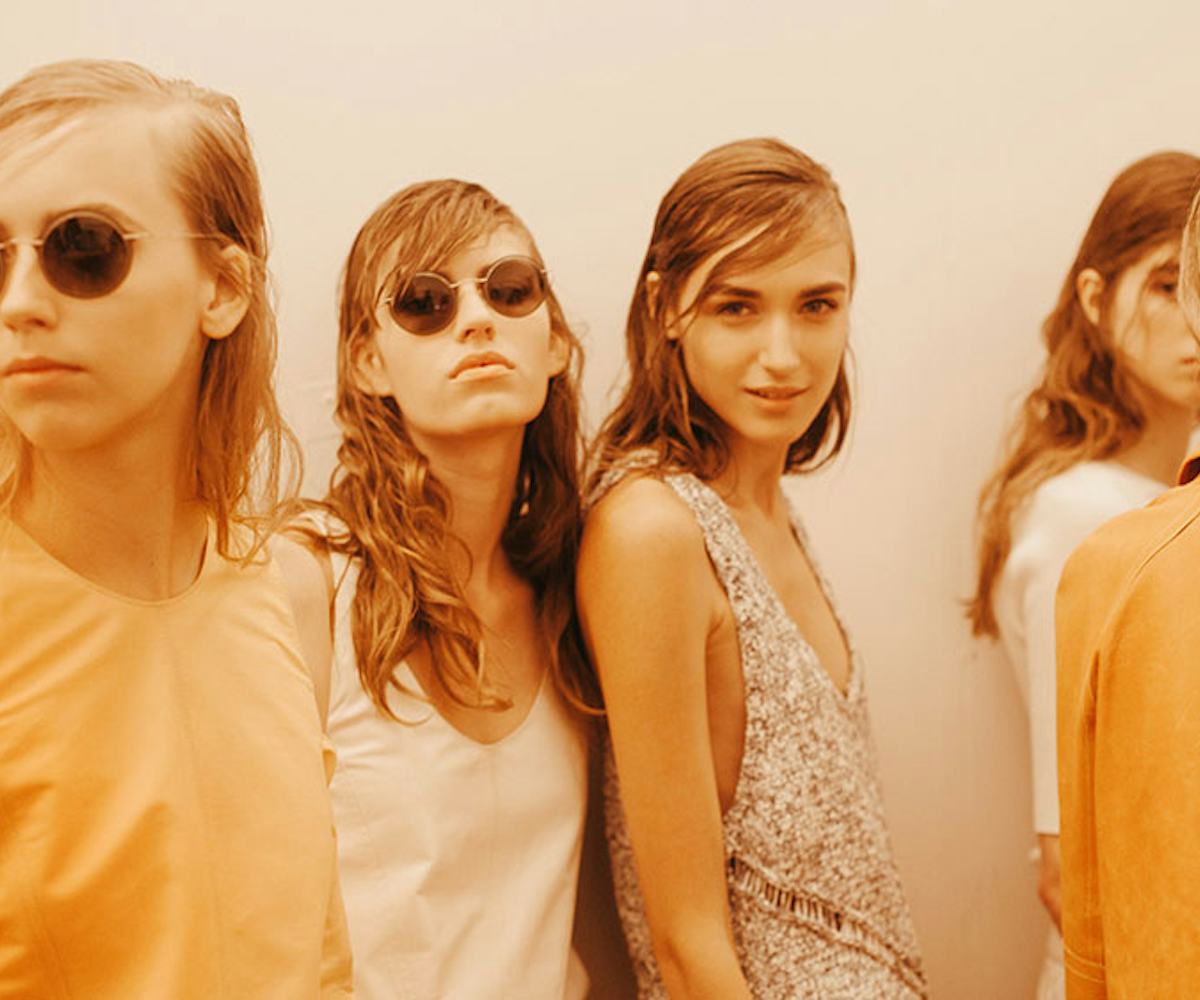 Photographed by Natalia Mantini
wes gordon created a golden '90s dream
It may be time to give your vibrant lipsticks and eyeshadows a break. At the Wes Gordon Spring/Summer '16 show at Milk Studios for Milk/Made Fashion Week, no-fuss beauty was all the rage—and it's a trend we're happy to follow. Fresh faces and casually mussed hair are a welcome change that gives just a hint of a #wokeuplikethis vibe, and when paired together with a collection of modern cuts and soft caramel colors, they make an almost edgy departure from heavily contoured skin and painted lips.
Models wore their hair in an artfully messy style inspired by Winona Ryder in Beetlejuice. Oribe lead stylist James Pecis laid a one-inch piece of hair across their foreheads and made a deep side part to evoke a '90s grunge look. He then created naturally scrunched waves using Surfcomber Tousled Texture Mousse and mimicked a lived-in texture by using Dry Texturizing Spray. It's not about being prim and polished here—this is a hairstyle with an attitude as badass as its look.
Groomed brows and a light sweep of copper eyeshadow keep makeup simple and effortless, while geometric manis by Essie make for an unexpected detail. Wes Gordon's beauty look proves that sometimes simple is best—and we're never opposed to embracing some '90s vibes.
A soft sweep of eyeshadow gives dimension to a low key look.
All about texture.
Bold brows and side bangs: a match made in heaven.
The perfect hair inspo for thin-haired gals.
Magic hour.
Just a little bit undone.
Get your glow on.
'90s goth revival.
Prettily pinned back.
Straight out of a daydream.
Creating a deep side part.
Your new favorite everyday shoe.
Just a touch of romance.
Better than bedhead.
Undone waves and clear skin.
A brush of amber.
Thick hair gets braided underneath to make it look thinner.
Fresh to death.
Just the right amount of mussing.
Picture perfect radiance.
A tiny touch-up.
Getting ready for final touches.
Lit from within.
Getting geometric.
Neutrals and patterns.
Beauty queen.
Natural beauty.
Girl gang glam.