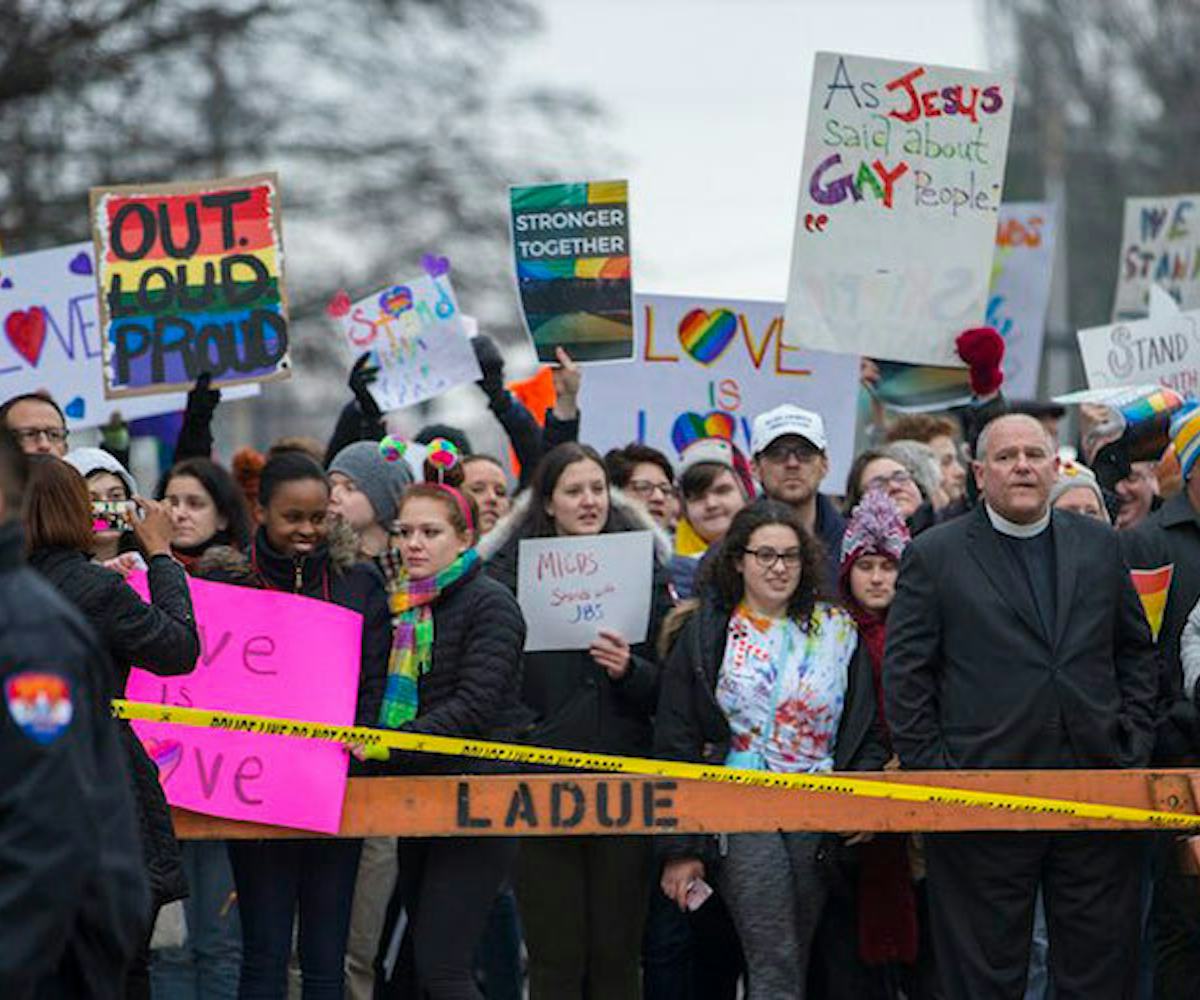 Photo via @chsglobe/Twitter
Missouri Rallies Behind Gay Student Targeted By Westboro Baptist Church
They messed with the wrong town
The kids? They're alright. They're mad as hell and aren't staying silent anymore, with the students from John Burroughs High School in Ladue, Missouri, being the latest example.
Earlier this week, The Westboro Baptist Church targeted a John Burroughs senior named Jake Bain, a star athlete whose coming out as gay in 2016 was met with a resounding support. The Topeka, Kansas, hate group announced that it would protest Bain and the community for going against their God's wishes. "[God Almighty] hates #LGBT," they said, among other vile things, in a tweet. 
Pride St. Louis, a nonprofit focused on improving the well-being of the Missouri LGBTQIA community, rallied behind a counterprotest organized by students at the prep school. The hashtag #StandWithJake soon went viral, catching the ire of Westboro while demonstrating the town's inclusive values. At the protest, over 100 Ladue citizens came out in support of Bain, outnumbering the Westboro crowd by spades.
Bain himself recognizes this isn't just about him. "There are so many kids out here who have had to go through the same stuff I had to go through," he said in a brief interview outside the protest, acknowledging the joy that comes with being able to speak for those that aren't confident or able to yet and to be an example. He added, "Thank you all from the bottom of my heart to all who came to support the LGBTQ+ community at Burroughs this morning."
Love trumps hate, always.