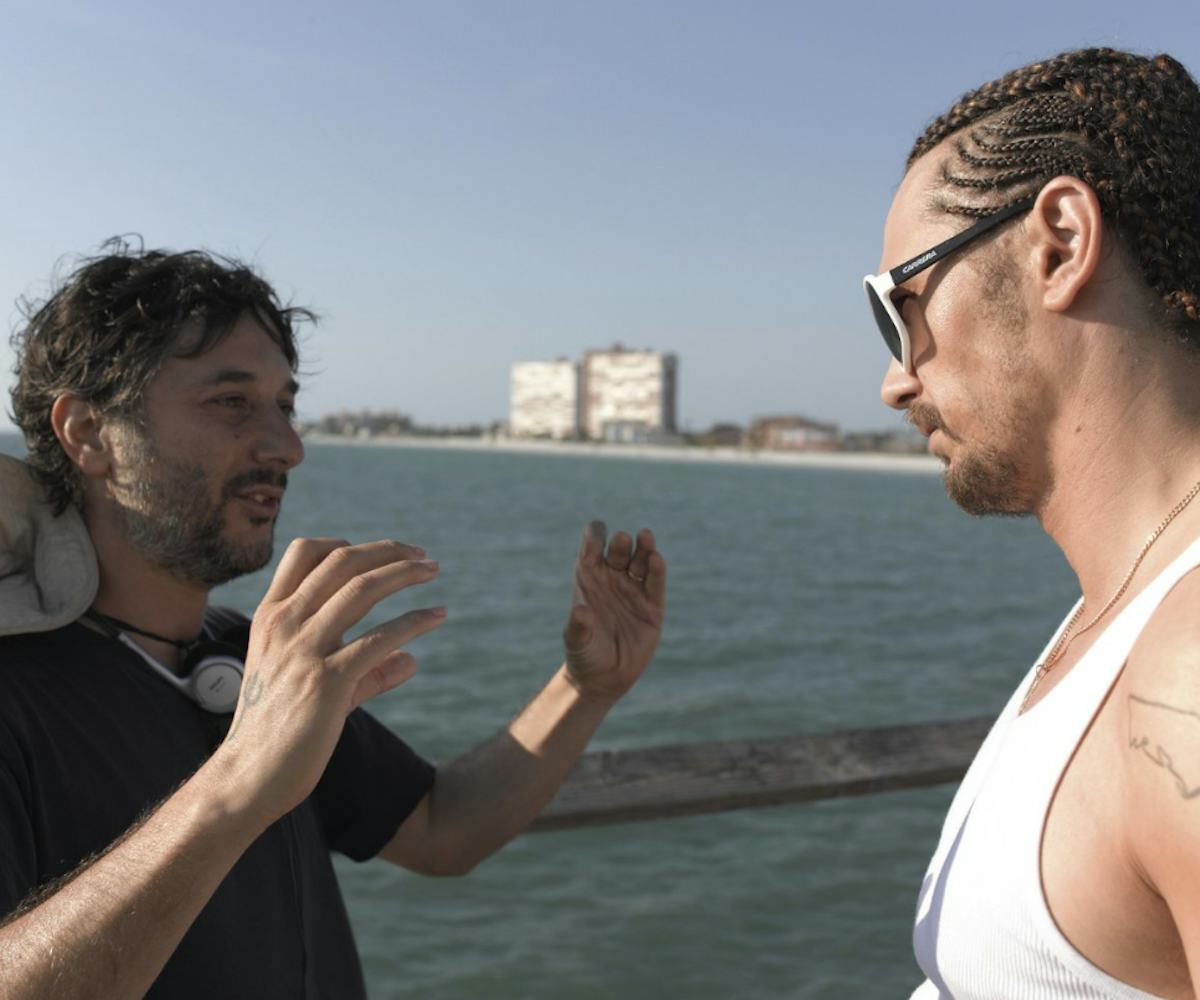 Photo courtesy of IMDb
What Happened To Harmony Korine's 'The Trap'?
'Spring Breakers' director's star-studded, insane-sounding gangster movie never materialized
In 2013, few movies captured the zeitgeist like Harmony Korine's sun-bleached crime mash-up Spring Breakers. Until then, the Nashville-based director had been the enfant terrible of the indie world's more avant-garde fringes, but with that film's iconic images of bikini-clad college girls in Day-Glo balaclavas and a nihilistic performance from James Franco at its center, the movie catapulted Korine into something resembling the mainstream. Suddenly, the director of cult curiosities like Gummo and Julien Donkey-Boy was an in-demand director, with some of the biggest names in Hollywood lining up to work with him on his next project. 
That project was a movie called The Trap, which Korine described as the second feature in his so-called Florida trilogy and positioned as Spring Breakers on bath salts, another gangster saga set amidst the palm trees and beaches of the Sunshine State. Featuring a starrier cast and a crazier plot, The Trap, Korine said, was going to blow people's minds. And then, two weeks before production was scheduled to start—"I got as close to shooting as you could be," he once said—something went terribly wrong. It has now been over a year since production on The Trap was scheduled to begin, and more than four years since Spring Breakers reconfigured Korine's career. So, what happened? And is there any chance of us seeing The Trap? We investigate below. 
So what's The Trap about? 
The official plot synopsis on IMDb goes like this: "An ex-con is out for revenge against a gangster rapper and former friend who let him take the fall for a robbery they committed 14 years earlier." But later on, The Hollywood Reporter published a more detailed description of the story, and it sounds insane and insanely awesome: "Rico is at the top of his career [as a gangster rapper] and about to enjoy a triumphant night at the Grammy Awards when Slim is released from prison after 14 years. Slim is determined to exact revenge after learning that Rico not only achieved fame and fortune but also married his girlfriend and raised Slim's son as his own. Slim's plot includes recruiting a crew of Uzi-wielding surfers led by Max, as well as enlisting the help of Rico's cocaine-happy manager." 
That does sound nuts. Who's in it? 
As of this writing, Slim is to be played by Benicio del Toro and Rico by Idris Elba. Max, the surfer with the Uzi, would be played by Robert Pattinson—furthering his descent into character acting—and none other than Al Pacino was cast as Slim's parole office. And after seeing how much fun he had on Spring Breakers, you just knew Franco would want a piece of Korine's next project. Well, he got it, playing the manager with the cocaine habit, a part that might come close to Alien status.
How early was Harmony Korine talking about The Trap?
Seemingly, the first time news of The Trap appeared online in November of 2014, when Variety published an exclusive report that Jamie Foxx had signed on to star in the "gangster drama" alongside Benicio del Toro. 
Wait, Foxx was supposed to be in this?
He sure was, playing the part of Rico, until he was eventually recast with Elba.
What happened?
It's unclear, but it might have something to do with why the movie hasn't been made yet. Korine has told numerous publications that one of the reasons—if not the main reason—The Trap fell apart was due to complications with an actor. "I was supposed to shoot it last year. We were two weeks out. I got as close to shooting as you could be, and then I had issues with one of the actors. We had to pause the film, and then the movie got pushed back on the dates. I don't really want to go into specifics, but it was more of a personality thing with one of the actors," he told Dazed last year. "So, we put a halt to the film and recast the movie. We're supposed to wait until this May to shoot it."
Is he talking about Foxx then? 
It was never confirmed, but all signs point to yes. 
But if they recast Foxx with Elba, what's the problem?
Good question! Taking a movie pre-production to production is always a precarious endeavor. A million things need to go right for it to happen, and if even one thing goes wrong, there could be a catastrophic domino effect. Korine mentioned having to push back on dates. That is likely referring to the schedules of his very busy cast, and his inability to line them all back up once the initial start date got pushed back. Once that happens, a movie can fall into production limbo, and it could be months or even years until the stars align again. 
What else should we know about The Trap?
In a GQ profile last September, Gucci Mane, who is good friends with Korine and appeared in Spring Breakers as a gangster, said he had a part in The Trap. "Harmony is my close friend, so it was easy," he told the magazine. "He's super creative. Me and him work good together because we just freestyle shit, both of us don't have no rigid mind state when we bring something to life. I love to act. It was just a great experience being in Spring Breakers, and it was just the beginning." We hope you're right, Gucci.
So what could we have expected from The Trap? 
The most enticing things that Korine had to say about The Trap was during an appearance on Marc Maron's WTF podcast. That is where he called it "a complete sensory bombardment" and a "super propulsive, pretty highly violent revenge movie." Damn.
Is there any chance that we'll get to see The Trap in the future? 
There's always the chance, especially if Korine wants to follow through on the Florida trilogy he's mentioned in repeated interviews. However, Korine has indicated that he gets bored of projects if they don't get made and tends to move on. "I have a tendency to lose interest really fast. I was so close to doing [The Trap] too—I had the whole thing storyboarded and ready and financed," he told Amuse last February. "I'll still make it and I'll still be making a movie this year. I got antsy waiting for The Trap to happen so I wrote another script. I know I'll be directing a movie this year, whichever one happens quicker."
So he's directing something else now? What? 
Korine went on describe the above project as "a cross between a Cheech and Chong movie and that movie Scarecrow," which is a '70s buddy flick starring Al Pacino and Gene Hackman as an ex-con and a homeless ex-sailor who hit the road and find themselves in various misadventures. But Korine has also talked about an adaptation of the book Tampa that he's working on, which is about a middle school teacher who seduces her 15-year-old student. As the title hints at, this could be the third movie in Korine's Florida trilogy, which means there's a good chance that one day we'll see the second.