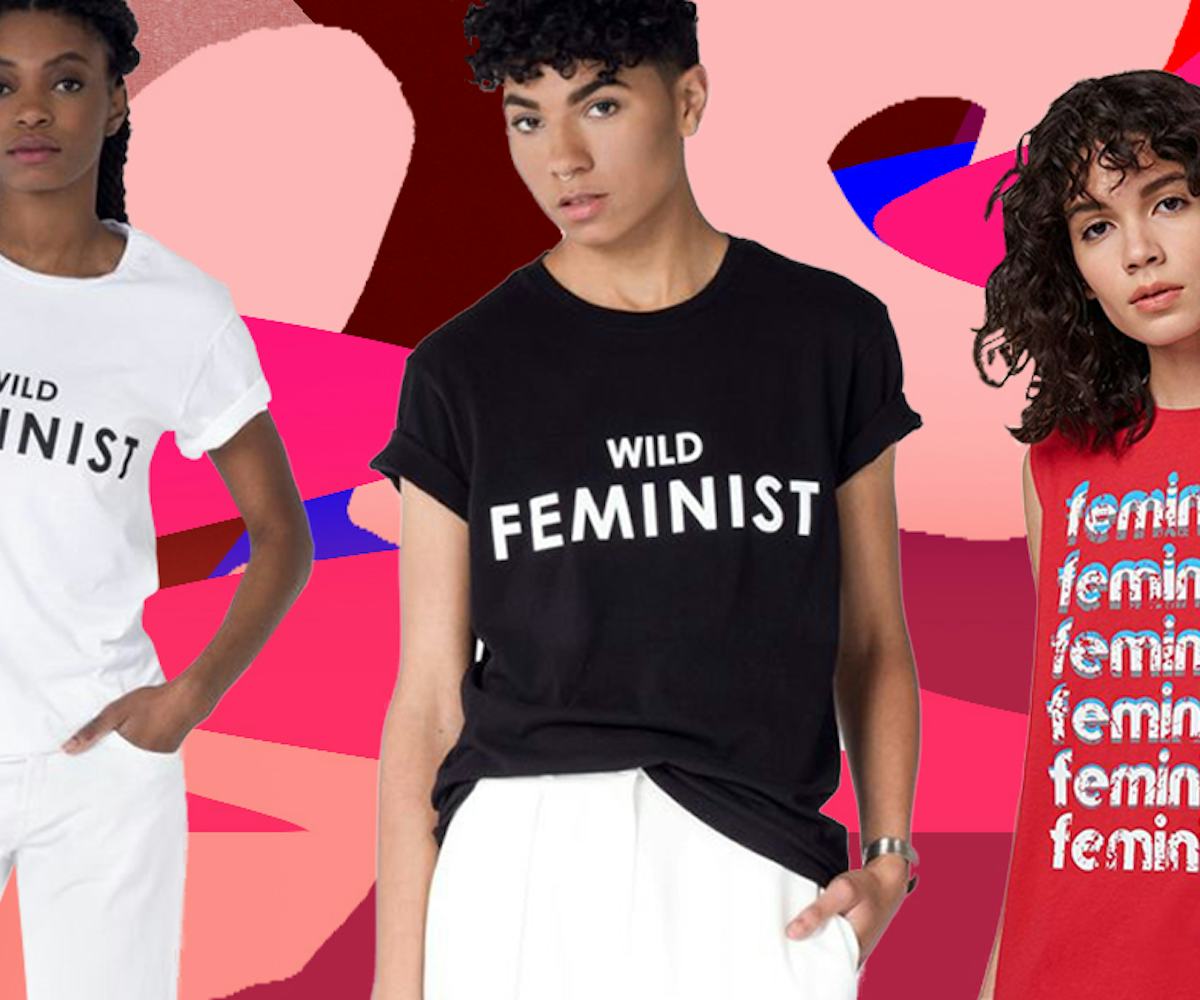 Photos courtesy of Wildfang and Rebecca Minkoff
Branding Feminism: What It Actually Means To Be An "Activist Brand"
It's a question of profit versus action
The fashion industry is an inherently contradictory place. While notoriously riddled with stories of sexual assault and harassment, as well as discrimination and lack of representation, it is also home to many powerful women, welcoming to many otherwise-marginalized communities, and has given a platform to many different kinds of activism over the years. And right now, one particular form of activism is having a big moment in fashion, one that's directly aligned with the demand for change in all of society. We're talking about feminism, of course, and the interesting reality of the rise of the feminist brand.
In the past several years, small-but-powerful brands like Wildfang and Otherwild have been at the forefront of what is generally thought of as "activist fashion." While many may be familiar with both for the merchandise they sell, such as Wildfang's Wild Feminist tee and Otherwild's The Future Is Female tee, the brands do much, much more than just sell t-shirts.
Just last month, Wildfang raised a $100,000 for an abortion clinic in Sioux Falls, South Dakota, only a small part of the money they raise for feminist organizations. Otherwild stands up to corruption in the fashion industry by "fostering holistic systems of support" throughout its business, working with many women and gender non-conforming people, from staff to vendors and suppliers, while raising funds for various social justice organizations.
Beyond indie brands, there are also long-established fashion giants like Rebecca Minkoff working to make a meaningful impact. Just this year, Minkoff partnered with the Women's March Committee, extending a monetary donation as well as launching a campaign profiling the stories of its leaders, as well as other influential activists, actresses, and trailblazers. Additionally, in conjunction with this partnership and her own brand philosophy, Minkoff launched RM Superwomen, an ongoing online and event-based platform that hopes to inspire women through stories and conversations. "I wanted to create an atmosphere that would remind and provoke women of any age to stay fearless," says Minkoff.
And it's clear that activist fashion is a trend that's catching on. New feminist-oriented brands are emerging every day, and existing ones are taking a stance and getting involved. In many ways, this is a good thing. As Wildfang CEO and CMO Emma McIlroy says, "It's fucking great. The world needs more feminists—feminists everywhere. If every brand was a feminist brand, we would be in a much better place, as long as they are walking the walk and their actions actually deliver on feminist principles—they fight for representation, they give back to their communities. That part is critical."
Of course, not all follow McIlroy's lead. And it's hard not to be cynical about the way some brands are simply trying to capitalize on feminism as the new black—from selling feminist slogan-bearing merch, but not doing the corresponding work, to attempting to trademark the #MeToo movement in order to push beauty products. This is disheartening, to say the least. Not only is such consumerist pandering not benefitting anyone but the brand, but it's also confusing to customers and dilutes the message of the brands that actually are working to make a difference.
This problem should maybe not be surprising: As soon as some brands, however altruistic, began to make a profit off of feminism, others were bound to follow in a way that was purely money-driven, rather than action-driven. As Otherwild founder Rachel Berks explains:
It is crucial that brands—including Otherwild—consider not only the slogans and messaging they utilize, but also the labor practices their products employ. All too often, I see that brands are making shirts in Mexico and Bangladesh, where workers are not being paid a fair living wage, are forced to work under unsafe conditions, using methods that exploit our environment. When we really consider the fair treatment of humans, animals, and the world around us, we are coming close to acting responsibly within an exploitative, extractive, extreme, and excessive consumer capitalist culture.
Let's not forget the time that Forever 21 knocked off Wildfang's Wild Feminist t-shirt, without any corresponding donations being made, that was likely produced in the same factories that Berks describes. What good does a feminist slogan do (ahem, even if it's not stolen) in this case?
The fact that so many brands step up to celebrate women, support women, and donate to charitable causes around specific events, such as International Women's Day or the Women's March, is great. There is much-needed money and help going to these causes because of big brand involvement. That is a net good, and in no way should any of these brands be discredited for their efforts. But, why aren't more making this a year-round, all-the-time kinda thing? And why doesn't it extend to how these brands manufacture their goods or pay their workers? And what's to be said about the ones that are simply joining the feminist bandwagon on an entirely superficial level?
Of course, there are other ways brands are making contributions to women daily that don't necessarily involve celebrating a specific month or holiday. They are the brands that are supporting women, though maybe not as loudly as others.
Take luxury jewelry label Akola, which operates as a nonprofit hybrid. Founder Brittany Merrill Underwood employs marginalized women in the U.S. and Africa, reinvesting 100 percent of profits back into the communities they serve. The brand was not built simply to sell jewelry, but rather to empower women and use its product as a means to achieve its mission to give underprivileged women the sustainable jobs they need. "Our goal is to encourage new thinking about building a brand and to inspire the next generation of social innovators," says Underwood.
Many more brands like Akola exist and should be supported just as much as the ones coming out with limited-edition merchandise specifically for days like today.
Ultimately, it all comes down to us, the consumers. As Underwood explains:
With nearly five million jobs in the retail industry, according to the National Retail Federation, fashion has the ability to influence an extensive audience of both thought leaders and consumers. Fashion provides us with a platform to get important messages around the world. The size of the global apparel business is growing, with much of this growth coming from developing markets. Now more than ever, consumers care about their product beyond face value—its story, its history, and its traceable impact. With today's technology and resources, fashion as an industry faces a unique opportunity to have a positive impact and do no harm. There is a potential to give work opportunity to those in need and even further, by applying ethical and sustainable practices at every level of the supply chain to care for the environment.
Sure, it's empowering to wear a feminist t-shirt or throw slogan-bearing patches on an old jacket, but before you make a purchase, I call on you to find out just what the brand is doing to better this world that we live in. Where does its production take place? Who is it employing to make its products? Is it partnering with or supporting any causes? Thanks to this wonderful thing we call the internet, it doesn't take more than a quick Google search to find the answers. And that's how we all should be basing our purchase decisions on International Women's Day, and every other day of the year.