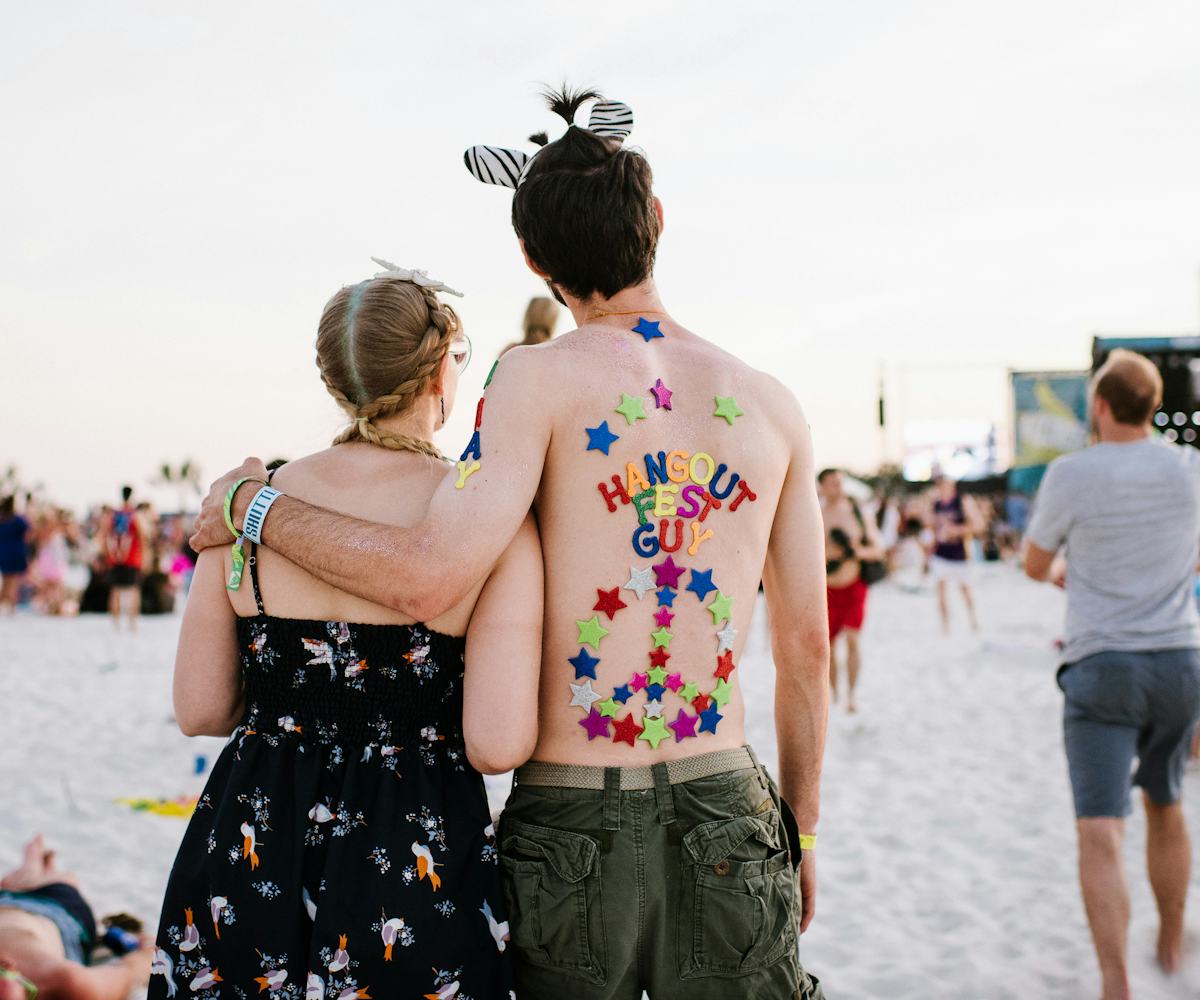 Photo by Nina Westervelt
The Non-Beach Person's Guide To Loving Hangout Fest
It's the best beach party around
Life is not a beach. I do not understand that idiom because if life were a beach, I would choose to rapture myself to Mars where there is no beach. I can agree that life is, as Love & Hip-Hop's Momma Dee would say, a "b-i-c-t-h" (yes, in that order), though, and the best escape from it all, I've found, is a beach in Gulf Shores, Alabama. (Blame this bout of irony on me being a Gemini.)
Hangout Fest, the little music festival that proved it could, made me a believer last year. It was my first time down there—second time in Alabama, ever—and it did what any music festival is supposed to do: help you disappear for a weekend. Now in its ninth year and with headliners as buzzy as Chance the Rapper, I'm ready for my once-a-year beach adventure to begin. A little Frank Ocean by the ocean sounds nice, right?
For those who are going (or still thinking of going), here's a breakdown of how to get the most out of this magical weekend under the sun. I don't know what clicks down there, but it clicks well enough to convert this beach-avoider to a beach-lover, if only for three days.
Be Smart, Pack Sunscreen
Welcome to Duh 101. Like most music festivals, there is maybe one stage that's covered by a tent down at Hangout. I'm not your doctor or parental unit, but, as a concerned person who burns easily, I have to tell you to pack some UVA protection. You will be under the sun for a solid chunk of your weekend down at Gulf Shores, and the only sick burn you should be experiencing is some platonic joke you and your friends have a laugh over. Bring a hat.
A Small Bag Of Essentials Is Key
I brought a tiny backpack last year filled with a portable phone charger, a charger for that charger, sunglasses, a notebook, camera, and sunscreen (duh). I found that to be too big, though, and recently discovered these tiny Dr. Martens satchels which I wore at Coachella and fit everything I needed. (Who brings a charger for a charger?) BUQU chargers clip right on to your bag, so they don't take up room in your bag, either. Plus, they pack a giant recharge.
Get To The Fest Early
It's enticing to sleep in after the first- and second-night ragers, but do yourself a solid and get to the festival on the earlier side. For one, the actual beach portion isn't crowded, so you can get whatever laying around you want to do at your hotel or condo done on the beach while fantastic live music plays. There are also lovely on-site activations that get crowded as the day goes on. Last year, I had my musical aura read, which is a thing I didn't know existed, but hey, who's going to pass up an opportunity for someone to tell them who they really are?
Show Some Love For The Non-Headliners
As mentioned before, getting to the festival early means there's time to catch the up-and-coming acts lucky enough to make the lineup. This year, Le Youth is bringing its vibed-out cool to the festival, and Tkay Maidza's going to get your feed movin'. You're there to experience music, first and foremost; the setting comes second. Make it a point to listen to at least two acts you've never heard of per day. It'll do wonders for your Spotify cred.
Ride The Damn Rides
In between the two main stages at Hangout are a series of fair rides that are well-worth the ticket price. I rode the one that brings you up some obscene number of stories in the air and drops you to the ground. For one, it was the best view of the fest I ever did have. What's more, it felt good to do something outside of the festival ordinary of running between stages and resting. Sure, the rides may appear to be a little daunting, but honoring that impending adrenaline rush feels great. I did, twice. (Maybe that's why I love the beach? The rides?)
Take Advantage Of The Free Stuff
Last year, there were folks handing out little scarves that wound up being some of the best sunblocks out there. Who knows what will be down at Hangout this year, but I'm making room in my tiny bag for something.
Indulge Your Sweet Tooth
Hangout Fest boasts some of the best comfort food out of any festival. You need sustenance throughout the day and Hangout Fest is going to give you that and more. Just remember to pair everything you eat with water. Hydration is, of course, key.
Find Your Summer Vibe
Here. We already did some of the legwork for you. Find it, discover it, hone it, and own it. Hangout Fest is a playground for free spirits where life is truly a beach—a well-designed one with the best music around.