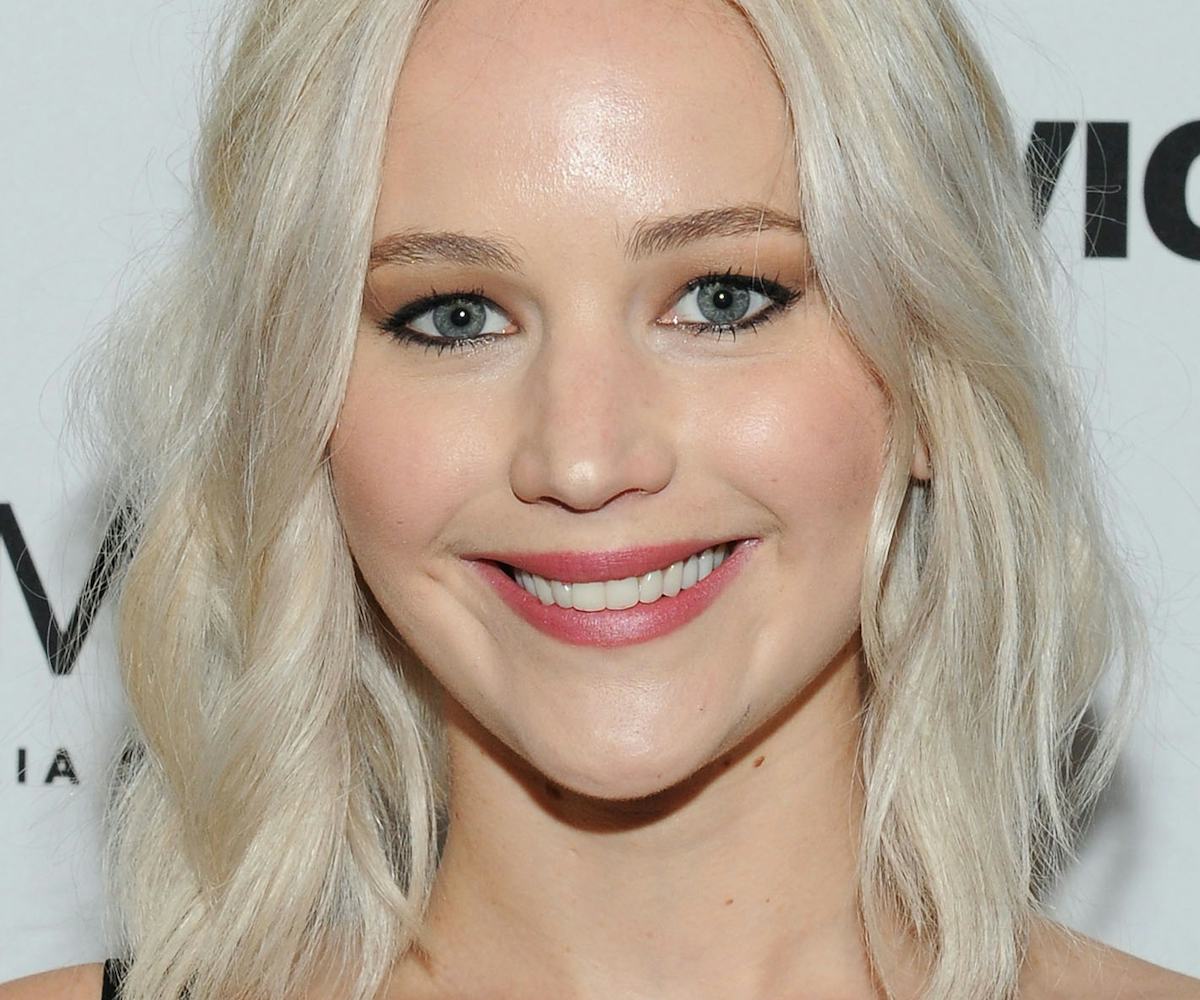 Photo by Craig Barritt / Getty Images
Now That Her Franchises Are Over, What's Next For Jennifer Lawrence?
A look at where Hollywood's brightest star goes from here.
Later this month, when X-Men: Apocalypse hits theaters, it will mark the end of the X-Men trilogy that began with 2011's X-Men: First Class. It will also mark the second time in six months that Jennifer Lawrence is saying goodbye to a wildly successful franchise, an unprecedented feat for any actor. When the first Hunger Games became a worldwide phenomenon and made Lawrence a superstar in 2012, she was part of an ensemble of actors who made First Class a summer hit one year prior. But thanks to her ascent to superstar status, Lawrence's scaly blue mutant Mystique became a central character in 2014's X-Men: Days of Future Past, and now, in 2016, the franchise all but belongs to her. And even though Lawrence has said she's open to more X-Men movies, it's pretty unlikely that she'll don those yellow contacts again.
Add to that the tepid response to last year's Joy—Lawrence's third movie with David O. Russell—and it seems that even that partnership may have run its course. That means the insanely successful formula that has allowed Lawrence to crush it both at the box office and during awards season—Mystique, Katniss, David O. Russell heroine, rinse, repeat—is basically over, leaving the biggest star in Hollywood free from contracts and obligations, and at the peak of her powers. The possibilities for her are endless.
So now that she can basically work with whoever she wants, who is Jennifer Lawrence working with? Her first project in what we'll call phase two of her career is an original sci-fi love story called Passengers, opposite Chris Pratt. Teaming up with Pratt, basically JLaw's male counterpart, is a no-brainer. They both walk around in box-office Teflon, and everyone wants to get smashed with them (red wine with her, cans of High Life with him). The movie, directed by Morten Tyldum (The Imitation Game), is about two people aboard a spacecraft on a 120-year journey to a distant colony, who suddenly wake up and find themselves completely alone. An artful science fiction movie might not be the ideal vehicle for these two naturally gifted comedic actors, but early footage that screened at last month's CinemaCon was met with raves, and Pratt gave some insight into their characters: "She's glamorous, she's from New York, she's an intellect. I play a mechanic and am traveling on the cheapest ticket possible, which means I can pretty much eat oatmeal and live in a small cabin whereas she has fancy food and eggs Benedict and a beautiful cabin, so there is a bit of a [cultural] gap . . . but as our characters rely on each other, they grow very close."
The footage that screened, which included plenty of making out between the two leads, was said to be breathtaking, and with a plum December 21 release date, Passengers will likely become a significant box-office hit and legit awards contender. If it plays out that way, Lawrence and Pratt could become a Hepburn and Tracy for our generation, which would be good for everybody.
Lawrence's other confirmed projects beyond Passengers point to a strategy that's paid off for stars like Leonardo DiCaprio, whose mission it is to work with all of Hollywood's top-tier filmmakers. In the last five years, DiCaprio has starred in films by Clint Eastwood, Quentin Tarantino, Baz Luhrmann, Martin Scorsese, and Alejandro González Iñárritu, a run that culminated with him finally winning an Oscar last March. Lawrence, for her part, has signed on to star in It's What I Do, the true story of war photographer Lynsey Addario, to be directed by the master of all filmmakers, Steven Spielberg.
Lawrence's other official project is nearing production, a still-untitled movie from Darren Aronofsky about "a couple whose relationship is tested when uninvited guests arrive at their home, disrupting their tranquil existence." Javier Bardem, Domhnall Gleeson, and Michelle Pfeiffer have all joined the cast and Aronofsky, who steered Natalie Portman toward an Oscar with Black Swan, remains a favorite among actors in Hollywood. It bodes well for Lawrence that this project sounds more like the twisty and dark Black Swan than it does Aronofsky's bloated biblical epic, Noah.
And that brings us to probably Lawrence's most anticipated and talked about project of the last several months, her still-in-gestation comedy with BFF Amy Schumer. Both Lawrence and Schumer have taken turns teasing juicy morsels of the movie, which they co-wrote and will be starring in. We know that they will be playing sisters. We know that Lawrence's character will be the wild one to Schumer's more responsible sibling. We don't know when it will be made, but we do know that it will be the shit.
What's worth noting about Lawrence's post-franchise career is that she seems to be moving in an opposite direction from Kristen Stewart. Turned off by her experience in the soulless Twilight franchise, Stewart has retreated into mostly art house fare, as if she's been purposely trying to alienate the rabid fanbase who nearly tore her apart. Hunger Games fandom never reached the intensity and darkness of the Twihard phenomenon—no doubt fed by Stewart's IRL relationship with Robert Pattinson—and so Lawrence doesn't seem as allergic to the spotlight. In fact, her upcoming projects point to a desire to make prestige movies disguised as populist entertainments. You likely won't be seeing her in movies on the scale of The Hunger Games or X-Men any time soon, but she won't be disappearing into art houses in movies like Winter's Bone, either. Instead, Lawrence seems determined to build on the DiCaprio model, making movies that will simultaneously keep her at the top of the box office and in the front row of award shows for decades to come.