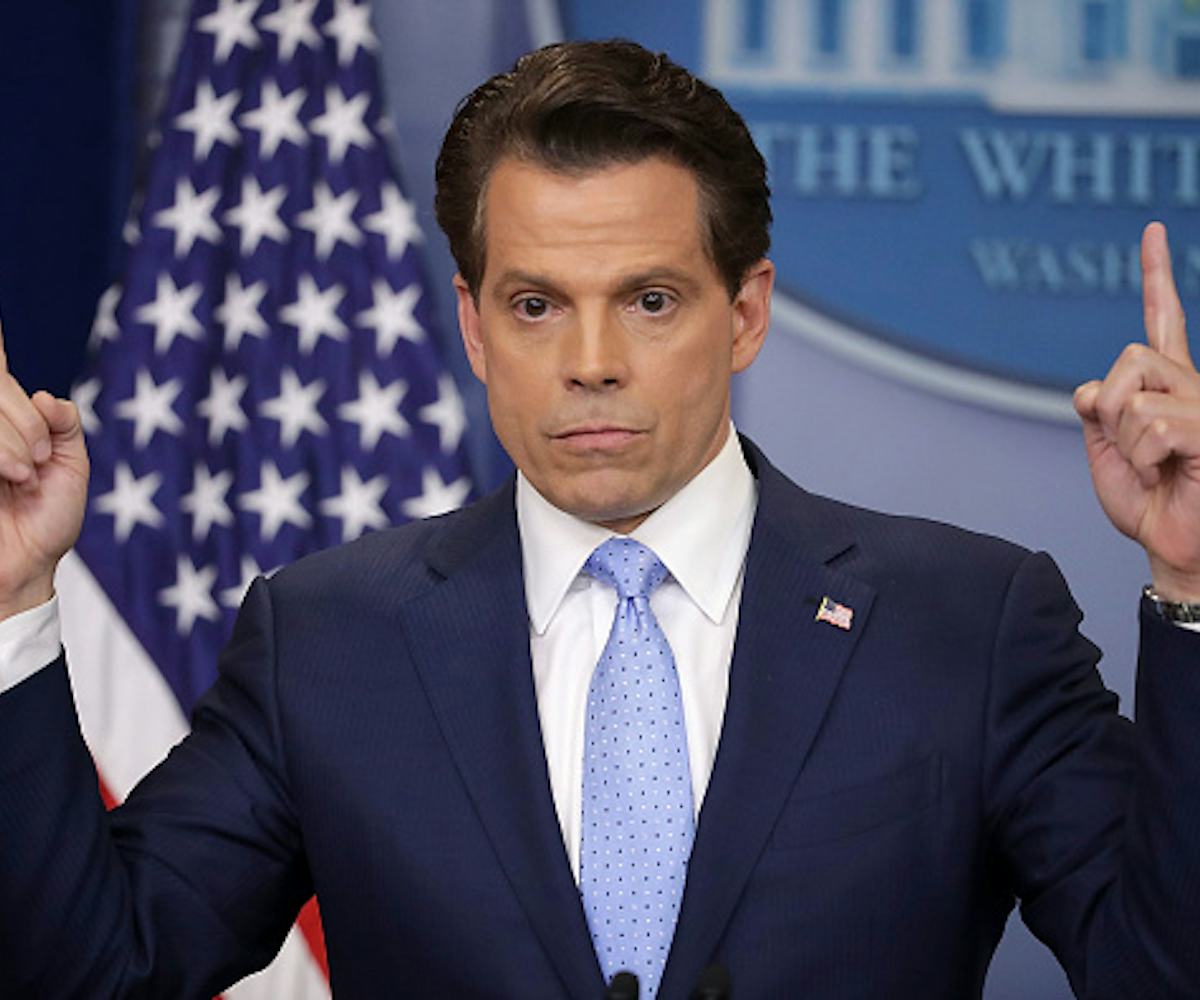 Photo by Chip Somodevilla/Getty Images
New White House Communications Director Deletes All Of His Anti-Trump Tweets
Donald Trump's newly appointed White House communications director, Anthony Scaramucci, like the rest of the world, doesn't like Trump. He expressed this openly in several tweets aimed at the president and his "no judgement." All of those tweets mysteriously disappeared from the internet just a few hours after Scaramucci accepted his new position.
In 2011, Scaramucci referred to the "Trump spectacle" in a tweet about then-presidential candidate Mitt Romney. Two months later, he shared a National Journal article about Trump endorsing Newt Gingrich in the 2012 race. "Odd guy," he wrote. "So smart with no judgment." I agree with two-thirds of that statement. 
Not only did Scaramucci criticize Trump, but he expressed support for Hillary Clinton and Barack Obama, even giving money to their campaigns, donating $5,600 to Obama's campaign in 2008 and $4,600 to Clinton in 2007. In April 2012, he tweeted "I hope [Clinton] runs [in 2016], she is incredibly competent," adding she was "the real deal." 
During the 2016 election, Scaramucci hoped Clinton would win. "I like Hillary," he tweeted. "Have to go with the best athlete. We need to turn this around." Another tweet read, "Hillary run makes everyone better."
When Vanity Fair tweeted the headline, "When did Hillary Clinton Become the Coolest Person on the Planet?" Scaramucci replied with, "When she stopped caring about her image." He was just a few tweets away from knitting his own pussy hat! 
Unfortunately by 2015, he'd thrown out his "Future is Female" shirt and was officially anti-Clinton. "Hillary will be out of race before Thanksgiving," he tweeted. "The democratic nominee will be a governor." 
But at the time, he was still very anti-Trump. While he deleted all of his incriminating tweets, he has yet to find a way to delete this video of him railing against Trump on Fox News in 2015. 
"He's a hack politician," he says in the clip. "I'll tell you who he's going to be president of, you can tell Donald I said this, the Queens County Bullies Association. You gotta cut it out now and stop all this crazy rhetoric spinning everybody's heads around."
He added that he didn't like the way Trump talks about women, and that politicians didn't want to confront him "because he's got a big mouth." Then he referred to Trump as "an inherited money dude from Queens County." Bet his new boss loves that. 
Scaramucci also criticized Trump for wanting to build a wall along the Mexican border and for conflating Islam and terrorism. "It is a fight within Islam, overwhelming majority see Islam as a religion of peace, want to live in multiracial/ethnic/faith democracies," he tweeted. 
It took until May 2016 for the hedge fund magnate to hop on the Trump train, when he joined his Finance Committee. Before then, he endorsed Scott Walker for president, and then Jeb Bush. Basically Trump was his absolute last choice. 
For those counting, this is Trump's third communications director in less than six months. First, it was Jason Miller, who also hated Trump and tweeted about it before deleting the evidence. Trump announced his appointment on December 22 and Miller quit two days later. Mike Dubke took over the role in February, only to resign three months later for "personal" reasons. 
When White House Press Secretary Sean Spicer found out Scaramucci would be taking over as the new communications director, he promptly quit, calling the appointment "a major mistake." And that's coming from a man who thought Hitler didn't use chemical weapons, compared salad dressing to treason, and regularly tweets out his own passwords.