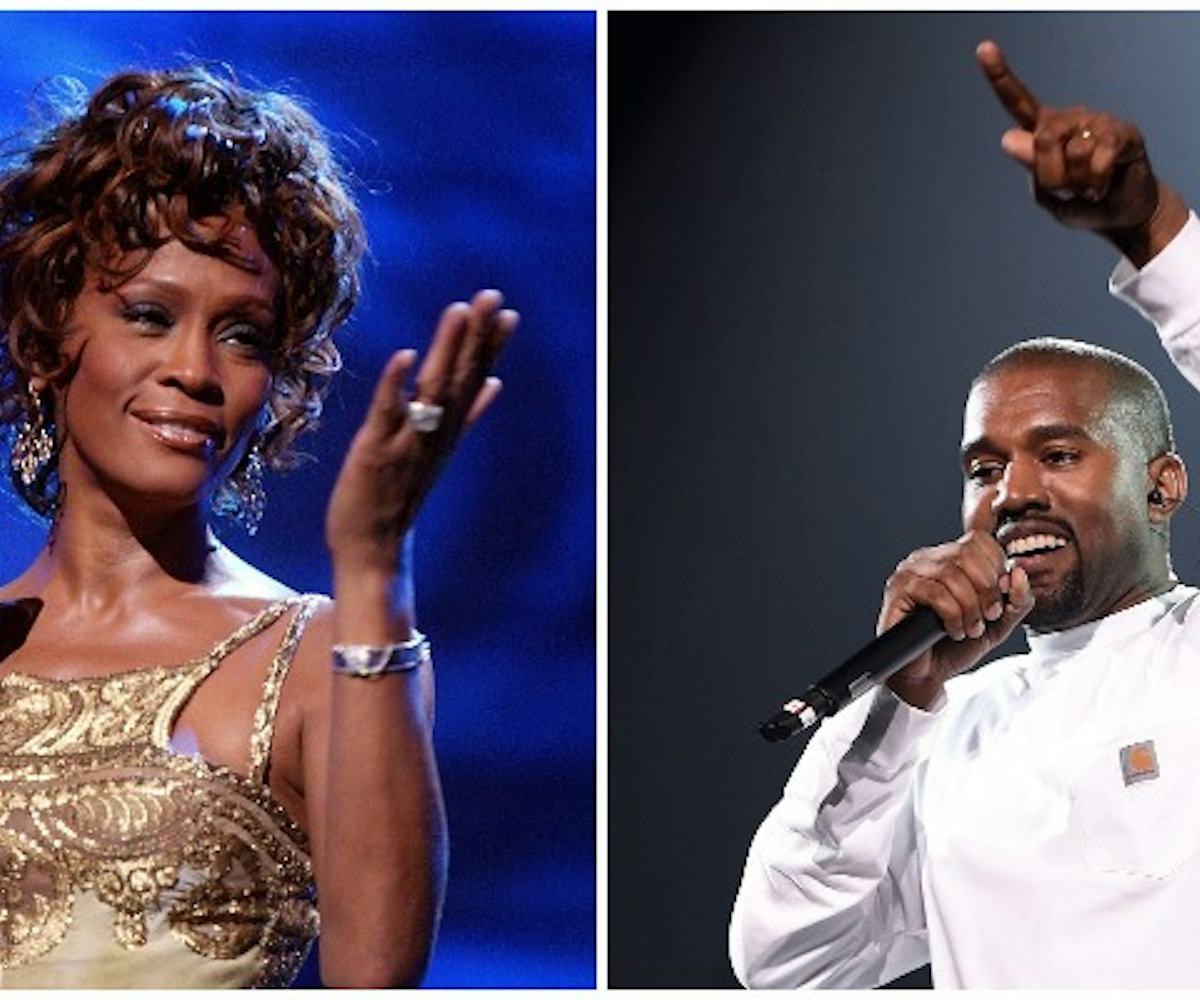 photos by Kevin Winter; Dimitrios Kambouris/getty images
Whitney Houston's Family Has Mixed Feelings About Pusha T's Album Art
Featuring the controversial bathroom photo
Some of Whitney Houston's family members have responded to the controversy surrounding Kanye West's use of the late singer's bathroom photo for Pusha T's DAYTONA album art. 
Houston's second cousin Damon Elliott recently told Entertainment Weekly that he wants the artwork to be removed, while Houston's nephew Gary Michael Houston told Good Morning America that fans should be more angry with the anonymous family member who snapped the photo, which ended up being sold and published in the National Enquirer in 2006, than West. Last week, Pusha revealed that Kanye, who produced his album, bought the controversial photo for $85,000 in a last-minute decision to use for Pusha's new album because he wasn't "feeling" the original cover. The photo showcased Houston's bathroom sink, which was overflowing with beer cans, rolling papers, powder-coated spoons, and drug paraphernalia.
"The person who violated the trust of my aunt by taking the photo and selling it to tabloids for their own personal and/or financial gain is more of a travesty to me," Houston told GMA in a statement in regard to the backlash West has been facing. "People should research that—because whoever exposed it are the people who violated her trust, mistreated her, and who should ultimately be held accountable for contributing to circumstances surrounding her demise." Houston added that, if a musician can afford to pay the price to express themselves, they should. 
"Bottom line—they are artists and in this day and age, if they can afford to pay someone for usage of that photograph in order to convey a visual message to accompany their musicianship ... then so be it," he said, before noting that he loved the album. "In summation, I think I speak for rest of my immediate family when I say that we are focused on way more important things than an old photo." 
Meanwhile, Elliott felt the use of Houston's photo was a step too far. "I immediately got sick to my stomach because it took me right back to six years ago," he said. "To do something for a publicity stunt to sell records, it's absolutely disgusting. It hurt my family and my daughter. It's petty. It's tacky." Elliott, who is the son of famed R&B singer Dionne Warwick (whose sister, according to a new documentary, sexually abused Houston when she was a child), says he has worked with West in the past and was "in shock" at the news. "I just want him to tell me why he did it," he said. "What is the creative side of this? What's the point? It shows no creativity."
You can read Houston's statement in full here and Elliott's statement here.