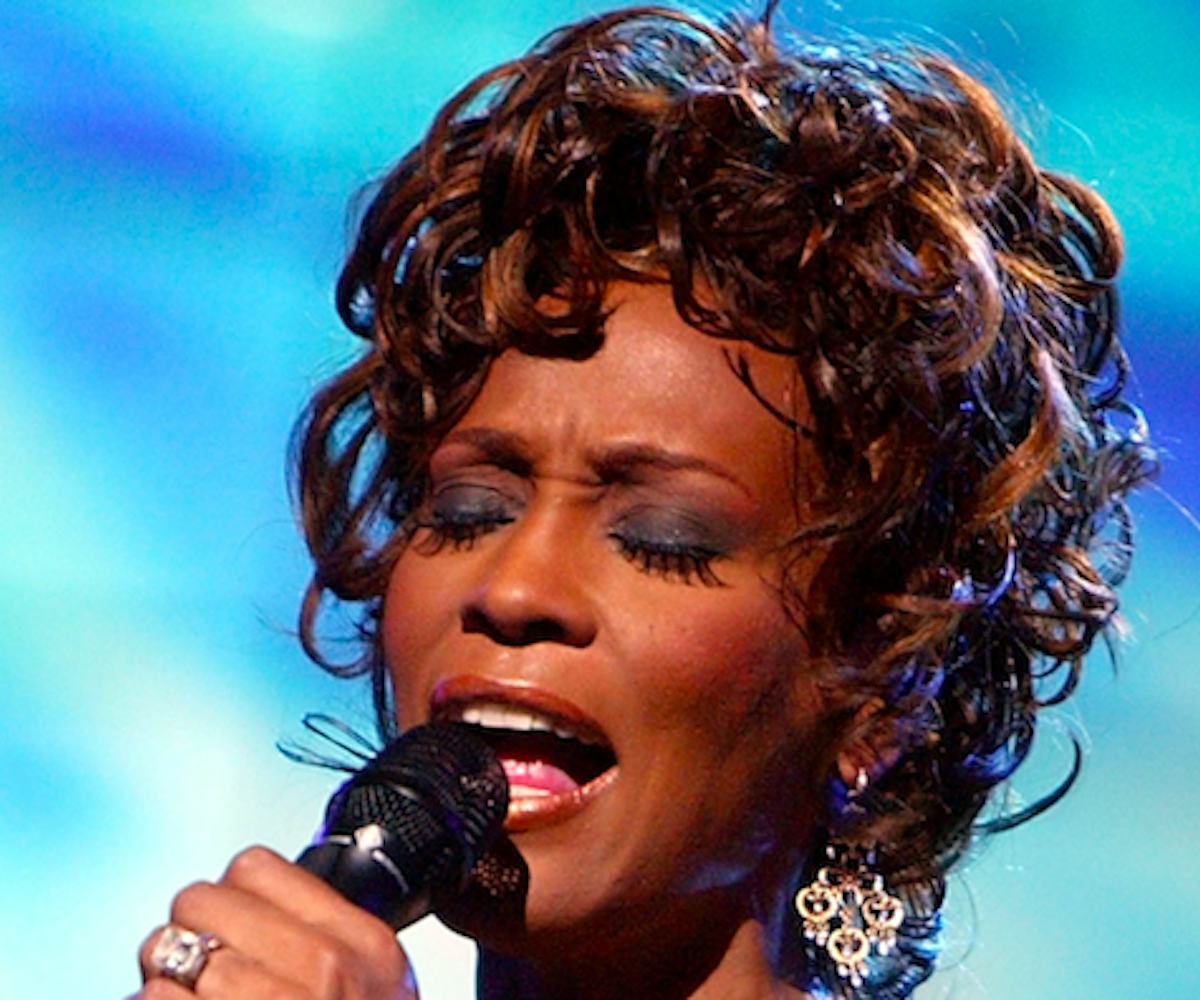 photo via Kevin Winter/getty images
Whitney Houston's Documentary Reveals She Was Sexually Abused As A Child
Whitney Houston's highly anticipated documentary, Whitney, has yet to debut in theaters, and it's already generating buzz. The film, which was directed by Oscar-winning filmmaker Kevin Macdonald (One Day in September, The Last King of Scotland), premiered yesterday at the Cannes Film Festival and gave fans an unflinching look into the late icon's life through never-before-seen archival footage, demo recordings, and interviews with family members and close friends. One of the interviewees for the documentary was Houston's half-brother, Gary Garland, who revealed in the film that the singer was sexually abused by her cousin when she was a child.
While speaking to Vanity Fair, Macdonald said he had a hunch that she had been abused by the way that she carried herself. "I've seen and done some filming with people who have suffered childhood sexual abuse, and there was just something about her manner that was reminiscent to me of that sort of shrinking—a lack of comfort in her own physicality that felt, maybe that is what it was." He added that it wasn't long before someone told him off-the-record that she was abused and that it was one of the reasons why she was so tormented. "It took awhile for anyone to go on record about it, and eventually the family did."
Garland was one of two interviewees who accused the pop icon's cousin, Dee Dee Warwick, of molesting Houston when she was a child. He claimed Warwick sexually abused him as well. Warwick was the sister of soul singer Dionne Warwick, who she performed with in the group The Gospelaires (that Whitney's mother Cissy was also part of) in the 1950s and '60s. The second person who spoke on the record was Houston's longtime assistant, Mary Jones, who opened up on-camera about the moment when Houston revealed to her that she had been abused. "[Houston] looked at me and said, 'Mary, I was molested at a young age too. But it wasn't by a man—it was a woman,'" recalls Jones in the film:
She had tears in her eyes. She says, "Mommy don't know the things we went through." I said, "Have you ever told your mother?" She says, "No." I said, "Well, maybe you need to tell her." She said, "No, my mother would hurt somebody if I told her who it was." She just had tears rolling down her face, and I just hugged her. I said, "One day when you get the nerve, you need to tell your mother. It will lift the burden off you."
Though Houston never publicly spoke about the alleged abuse, Jones said that she hinted at it at certain points in her career. In one interview, when asked what makes her angry, she reportedly said, impassioned, "Child abuse makes me angry. I hate to see kids... it bothers me that children, who are helpless, who depend on adults for security and love, it just bothers me. It makes me angry." 
Whitney is out in theaters July 6. See the trailer, below.