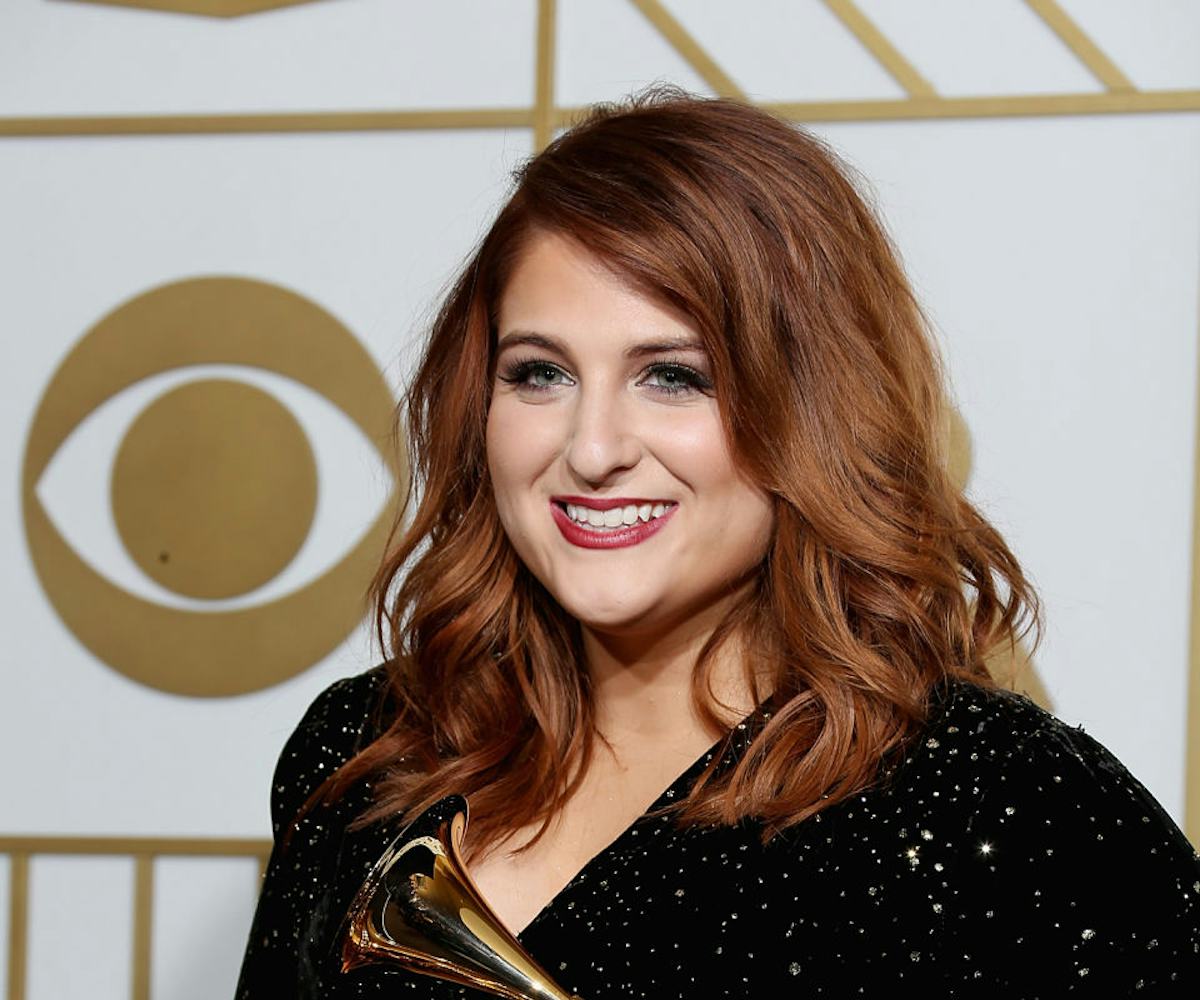 Photo by Frederick M. Brown / Getty Images
Why Are We So Bothered By Meghan Trainor?
Exploring our complicated feelings about the controversial pop star
Today, Meghan Trainor—Grammy's most recent Best New Artist—released her latest single, "No." In theory, we should be into it.
Technically, it has all the makings of a 2016 power jam. It's more naughties club fodder than an homage to sixties girl groups, and in an interview with Fuse last month, Trainor described the track as being "a big anthem for ladies about telling a dude, 'Nah, I'm good—I'm out here on my own, and I'm good with it.'" Plus, the lyrics ("My name is 'no,' my sign is 'no,' my number is 'no'") fall in line with consent culture; that no means no, regardless of dance moves or dress choice or anything other than an overt yes. And that arguably makes "No" a song for anyone who's come up against a guy who thinks women are an invitation for his advances—or anyone who thinks women "need" men at all. It conveys a manifesto we're fortunately seeing more and more in music: we're fine on our own, thanks.
So "No" should appeal to us all—especially since pop is in the midst of a reclamation of female power. Beyoncé, Nicki Minaj, Selena Gomez, Demi Lovato, and Taylor Swift are just a handful of artists who've been using their work and their platforms to preach the importance of self-confidence, ambition, feminism, and "feeling" one's self. So for Trainor to capitalize on this theme—especially in the wake of her Grammy win—should have us all psyched.
But that isn't the case. Upon news of the "No" release, Jezebel mocked the song's title, which might be because that in the wake of her 2015 single "Dear Future Husband," Trainor was on the receiving end of major backlash—especially since the corresponding video saw her scrubbing floors like a 1950s-era housewife. (Which is fine if that's your choice, but the song seemed less about that, and more like an ode to patriarchal norms.) Plus, a year earlier, she did the unthinkable and announced she wasn't a feminist at all —which is disappointing, but also surprising since, a) Trainor is a young woman in charge of her career (and is obviously reaping the benefits of feminism), and b) admitting as much may imply she's confused about what "feminism" means.
And there's more: her breakout single, "All About That Bass," was an ode to loving one's body and embracing one's curves, but Trainor soon came under fire for body shaming skinny people, which she defended less than succinctly.
"I don't criticize skinny people!" she told Popjustice in 2014. "I don't know who would want to. I guess they stop listening immediately after I say 'skinny bitches' and just turn it off. But I say, 'Just kidding, I know even you think you're fat.'"
Which doesn't exactly help her case. Add to this her Best New Artist win over Courtney Barnett and Tori Kelly back in February, and her impromptu on-stage makeout with Charlie Puth during the AMAs, and it's understandable that we're all left very confused about Meghan Trainor.
On one hand, she's a young woman who's finding success her own way in an industry that's notoriously difficult to navigate and thrive in (especially if you're a woman). But on the other, she's cultivating an image that's not only been problematic, she's capitalizing on the popularity of feminism without doing the heavy lifting. A song like "No" could be a meaningful, interesting, and an exciting track—especially if targeting a younger audience just coming into their own voices. But instead, it feels like lip service, appealing to the popularity of pop's feminist push alongside the footnote, "But I'm not a feminist [wink]."
And this isn't a witch hunt to condemn famouses for choosing not to label themselves. But it does help explain our knee-jerk reaction to the singer and her meteoric rise, especially since she may even remind us of ourselves. At 22 (which is how old Meghan is), I know I wasn't comfortable calling myself a feminist yet because I had a lot to learn. So watching somebody else repeat my mistakes in such an overt way can feel just as uncomfortable as admitting I made them at all. So while we'd all like to admit we've always been as socially aware as we are now, we know that isn't the case—and Trainor is a reminder of that.
And of course, she's not a suburban college student, so there's more weight to her words than there was to ours. Which is where I think the root of her backlash lies: we want her to do better. We want her message to mean something. We want another pop star to step up and Beyoncé the shit out of her platform because we know how influential pop music can be. We want her to be more than someone who writes and performs songs; someone who creates tracks like "No" with a larger perspective attached.
But the only person Meghan Trainor can be is Meghan Trainor. And she'll never learn if we keep throwing our own agendas her way and expect her to be exactly who we want. She'll get there—especially since "No" is such a far cry from "Future Husband," and shows she understands the foundations of feminism and consent culture.
And if she doesn't, we can take a little break and focus our attention on somebody else.