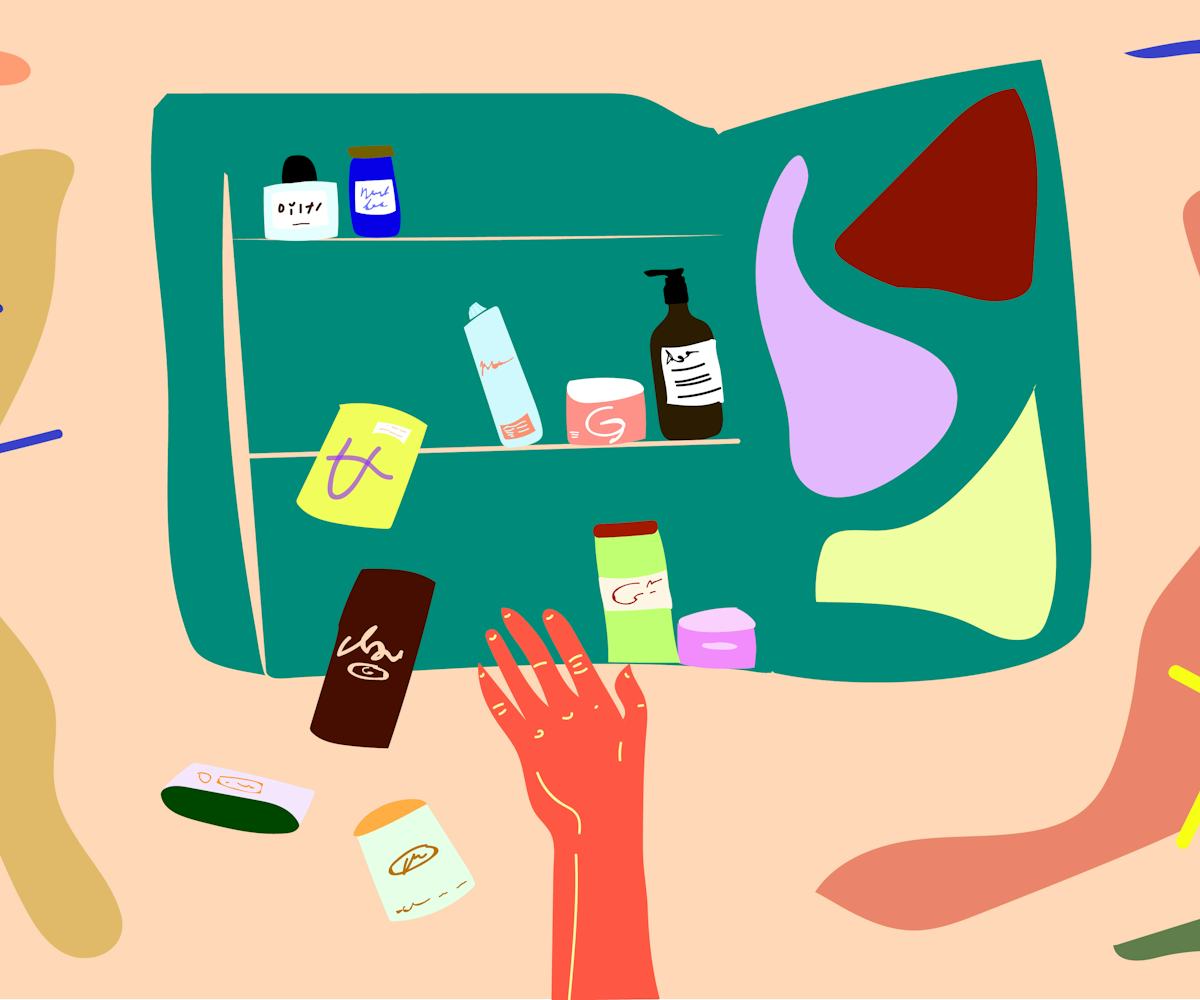 How The Skin Care #Shelfie Took Over Instagram
It makes us feel good on the inside and outside
Two months ago, an L.A.-based actor and writer named Justin Alexander uploaded a photo of his medicine cabinet to Instagram (where he goes by @forgottenfantazy). It featured an entire shelf dedicated to Goop products, alongside a framed photo of the company's founder, Gwyneth Paltrow, along with a quote overlay that reads, "I am who I am. I can't pretend to be someone who makes $25,000 a year." The lower two shelves were dedicated to items from Honest Beauty (Jessica Alba's brand), Kora Organics (by Miranda Kerr), Glossier (the cult brand founded by Emily Weiss), and KKWBEAUTY (by Kim Kardashian West.)
Alexander isn't a publicist, or an influencer selling real estate via his profile. He's not a celebrity who gets sent free products and paid a lot of money to promote those products on his Instagram account. He's just someone who wants to share "all of the products I can't live without and a few other #shelfie necessities," according to the image's caption.
We've long since left the time when it would seem bizarre that anyone would want to see a photo of another person's facial hygiene products, but it still can seem kind of strange that anyone would take the time to carefully stage a photo shoot featuring brands to which they had paid money, and not the other way around. But it's 2018 and, in fact, it's not so weird after all.
And yet, even the least influential among us have grown used to celebrating the products we use on a daily basis. As Jia Tolentino's late-2017 article on The New Yorker's website brilliantly summed up, skin care is the self-care pursuit of the moment. As we expand our product wardrobe with serums and ampoules to suit every skin mood, it only makes sense that the shelfie has supplanted the selfie as the Instagram-of-the-moment.
The #Shelfie (a hashtag which has not so long ago crossed the million mark on Instagram) and its variant forms, e.g. #SkincareRoutine and #SkincareDiary, give us insight into the tendency to make public an otherwise private practice.
Alexander tells me he uses shelfies to represent his personal narrative: "I realized that I could really approach it from a creative space and add my own personal aesthetic to the pictures."
Other shelfie posters echo this sentiment, but also speak to more specifically aesthetically oriented goals. On how she chooses what products to post, Alyssa McCamey (@lyssahjean) says, "Sometimes it's just because the sunlight hit the bottle just right, and I think it looks dreamy."
Packaging and organizational porn are a large part of what makes posting a #Shelfie work on the ultra-visual platform. The hashtag's top posts tend to favor visible brand names, tightly curated medicine cabinets, and, of course, lots and lots of millennial pink—the dusty rose packaging of Glow Recipe's Watermelon Mask, Drunk Elephant's Babyfacial, or anything Saturday Skin or Glossier is practically a given in these types of posts.
The practice's worst critics will tell you that the shelfie is an extension of affluence-signaling already manifested in earlier trends, like the Outfit of the Day (#OOTD). Only now those $900 Margiela heels have been replaced by the $160 Sunday Riley Good Genes treatment. And it is true that these beauty products can get pricey—even more so when you consider that they get used up and must be repurchased within—at most—a few months of buying. Krithika Varagur's anti-skin-care piece for The Outline, "The Skincare Con," comes to mind, in which she writes, "Rich people used to build castles and museums; today they buy clunky smartwatches and personalized vitamins. Those with disposable income would, before we all lost our minds, buy books or art or beautiful shoes or literally anything that gives more pleasure than another useless exfoliant."
The relationship between consumers and brands is complicated—especially in an industry where the global worth is currently valued at $135 billion—but that's not to say that people who buy and post photos of skin-care products don't have agency over those choices. In as much that Instagram has become a platform for brands to reach their consumers, the skin-care community on Instagram has become a tool for cutting through the noise.
Jill Seeley, who goes by @theglowfile on Instagram, has been posting lineups of the products used in her ever-evolving skin-care routine for nearly a year. Her feed consists mostly of groupings of four to seven differently sized and shaped bottles on a marble countertop corner, framed by a matching backsplash. The captions identify each product by how they fit into her routine and provide a quick comment on what was considered when creating the day's skin-care agenda. For her, it's an opportunity to teach. "Hopefully I'm able to use pictures to share what works for me and what doesn't work for me to help others. I also try to post reviews and empties for people to get a better understanding of what worked well for me and may or may not be a good fit for them," she says.
Alexander also sees the potential for his shelfies to have a positive effect on his followers. "I understand the struggle many people have with their skin, and I really empathize with them, so for me sharing a picture of these products feels like letting them in on a little secret."
Skin-care Instagram is a constant exercise in information crowdsourcing. Each shelfie or routine breakdown posted is met with comments noting personal experiences, or giving tips, or suggesting other products when one falls short. As such, the bond among participants is strong.
Kristen Herburger's (@rubyshallows) favorite thing about posting shelfies is interacting with the community. "There are so many of us out there, and we all have an insatiable love and curiosity for truly wonderful products. I have yet to meet any of them in person but yet I know I would get an almost immediate response from a DM sent to a girl in Great Britain or a guy in Atlanta. Everyone is so positive and supportive, and there's hardly any palpable competition at all."
At a macro level, shelfies are doing their part to tug at the curtain of "beauty" by revealing the work—and tools and money—utilized in order to achieve a desired look. By societal standards, we are still expected to be beautiful, but at least we're allowed to admit that we try, rather than having to masquerade (sheet mask-erade?) that we are all just genetically fortunate. But it does so in a celebratory way, rather than a derogatory one, as did Varagur's contrarian and frankly misogynistic piece. (I sometimes wonder if it was created as a false flag to band beauty writers together.) Instead, the shelfie gives us not only a format for sharing our trials and journeys to "good" skin but also a community that will empower us to feel good from the inside, as well as the outside.