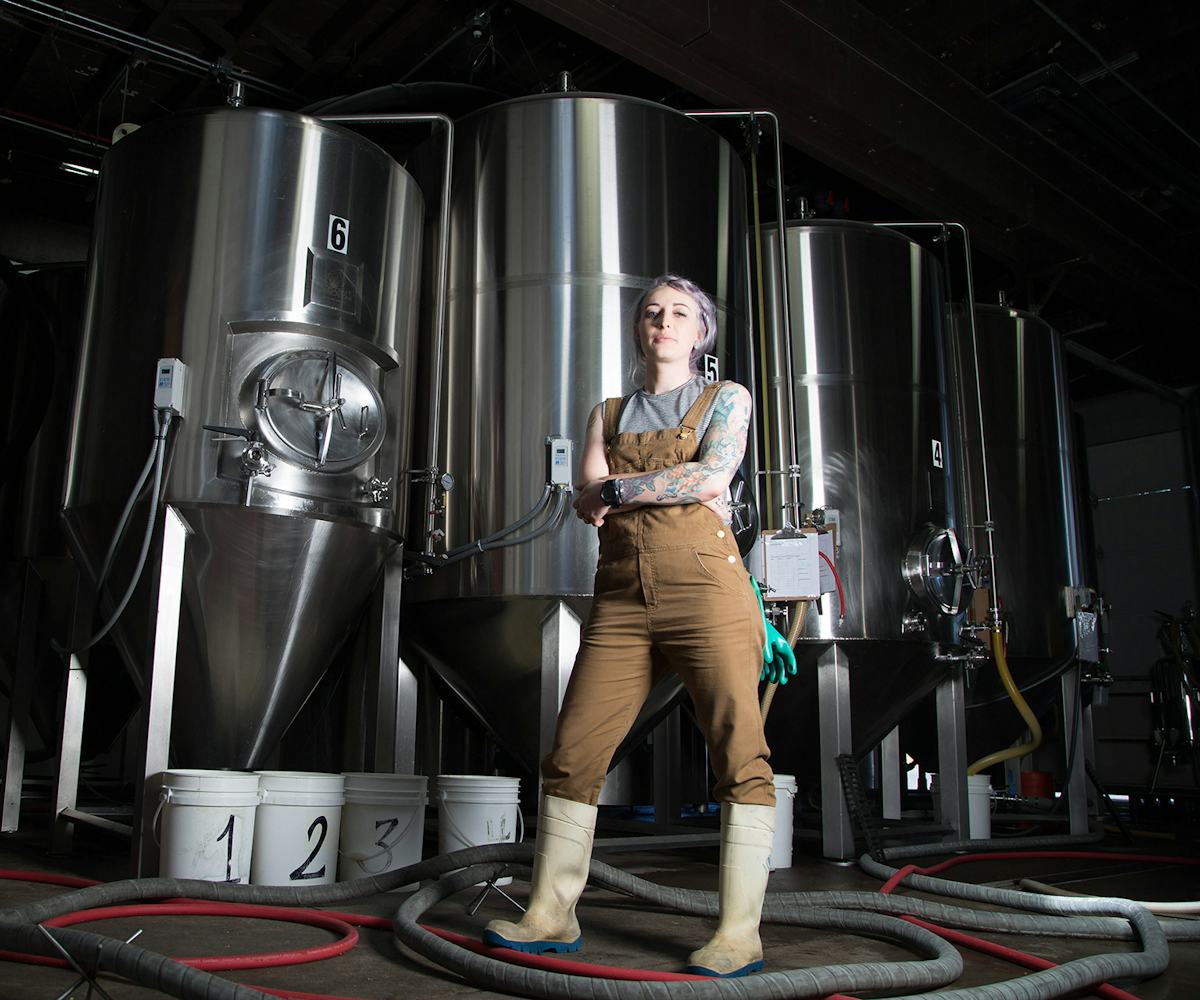 Photo by Andrea Corradini
Wildfang's New Campaign Features Badass Women Killing It In Male-Dominated Fields
Excited by the possibility that our next president and White House resident could be a woman, Portland-based brand Wildfang has just launched a new project to celebrate this historic moment. "A Woman's Place Is In the House" is a new photo series from the brand that documents eight women who are absolutely slaying in their typically male-dominated fields—rising to the top of their respective "houses."
These eight women come from a range of fields and backgrounds and include champion weightlifter Mira Kwon Gracia and restaurateur and chef Naomi Pomeroy. Like Hillary Clinton in the presidential campaign, they are breaking down barriers and fighting stereotypes, perhaps even redefining what it means to be a woman in our society. 
If you're not already familiar with Wildfang, you should. The label is currently selling the coolest tomboy-inspired fashions (including that Wild Feminist tee you've probably been seeing around) both online and in two Portland shops while also running a blog that provides a forum for badass women everywhere. 
To supplement "A Woman's Place Is In the House," Wildfang also has an accompanying Luminary Collection for sale, comprising of graphic tees meant to show the world that "a woman's place is right here, right now," and boasting text like "Come as you are" and "Roosevelt & Ruth & Rosa & Truth."
We asked four of the women featured what their best piece of advice for a woman working in a male-dominated industry would be. Click through the gallery below to read on.
You can meet the rest of these strong and powerful women, as well as shop the collection, on the Wildfang site.
House In Progress
Gina Coplon: Engineer, LEED certified, and adventure seeker
"Being a female in a male-dominated industry can be challenging. Recognize that every challenge is ultimately a learning experience and a reason to grow, not a setback or a barrier. If you are in an atypical and groundbreaking position as a woman, you can use that to your advantage by creating your own rules and, in turn, kicking some ass. Don't let prior norms and standards pave the way for your career—kick down those gender barriers and don't be afraid to show people your full potential. There's a good chance that you'll surprise your colleagues and yourself."
Taphouse
Natalie Baldwin: Brewmaster at Burnside Brewing, biochemist, and Pilsner pro
"Command your place in your industry based on your knowledge and experience. Be a bold force not because you're a woman, but because you're good at what you do. You may be a minority in your field, but that doesn't mean you have to accept being marginalized. Less will be given to you up front—trust, responsibility, respect, position—but earning recognition and merit—and proving people wrong—is infinitely more valuable and powerful in the long run. Be prepared for others' hesitation, doubt, and unbalanced expectations, but remember you never have to settle. Being a woman means more will always be asked of you, but that is because only we have the fortitude to always, always endure."
Powerhouse
Mira Kwon Gracia: Weightlifter, record holder, and owner of Industrial Strength Gym
"My mum taught me how to 'work smart,' and that's taken me a long way. It's just not about how hard you work—but also about how smart you work."
Chophouse
Naomi Pomeroy: Chef and owner of Beast, author, and one of Oprah's 10 Women On the Rise
"Don't be scared to push people our of their comfort zone—surprise them. Push them outside of their boundaries. If you want to innovate, you have to make people uncomfortable."