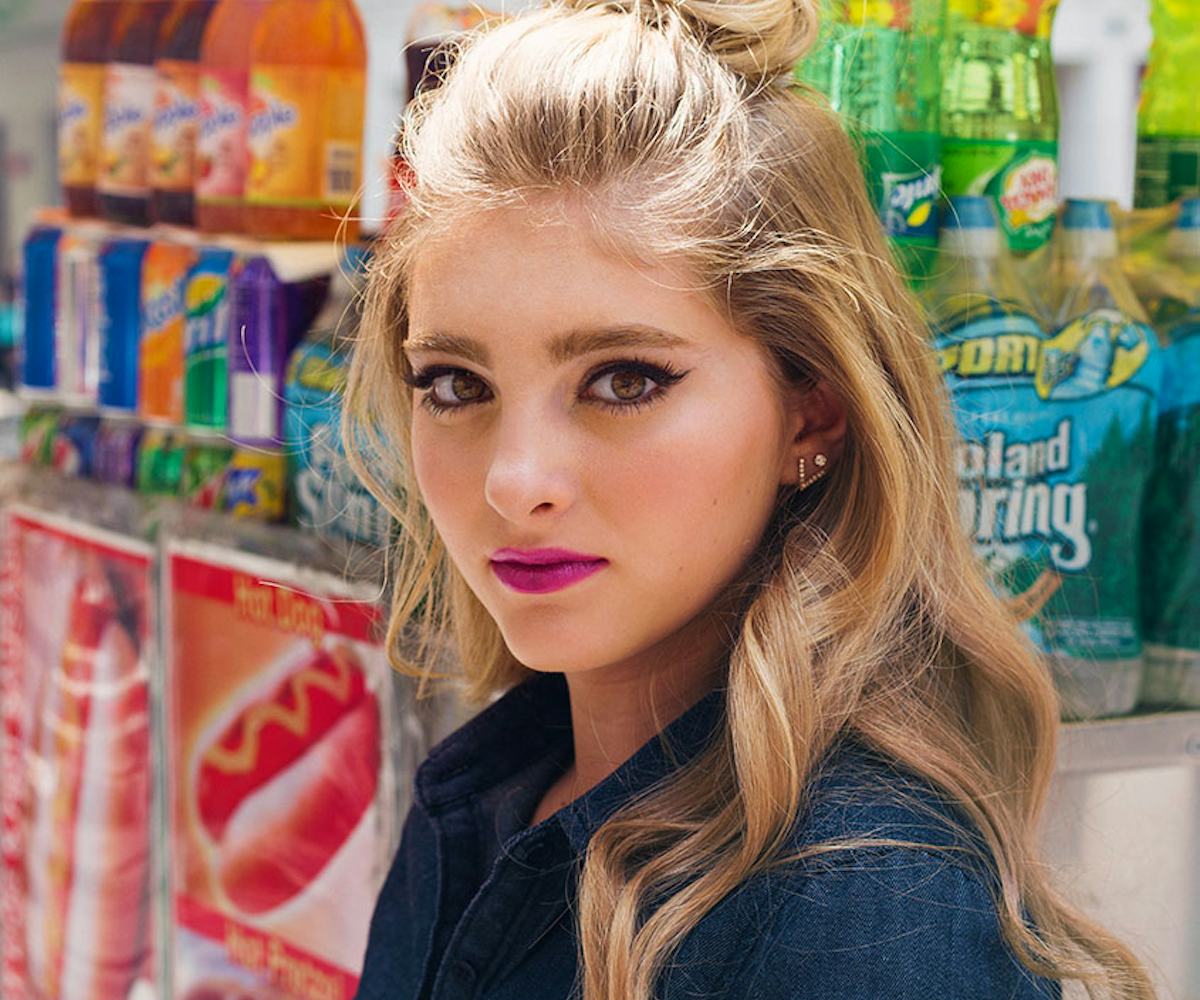 photographed by Michael Burk, styled by Marissa Smith
Willow Shields Is Ready For Post-'Hunger Games' Life
as she looks back at the saga
It's a sweltering summer day, and actress Willow Shields is in New York to promote The Hunger Games' Times Square exhibit. With two hair and makeup artists simultaneously prodding at her, Shields is somehow focused enough to reveal a warm personality, a tendency to geek out about Broadway musicals, and total lack of entitlement. Oh, and she doesn't even own a cell phone. It's all pretty uncharacteristic for a young actress, let alone one who refers to Jennifer Lawrence as her "sister" and plays a pivotal role in the most-anticipated film of the year, The Hunger Games: Mockingjay – Part 2.
In the years since she auditioned for the role of Primrose Everdeen at the age of 10, mere months after first reading the series, Shields has experienced the phenomena of The Hunger Games behind-the-scenes while growing up alongside it. With millions of invested viewers, hundreds of fan fiction sites, and multiple product lines, the series not only influenced culture on a mass scale—it created its own.
Even though she wrapped filming over a year ago, emotions are still high as the series comes to a close this weekend. "To me, the hardest part is that I've played Prim, and to just all of a sudden not be playing her anymore is really hard," she says, gazing up with wide eyes. "You go on set for five years of your life playing the same character, and then you're like, 'Wait a second. It's over.' And then at the same time, it's closure."
It's hard to talk about the saga without mentioning how it launched nearly all of its actors' careers. Four years since they started filming The Hunger Games, Josh Hutcherson, Liam Hemsworth, and Jennifer Lawrence are all household names. Amandla Stenberg has become one of Young Hollywood's greatest activists, Elizabeth Banks has become one of the most successful women in entertainment, and Shields will be starring in Jennifer Chambers Lynch's upcoming thriller, A Fall from Grace, as well as Norman Stone's adventure fantasy, The Wonder. It's a fact that even Shields is quick to acknowledge: "[Finishing up] was bittersweet for everybody, because in some ways we're like, 'Well it's exciting to move on to new things.' After The Hunger Games, we have great opportunities for a lot of parts, but at the same time, I felt like everybody was sad to say goodbye to their friends, their cast, their family, everything like that." 
"I was wrapped probably like eight or nine months in, and [the rest of the cast] went to Europe for a month to film," she says, recalling her last day. "I was on set with Jen—she was the only one on set with me that day; it was just us. We just kind of hung out in the trailer, and she gave me a gift. It was just like really sweet and sincere. The real celebration happened in Europe, unfortunately without me. I think the celebration is sometimes just seeing the film together, being at the premiere and experiencing it together."
Throughout the entire series, Prim has functioned as Katniss' rock. Katniss loves her above all else, and she's one of the few people Katniss can trust and confide in. And in building that trust and camaraderie onscreen, the two actresses have built a close friendship. If you look back at interviews from the first Hunger Games press tour, Shields speaks about how Lawrence would joke around between takes. In the years since, Lawrence has become a mentor of sorts. "She's been involved in Hollywood for long enough, since she was my age," Shields says. "And, she had some great stories to share about starting off in Hollywood at such a young age and trying to find her path and things like that. And so she has a lot of great advice about Hollywood in general."
"She's one of the rare people in Hollywood who's decided to stay who she is and not change herself for Hollywood's ideal image," she continues. "She's really unique and interesting, and her personality's amazing, and I feel like she's kept with that and hasn't like strayed away from who she is. The best advice she gave me was to find my path, stick to it, and stay who I am through the journey of Hollywood."
Part of that path, she says, is staying off of social media. "I feel like as a young person, social media is a bad place to be if you want to be a creative person and if you have passions and feel driven to do something. Social media can kind of get in the way of that, in some sense," she says. "It's good for young girls to focus more on real life experiences than something through the phone. I mean, I don't even have a phone. It's very important for every young person to be like, 'I want to do this with my life,' or, 'For the next two months, I'm going to take these art classes and I'm going to learn how to do this.' You should try new things." 
Even without any knowledge of what's to come in the second half of Mockingjay, viewers know that, as per the rules of film, the series has to reach its climax. "In Mockingjay - Part 1, you got a glimpse of a lot of the character development, and in Part 2, it's going to be a revolution. It's going to be sad, but I think the fans are going to be really content with how it ends." 
For those who don't know how events will unfold, well, let's just say that a movie based on a book that attempts to portray war and all of its ugliness probably isn't going to end like a typical YA movie does, and not everything will be positive. For those who do know what happens, they know that Prim is at the center of the series' most shocking moment. "I think that for a lot of fans, that was the most devastating thing they have ever read," she says. "The reason Suzanne Collins did do that was because she felt like she needed to have like a really dramatic moment for people to realize that this world is so crazy, and this is what happens because of it. She needed to have that event so that readers go, 'Oh my god, how could that happen?' But it does happen. You see Prim's going into battle in the revolution, and like, everybody's like, 'What is this?' I love reading more than just about anything, and so for me, when I read the books, I felt like it was actually a smart ending. You have this realization of like the brutality of the world."
"I guess in some sense it's happy, and in a lot of ways it's really sad," says Shields. "Even though people were sacrificed for it, hopefully it's leading to a better world. There is that hope in all fans that because of these events that have happened, hopefully it's leading to better things for Katniss, Peeta, Gale, and everyone."
Although there is a love triangle at the center of the film, and the characters' love for each other goes a long way in making the film seem accessible to audiences old and young, it's not a film driven by romance, despite the whole Team Peeta vs. Team Gale competition that's played out in the public. "I think that Katniss' mindset, throughout the entire series—and it just even elevates more in the last film—is to protect her family and the people that she loves," Shields explains. "She does love both Peeta and Gale, and she wants to protect them, and she has to do whatever she has to do to do that. She's this huge public figure, and so she has to make the right choice of who she's going to love partially because of that. But she doesn't want to break the heart of Peeta or Gale, because she's been protecting them the beginning."
While there's no crystal ball that allows us to glimpse into the future, if you look at author Suzanne Collins' absence from social media, it seems like the series won't be getting a Pottermore equivalent. After the series' final installment is released this weekend, it will really be the end of the revolution. "Usually, we meet up at the premieres and we're like, 'Oh, see you in a few months to film.' And this time we weren't. We were like, 'Oh my god they're all done.'"
Jacket by Re/Done; dress by House of Holland.
Shirt by Pixie Market.
Shirt by Pixie Market; shorts by Pixie Market (similar styles available); shoes by Camper.
Jacket by Re/Done.
Shirt by Pixie Market.
Shirt by Pixie Market; shorts by Pixie Market (similar styles available); shoes by Camper.