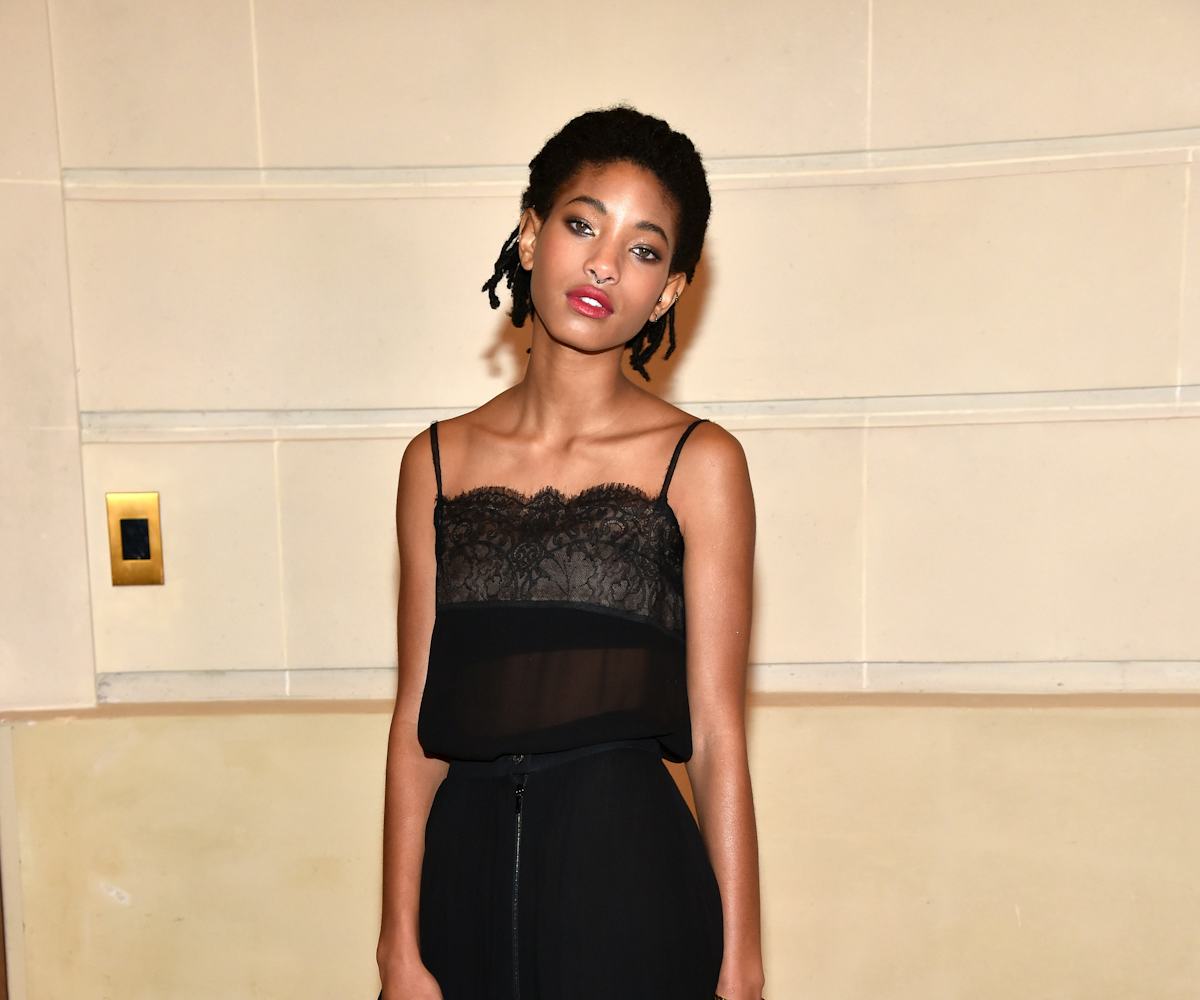 Photo by Pascal Le Segretain / Getty Images
Willow Smith Is Working On Her Own Animated Television Series
Coming to a screen near you
Do you remember what was on your mind at the age of 16? You probably had really big ideas, even if you didn't know if you'd be able to act on them. But then, you weren't Willow Smith. Her latest accomplishment comes in the form of an animated television series. Called Menencholy, the series is based on an original book proposal written by Smith, no big deal. 
Menencholy will be produced by the teen's company, MSFTs Production, in collaboration with Cartel Entertainment. The story revolves around the journey of a girl named Menen-Nin Khali who has the ability to look into her past life. As Menen-Nin experiences a "metamorphosis" while attending The Mystery School, she "begins to accept the true power that lies within her and uses it to save herself and her town." Smith told Deadline that "the nonphysical, creative, and wild nature of a female heroine's journey calls for a unique narrative structure that permeates the very foundation of the story."
Smith is focusing on female-driven projects and will also adapt Alwyn Hamilton's Rebel of the Sands trilogy. For this project, the multi-hyphenate will take on the starring role as Amani, a teen who flees her hometown and embarks on a journey to a nation called Miraji, that is divided by mortals and mythical beasts.
MSFTs Production is linked to MSFTS Republic, which is the mysterious creative collective that Willow, Jaden, Daniel D'Artiste, dylAn, ¿Téo? and Moisés Arias are all a part of. This is the original mission statement that the crew posted on the website back in 2015:
MSFTSrep – short for MSFTS republic – could be looked at, in simplest terms, as a creative work force dedicated to supporting and waking up the population of planet earth, through attaining knowledge and personal growth. But even that puts it into a box. Anything that could be put into words puts it in a box, because MSFTSrep is more of an expression rather than an explanation.
So please keep in mind, there has never been anything like MSFTSrep before, because there are very few collectives willing to sacrifice the safe, cliché, and popular for something entirely new which has never been seen before. Because it is simply impossible to predict the unknown, and MSFTSrep is in fact, unknown.
This republic truly started with the feelings and emotions of wanting to transform the conditioned mind sets of the masses into a more creative freely flowing environment—an environment in which one is free to experiment & is not judged for expressing oneself and the way one feels at any given moment…
We can't wait to see what else Willow has in store for us. Till then, if you want to get a better idea of her writing skills, check out essay "TEETH BY WILLOW SMITH: An exploration of power in our society."