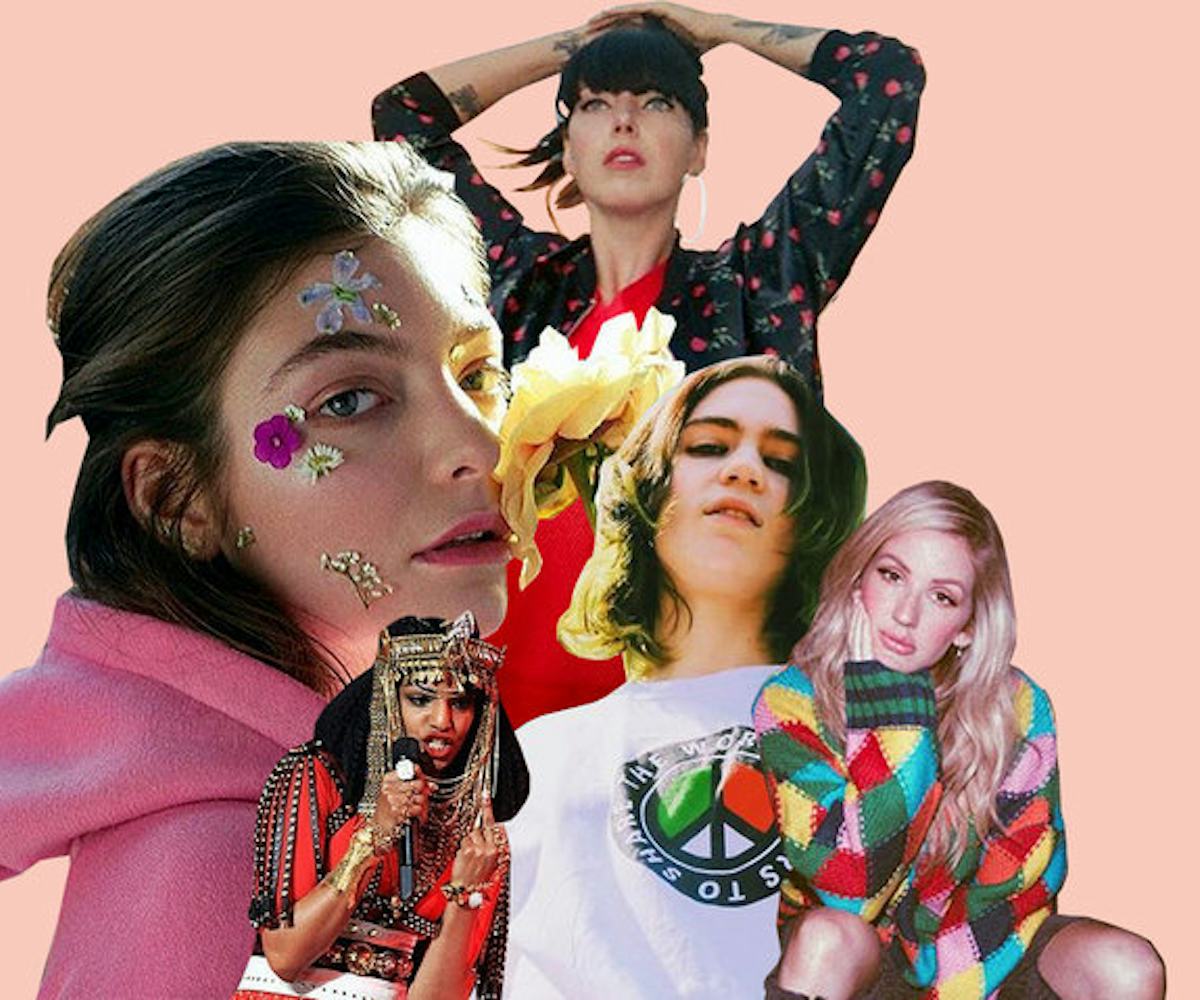 Collage photos via Instagram
Meet 10 Incredible Women Running Your Favorite Musicians' Shows
The show must go on, and these ladies get it done
While the music industry remains a field still consistently dominated by men, there's been a surge of women taking over the scene, whether it be on stage or tuning guitars backstage. Don't believe me? Take a look at the charts, where Cardi B just became the first female artist secure the No. 1 solo rap song on the Billboard Hot 100—a spot she nabbed from Taylor Swift, who also broke records with "Look What You Made Me Do." (This is despite how you may have felt about those snake theories.)
But if you need more proof of women's dominance behind the scenes, we've recently talked to 10 incredible women who work with some of your favorite artists, including Lorde, Sleigh Bells, Alabama Shakes, Ellie Goulding, Foxygen, and so many more.
Get to know more about these powerhouses in our interviews with them, below.
Meg Dougherty, stage lighting designer-director for Lorde"I'm the lighting director for Lorde, which basically means I program and control the lighting on stage during her sets. My goal as a lighting director is to create a tasteful, appropriate, and engaging light show for audience members. It's using light to accentuate the mood a song is portraying. When done properly, stage lighting can be so powerful and emotive. It's a beautiful thing.
There is an intense level of focus that is needed because, just like for the musicians playing on stage, timing is also extremely important. Beyond timing, I make sure Ella [Yelich-O' Connor, Lorde's real name] is lit properly and in a manner that compliments her and the vibe."
What's one touring misconception you frequently hear?Contrary to what many may think, touring is not all about partying or boozing. On this level, none of us drink before the show. We are all very on top of our things. You always save the partying for after the show.
How did you end up in the field of lighting designing and how long have you been working in the industry? I've always loved concerts. When I was in high school, my mom would let me skip school to go on these insane road trips with people I met on music message boards so we could see concerts all over the U.S. While traveling the country with my fellow internet nerd friends, I started to befriend a few of the crew guys on the tours. I thought they had the coolest job in the world. At the time, I thought my aspirations to have a job in music were completely unattainable, but I knew that's what I wanted to do, so I decided to give it a shot anyway.
After I graduated high school, I toured various art schools and considered majoring in music business, but after looking at tuition rates, I just couldn't justify the cost, so I decided to skip college. One of the nice things about working in the touring world is that it's normal to not have a college degree.
I moved to Chicago and started doing "internships" at booking agencies and music venues. The music industry calls them "internships," but it's basically a nice word for free labor, as college credit wasn't required at the time; I wasn't even in college when I was a so-called "intern." During this time I was concurrently working at Buffalo Wild Wings to pay the bills.
One of the places I interned for was a well-respected venue in Chicago, as a live sound intern. After I was hired at this venue, things took off pretty quickly. I got my first tour with a band called Wild Belle. The next year, I did my first world tour, doing shows in over 55 different countries in less than three months. Things have been growing exponentially from there.
Have you faced any difficulties being a woman in your field? I think any woman, especially in our male-dominated field, would be lying if she said she never faced any difficulties due to her gender. But luckily, only a few specific incidents come to mind. I've definitely had my ass grabbed by one of my tour managers (on a previous tour long ago, not with Lorde.) I've had house crews refuse to help me with things because they don't like having to answer to a female.
But with that said, I truly feel like there are way more positives of being a female on the road than there are negatives. Touring women have an inherent camaraderie for each other. This is probably because all women in our industry understand the battles we've faced to get to where we are. That's what makes it easier for us to want to help each other I think. There are also plenty of men who treat us with respect and are able to see our work for what it is, regardless of what our gender happens to be.
What do you love about working with Lorde?There are so many positive things to say about working with Lorde. She is so driven and invested in what she's doing, and it shows in her performances. She is a true professional.
What advice would you give to young women and girls looking to work in music? It's a very competitive industry, but if you work hard enough and keep trying, you'll find your place. Exude confidence, even if you're not actually feeling confident. Don't be afraid to ask questions, don't ever think you know everything, because you certainly do not, and you can never stop learning. Being a know-it-all is what will limit your growth. Nepotism is a big part of the music world, so hopefully, you have the ability to make a lot of pals and acquaintances. Try not to take things personally. Be positive. Be professional. 
Noamme Elisha, tour manager for Foxygen and K.Flay"I'm just wrapping up over six months of tour managing Foxygen and going straight into rehearsals for K.Flay's upcoming tour supporting Imagine Dragons. Previously, I've toured with Tame Impala, The Flaming Lips, and The Monkees. My job involves everything from planning and preproduction to executing and running the show, all while overseeing the well-being of the band and crew. I handle production, scheduling, budgeting, transportation, and all show-related communication."
What has been a challenge for you in your field?Things always pop up, so it's important to be in the mindset to handle everything that comes your way. As the tour manager, you're essentially always on call. Bus breaks down at 4am? You need to be up to take care of it. The hours can be insane, and it's not always easy, but it's a very rewarding field and I enjoy facing the challenges. 
What do you wish you'd done differently when first starting out?It took me a long time to be aware of my limits, both physically and mentally. Between the long days and intense schedules, international travel, never sleeping in the same place twice, and taking care of everyone else on the tour, it's important to check in with yourself to see that you're in a good place. Burnout is a real thing in this industry, and it can happen to the most competent of tour managers. Some of the things I do to take care of myself on the road are yoga, reading, eating healthy, and even booking a massage on days off.
Have you faced any difficulties being a woman in tour managing? As a woman, people either assume I'm dating someone in the band or that I have to "mommy" everyone on tour. Neither is true. I always try to foster a professional and empowering environment, and asking me which band member I'm dating will always be met with an eyebrow raise.
What advice would you give to young women and girls looking to work in music? Work smarter not harder, and pay attention. When I worked at Terminal 5 in NYC as a production assistant, I learned a lot from observing, and I also made it a point to get people's contact information and keep in touch. Touring is an industry based on recommendations and connections, so make friends and let people know what you're capable of. I always remember the people who are helpful and on point. 
Claire Murphy, guitar tech for Vance Joy"During the day, I will make sure all the guitars are tuned and in good shape. I may have to make some adjustments depending on the weather; this can change the guitars a little to a lot—if there is humidity, for example. I make sure the band has everything they need in the dressing room, instrument-wise. I will prep as much as I can with setlist, towels, waters before it is show time. During the show, I will have all the guitars ready for different songs, which involves changing the tunings and being ready for any unexpected things like a string breakage or a cable breaking or even a water bottle spilling on stage. After the band has finished, we pack down all the gear and load it back onto the truck or trailer, ready to do the same again the next day!"
How did you end up in guitar tech field and how long have you been working in the industry? Is there anything you'd want to try your hand at in your career?I always wanted to be working with a band, being behind the scenes but still in the thick of it on the stage. I knew the role of the guitar tech, and because I played guitar, this really intrigued me. I tried my hand at being in a band, and it's a real tough road to go down. I love being able to work with multiple bands and experience the thrill of touring and putting on a live show. I worked at a couple of rehearsal studios in London maybe 10 years ago or so, and eventually met a touring guitar tech who was working there on his downtime from touring. He was the one who opened the door for me and taught me everything I know. It really does start with who you know, and then you have to work hard and be willing to sacrifice a "normal" life to get into this industry. It's very tough and not for everyone. You are away from friends, family, and loved ones for months at a time, so it takes a lot of work to keep relationships, but it's a rewarding job.
I don't think I would want to do any other role right now. I was a tour manager for a while, but at this level, you really don't get any time to sleep, and you're always on call. It's extremely stressful! In another life, I'm sure I would have liked to try my hand at lighting, but don't tell anyone that!
Have you faced any difficulties being a woman in your field?I find that it's a positive thing being a woman because there are a lot of female artists that would love to work with another female on the road, and lots of male artists who prefer having females around to calm the atmosphere.
What advice would you give to young women and girls looking to work in music? Make connections—get out there and tell people what you are trying to achieve. It may take a while, but eventually, you'll get a call to hop on a tour. There is a lot of being in the right place at the right time and having patience and belief that it'll all work out if you just stick with it. There are some great organizations that are helping girls and women to get into the industry and those within the industry already to network, such as sSoundGirls.org. Every girl looking to get into the industry should check them out. I wish they were around when I was starting.
Rebecca Travis, tour manager for Arcade Fire & Ellie Goulding"My role as tour manager is to organize a tour from start to finish—everything from budgeting, visas, travel plans, hiring staff, and pre-production. Much of this is done in advance, and then, day-to-day on the road is spent getting everyone from city to city, from hotel to venue, then looking after the smooth running of the show—everything from making sure the technical side is covered, getting everyone fed, collecting payment for the band, and organizing the guest list."
How did you get into your field?I knew I wanted be involved in live entertainment from an early age. I didn't go to university, as there wasn't a course then that covered what I wanted to do. Instead, I got experience in venues from the age of 17 and went on to work on festivals and live music events in Scotland for seven years before deciding I would like to tour. I got my first tour in 1999 and have been on the road for at least 40 weeks of the year ever since.
Have you faced any difficulties being a woman in the industry? I actually haven't and, in fact, have found being a female tour manager an advantage. Lots of bands request females as TMs, and therefore, I have been lucky enough to get good work along the way. Lots of guys relate better to a woman looking after them on the road, and female artists often prefer women also.
What advice would you give to young women and girls looking to work in music? Go for whatever you want to do—work hard and be as great as you can be. Generally, hard work will move you up the ladder and get you to a great place. Also, be nice to people along the way.
Rachel "Mr. Sound Lady" Ryan, front of house and monitor engineer for Silversun Pickups & The Strokes
"I started when I was about 16, interning in nightclubs and working the high school productions. My father is a post-production music editor for film, so I've always grown up around audio and engineers and knew from a pretty young age that I wanted to be an engineer. At this point, I've been doing audio in some capacity for about 14 years, but I've only been touring for seven. I've done tour managing, FOH, and Monitors on tour, as well as worked in several venues and had a very brief stint as an audio engineer on a cruise ship. I love touring, however, and I would like to continue to do so more as a FOH engineer than a monitor engineer, so that has been what I've been working toward lately."
Have you faced any difficulties being a woman in the industry?I think women face a lot of difficulties in any industry that is heavily male-dominated. And while I prefer to think of myself as an engineer who also happens to be female, not the other way around, there are challenges that I and other female touring professionals face all the time. Simple things like people telling me they've never seen a female engineer before, which is not such a big deal, to straight-up misogyny or sexual harassment and pushback from either local crews or engineers. Most of the time, it is not a problem. There are so many amazing touring people, and it can be a really great community and one I really enjoy being a port of. It really is about picking your battles, what is worth fighting back about and what is worth letting it roll off your back. I always believe you should stand your ground and not let anyone push you around, and I also believe that sometimes it's easier to let the little things go, do your job, and prove how badass you are and that you deserve to be here just as much as the next guy. While more or less, things have gotten better the longer I have been doing this, there are still challenges, and I think that has more to do with being a woman in this world than being a woman in this industry.
What are some special memories you have working with these bands?Working with The Strokes was an amazing experience. I'd never toured at such a high level before, and it was incredible. Headlining stages to 80,000 people was intense and a little surreal when that many people are singing the band's lyrics back to them. We got to go to some incredible places, and I learned a lot. I think one of my favorite moments was after a long week of rehearsals. We were all just very tired and feeling silly, and there was this little loading ramp in the rehearsal studios, and we started having chair races down it at like two in the morning. Just a bunch of people being incredibly silly after a long day of work. 
I've worked around or with SSPU on and off for four years—still do—and they are some of the best people I know. They are family at this point, and they are incredibly funny, sweet, and kind. We'll have late-night dance parties or Game of Thrones marathons on the bus or Mario Kart battles; or, we'll go to movies or on museum dates on our days off or a fun family dinner with all the band and crew. I was a huge fan of their music before I ever worked for them and I still am. Touring can be incredibly hard, and it's amazing to be able to tour with people you enjoy being around while doing work you love.
What advice would you give to young women and girls looking to work in music?Pick your battles, never give up, and always be on time. 
Alice Wilder, front of house engineer for M.I.A. & Wolf Parade
"Immediately after dropping out of university in Pennsylvania, I moved to Seattle, so I could be as close to the music I loved as possible. I started off being in bands, only playing guitar and fighting off the pressures of singing roles like the plague. Eventually, I realized that my preference and calling was to be behind the scenes, as I thrived in that type of environment, as opposed to having the spotlight on me. It was also way more interesting and fun. I can't say that I've always known I wanted to do this, specifically, but it felt pretty right once I figured it out."
Have you faced any difficulties being a woman in your field? The only difficulties I've faced would be how I'm treated and perceived by the men that dominate it. Sometimes I'm seen as an equal or an ally, and sometimes not. The best thing I can do is have open communication and dialogue from the get-go. Once people realize that I know what I'm talking about, things go pretty normally, I think. I remember having a pretty hard time in the beginning with this, and proving that I can mix. I feel like once you knock out all the technical talk in the beginning, the rest comes easier. I would like to think that things are changing and less mansplaining and condescension is happening, but I can't say for sure based off of my experience. I just kind of laugh it off now if I get a bro making obvious suggestions, or getting in the way, or whatever. 
I will say though, that I do think there is still a lot of apprehension going on with artists and artist management. I know of a lot of people that won't hire female engineers. I guess some folks are more comfortable with a man manning their mix, and I'm really hoping the goggles come off and that changes, because that's a weird bummer.
In what ways have you seen the music industry change from the inside?I feel like the music industry is always evolving, and I'd like to see less greedy business hands and more DIY discovery. There's this whole top-lining scene that's happening now, which is very calculated, in my opinion. It's not totally horrible or anything, I just wish it didn't feel like such a dictatorship. Let everyone have a chance, ya know? Move over for a sec. And the "sex sells" vibe has got to go. It's been around for too long.
Do you have any advice for young women and girls looking to pursue a career in music behind the scenes?Trust your gut and do not waste money going to school for something creative or hands-on. If you're looking for technical advice, I would start off by reading The Sound Reinforcement Handbook by Gary Davis. Also, just stick with it, if it's something you want to do. There are always going to be challenges, but that goes along with everything. It's a very fun and rewarding job once you get in the thick of it.
Victoria Zanghi, tour manager of BaronessI have been tour managing Baroness since 2013. I also work for Enslaved (from Norway), since 2007! During this year I am also working with Wolves in the Throne Room and have done a few shows with Myrkur. In the past, I have worked with Cage the Elephant, Kimbra and a long list of foreign metal bands.
My daily routine at a typical Baroness club show consists of: loading in, finding the drummer and bass player, posting day sheets/dressing room signs, doing bank deposits if necessary, drinking endless amounts of coffee—in fact, my day sheet usually includes where to find the closest cup of third wave coffee near the venue—double checking that our h ospitality rider is correct, keeping the day schedule running on time, making the lead singer "throat coat" tea and start vocal warm-ups. I usually will have to find the drummer and bass player AGAIN, put the band on stage, settle the show with the promoter, load out, high-five the bus driver, settle driver float if necessary, find the drummer and bass player one last time [laughs], fill out daily tour accounting, balance receipts and cash, hide the Jaegermeister, and, finally, sleep.
Is it something you always knew you wanted to do?I originally wanted to be a booking agent, but after I started working at various venues in NYC, I knew I wanted to work with the artists directly on tour. 
Have you faced any difficulties being a woman in your field? Tour managing bands at a professional level isn't an easy job, no matter who you are. In some instances, being a woman might be a factor, but probably no more or less than it is for a woman in any other profession. When you're on tour, you don't get much time off, the conditions can be difficult, and there are issues to solve every day. The workload and lifestyle of being in a touring party aren't ever going to be simple, but the opportunities, travel, and experience make it worthwhile. 
What advice would you give to young women and girls looking to work in music? If your work is good, it will get noticed. The best way to be respected, whether you're a man or a woman, is to earn it through quality work and diligence. 
Emily Bragg, tour manager for Alabama Shakes
"When I'm off the road, I'm advancing for the next tour. This involves leasing a tour bus, working with a travel agent to book flights, hotels, etc., scheduling press for the band, arranging all transportation and logistics, creating a show schedule, managing all the meals and hospitality for the tour, creating guest lists and parties for each show, discussing security and venue logistics with the promoter, planning meet-and-greets, coordination of VIP events, and putting all this into a software program that the entire tour can access. When I'm on the road, I usually wake up on the bus at the venue. I make sure all that was planned is happening, and I handle any issues that arise on the day of show. Depending on the day, we may have press or an event to attend. I'll do a security meeting with the venue, make sure the guest list is handled, work on set lists with the band, and have a show!"
What's something most people wouldn't guess about your field? It's not always glamorous. In fact, it's usually not. I don't always get to see the city I'm in or experience more than the backstage. It can be hard to sleep on the bus, and it can get lonely. That's why it's important to me to work with a band and crew made of quality folks. 
Have you faced any difficulties being a woman in your field? Sure. I face sexism in all facets of life. The key is to call it out when it happens and to be confident in your position. As a TM, your word is final on the tour, so that makes it a little easier to handle. You can't let people run over you because of their issues. You have to do your best to work around it or run over it head-on.
What advice would you give to young women and girls looking to work in music? Be confident. Listen to learn. Don't doubt yourself. Find other women, or men, in the field you look up to and ask for advice. 
AJ Faber, tour manager for Grimes, Spoon, & Sleigh Bells
"I got into the industry somewhat accidentally. I was bullied in school, I didn't have many friends, and I would go to shows to escape. It was where I felt like I belonged. Punk shows were full of misfits like me, and I just wanted to be a part of the show anyway I could. As a young teenager, I would contact venues or bands coming through and ask if I could volunteer—anything from carrying merch boxes and running a sponsor activation to helping with fan mail sign-ups. Finally, someone said, "Do you know you could get paid for what you are doing?" It had NEVER occurred to me that this could be a career. During my volunteering, I hadn't really seen a woman at a show be anything besides a band member or a fan, so being taken seriously on the production and logistics side honestly hadn't entered my mind. I applied to work for a sponsor on Warped Tour in 2007, and I saw Lisa Brownlee running the show. She ended up becoming a mentor and taught me so much."
Have you faced any difficulties being a woman in your field?I've lost track of how many hours I've debated how to answer this question, and how much I want to share. I will start by saying most of my experiences on the road have been incredible and positive, and I feel like I have true brothers in a lot of the band and crew I tour with—people who I know have my back no matter what. Most of the consistent difficulties stem from the fact that I look very young and am petite. None of the locals expect that I am in charge when I walk in the room with a bunch of men, and it is priceless to see some of the reactions when they realize I'm the tour manager. I also only use "AJ" on my correspondence, because I get treated differently when it's presumed I'm a man. The most common thing I hear when I meet someone I advanced a show with was, "Oh, I thought you were gonna be a guy!"
In my 10 years on the road, I've been assaulted by two men. One guy was affiliated with a sponsor of a festival who came out to a show and assaulted me in the parking lot. He was gone before security got there. The second time was someone I was assisting; he assaulted me a couple of times in one night. I refused to be alone with him after that, and we worked in separate spaces, which is difficult when you are supposed to work together. The most heartbreaking thing was when I had immediately reached out to another high-up crew member and superior about what had happened, and the reply was, "You guys should work that out between yourselves." I was also told, "It would be within your best interest to keep quiet and let it go." Other crew members have said, "I don't wanna hear it, I don't wanna know." It all made me too scared to reach out more initially, I felt so deflated. That was the most isolated, vulnerable, and alone I have felt. I can't really put into words the emotional and mental toll it takes on you to not only be assaulted but by a supervisor who you are still on the road with. 
I'm still a bit stunned that the band didn't really question why he would work on their bus and not in the production office with me. I reached out to a tour producer I had worked with before, to ask advice, and was told, "Be careful, it's a small industry, you could ruin your reputation." It was terrifying to hear, that, as a vocal victim, I could ruin my reputation. It took a while to realize and accept that I wasn't the problem, the assaulter was, and my being silent would only allow him to treat other women like that in the future. It was then when I reached out to the band's management, so that his behavior was on their radar, that I could sleep at night knowing I did what I could to protect the next woman from being assaulted. He, of course, still has his job, as does his co-worker who tried to help cover it up. Thankfully, my career has only grown since that all happened, so all the terrible advice and empty threats have so far been wrong.
What advice would you give to young women and girls looking to work in music?Have thick skin and stand your ground, and accept that the career is a roller coaster. Women have to work hard to get opportunities that many men are given. Sometimes we need to outright grab opportunities that aren't even offered. A couple years into touring, I was homeless and jobless and showed up to a tour and started working in catering. After a couple hours, the owner of the catering company approached me and asked, "What are you doing? Did I hire you?" I replied, "Not yet," and kept working. All I wanted was some food and the chance to network on that festival, and I had a job with her after that. 
One year, I was even an assistant recycler, digging through festival trash for cans and bottles, and that was the year after I tour managed a festival. That transition was a tough one, and I questioned if that meant I wasn't cut out for what I really wanted to do. Thankfully, that wasn't the case, it's just the reality of the industry, and the ones who are hungry enough and willing to do the dirty work—sometimes literally—can hold out and make it in the long run. Sometimes the path to get where you want isn't what you expect it to be, but having that catering experience makes me better at tour managing when it comes to catering and hospitality budgets. I also am familiar with venue and festival waste management, something I never thought I'd know about. I even constructed teepees at Coachella for years... life is weird! There is no experience you can have working at a show that won't be useful if you are eventually overseeing everything.
Alicia Blake, production manager and front of house engineer for Sylvan Esso
"I've always wanted to be involved with music and have been most of my life. I studied classical piano for most of my childhood and competed in high school, was involved with choir, and went to shows a lot starting in my early teens. I've never had an interest in being on stage per se, but have always found a lot of joy in being involved in the production of a show. I really love being a part of the support system for a band, making a show happen each night.
I've been doing sound engineering for about 15 years now and started at a small club. I worked as a volunteer and learned the ropes from the house engineers, then eventually started booking shows, too. Eventually, I booked a band, and they asked me to go on the road. That was about eight years ago, and I've been touring ever since. I started tour managing, as well, a couple years into being on the road doing FOH, and both those jobs inevitably include some production management-type responsibilities as well."
Have you faced any difficulties being a woman in your field?   Absolutely—how much time do you have? [Laughs] I see it a lot less now, thankfully, as I've gotten older and am more experienced—but there are varying levels of misogyny you experience as a woman on tour. From literally being laughed at by house sound engineers, when you introduce yourself as the touring band's FOH, to being told by a man how a piece of gear works when you've already demonstrated the fact you know how to use it... the list goes on. I've also had men question every move I make during sound check, then listen to the show and come back to me telling me "what a great job I'm doing" as if: a) they are surprised and b) I needed to be told that. 
I've had stage hands try to take gear right out of my hands while I'm carrying it, instead of picking up the next thing that needs to come out of the trailer. I've also had men avoid eye contact with me and ignore my questions even though I'm in charge, and then ask a male band member standing next to me about things that I'd be the point person on. I even recently in the last six months had a man on the venue staff tell me that I'd be prettier if I smiled. I called him out on it, and he then congratulated me for being so professional and good at my job as if that were going to make up for it.  
But for every doofus out there that does those kind of things, there are many many men in the industry that are professional and treat me like any other person doing this job. 
Can you name an unforgettable moment when you were on the road and thought, Wow, this is my life?I am consistently amazed I do this and have a number of "wow" moments from work... probably one of the top 10 would be getting to meet Barack Obama when he was up for reelection. A band I was working for was asked to play a fundraiser luncheon for him. He was lovely and just as handsome in person. 
What advice would you give to young women and girls looking to work in music/behind the scenes? Just do it! Put in the work, don't take no for an answer, learn as much as you can, and know that you are just as qualified to do the job as the next guy. Also, please do it—we need more ladies in this field.