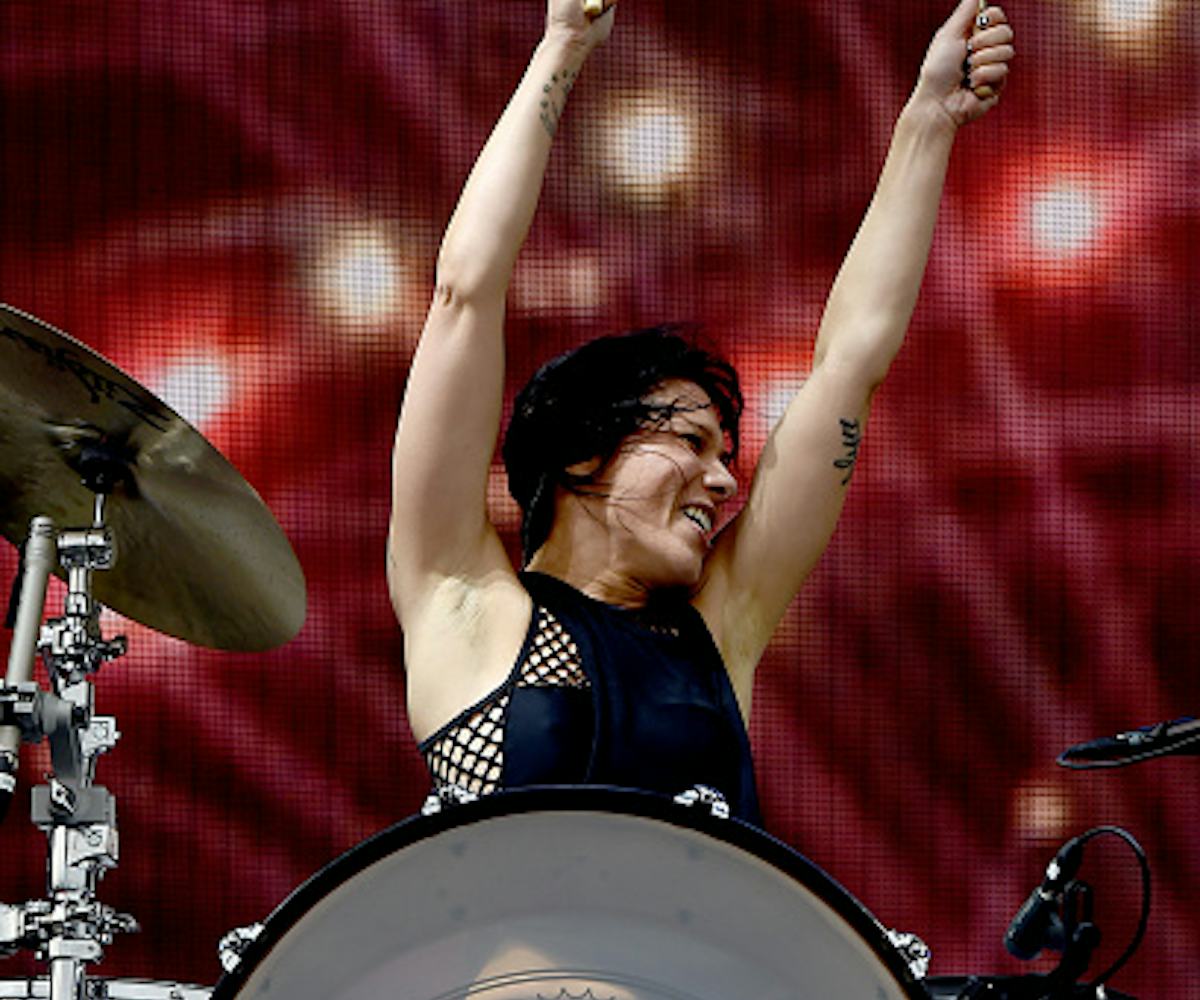 Photo by Kevin Winter/Getty Images
The 15 Drummers We're Obsessed With Right Now
Let's get one thing straight: A person's capacity to produce good music has nothing to do with gender. Unfortunately, the male-dominated music industry tends to suggest otherwise; sexist commentary is prevalent and female musicians are usually placed in an entirely different category than their male counterparts.
This is a problem because the focus shifts away from the talent and gender takes precedence. In other words, female musicians are deemed secondary. It's no wonder musicians are offended by the "girl band" label. Alana Haim, of the band Haim, once told Elle, "So I just see us as a band. When people call us a girl band, I take it as an insult—being a girl in a band shouldn't be a thing. It seems so medieval."
That said, female musicians work twice as hard to be recognized and respected in the industry, and those efforts should be acknowledged and celebrated. That's why we compiled a list of our 15 favorite drummers. From Bloc Party's Louise Bartle to The Big Moon's Fern Ford, we've got you covered. These girls will make you want to bang some sticks against a drum kit.
Check them out in the gallery, below. 
Venzella Joy Williams
When she was 10 years old, Venzella Joy Williams got a drum kit for Christmas and started practicing for six to eight hours a day. Her hard work definitely paid off because nowadays she's touring the world with Beyoncé. "For years and years, I dreamed of playing with Beyoncé. I would even go as far as taking time to study her records so when the time came I would be prepared," Williams told NBC News. Things started picking up for the young drummer when she did a reality show called Making The Band in 2009. There, she met Beyoncé's music director, Derek Dixie, and the two kept in contact. In addition to rocking out with Queen Bey, Williams also makes her own music and released her soulful single "Moonlight" in June.
Cat Myers, Honeyblood
In 2012, Stina Tweeddale and Shona McVicar formed the band Honeyblood. In the beginning, everything was very DIY. They were recording their own demos and making their own merchandise. Two years later, Myers joined in on the fun, when McVicar left the band, and she's been touring with Tweeddale ever since. The duo's new album, Babes Never Die, is set to drop this October. Myers started playing the drums when she was just eight years old. When she's not touring or recording, she's teaching lessons to people of all ages, which you can sign up for here. Aside from Honeyblood, the freelance drummer has performed with multiple other artists, including the Foo Fighters and Gregg Wright.
Alisa Ramirez, The Aces
The Aces—which consists of Cristal Ramirez (vocals and guitar), McKenna Petty (bass), Katie Henderson (vocals and guitar), and Alisa Ramirez (drums)—formed in May 2008. And yes, in case you were wondering, Alisa and Cristal are sisters. The relatively new pop/rock band has yet to release a full-length album, but in the meantime, we have been rocking out to their latest single "Stuck," which came out earlier this summer. The music video for the track was inspired by a photo of Alisa's mom, and it features major '70s vibes. We're talking disco party lights, off-the-shoulder tops, and a vintage record player.
Louise Bartle, Bloc Party
In case you haven't heard, Bloc Party is back and better than ever. There was a hiatus and two band members left the group, but they powered through. Louise Bartle joined after their drummer, Matt Tong, decided to part ways. The rest of the band now includes Kele Okereke, Russell Lissack, and Justin Harris. The best part? Their latest album Hymns is out. In addition to Bloc Party, Bartle has played for artists like Terri Walker, Selena Gomez, and Eliza Doolittle. She's even dabbled in acting and made her debut when she played O'Malley for the television show Skins.
Kim Schifino, Matt and Kim
Kim Schifino met her boyfriend and bandmate, Matt Johnson, while they were studying at Brooklyn's Pratt Institute. Then in 2004, the Brooklyn duo came to be. No matter the venue, these two always manage to create a dynamic that makes you want to jump around, let loose, and dance like a total fool. Their live shows are high in energy, so expect to sweat. Schifino told Flavorwire, "I was reading [blog] comments that were like 'What do they have to be so happy about?' Well, I get to bang the shit out of drums all the time, and it's exciting and fun to do!" Want to join in on the fun? Watch them perform at festivals all over the country, including Coachella and Lollapalooza.
Stella Mozgawa, Warpaint
The indie rock band Warpaint is made up of Jenny Lee Lindberg, Theresa Wayman, Emily Kokal, and Australian drummer Stella Mozgawa. Earlier this month, the Los Angeles band released their single, "New Song," which will be featured on their upcoming album, Heads Up, due on September 23. You can pre-order the album here. Although the band steers toward the rock genre, the pop band Hanson was Stella Mosgawa's musical inspiration growing up. Mozgawa told The Frame, "That was my first drumming inspiration, 'cause I saw this kid who was my age playing the drums in this band, and I thought, 'Well, I could do that as well.'"
Fay Milton, Savages
The London-based band is indie rock, post-punk, and everything in between. Its members include Jehnny Beth, Gemma Thompson, Ayşe Hassan, and Fay Milton. Their new album, Adore Life, came out in January. However, Milton was interested in music long before the band, and she told Tom Tom Magazine that her best friend inspired her to play the drums when she was eight years old. "Me and Lucy loved playing the drums partly because it was a bit ridiculous, we were both really tiny girls and it just seemed so funny to be playing something that was usually the territory of big hairy men," she said.
Lelah Maupin, Tacocat
Lelah Maupin is the drummer for Tacocat, a feminist group from Seattle. Maupin didn't start playing the drums until she joined the band, which formed in 2007. Before Tacocat, Maupin played for a number of bands, including The Sallie Maes, Salt and Pepuh, Ex-Girlfriend, The Hot and Readies, and Leezus. Maupin is joined by Bree McKenna, Emily Nokes, and Eric Randall. They're well known for the post-punk sound and for speaking about several feminist issues, including catcalling and periods. The latter even inspired the name of one of their tracks, "Crimson Wave."
Fern Ford, The Big Moon
We've had a band crush on The Big Moon, formerly known as The Moon, for quite a while now. The group came together when lead singer, Juliette Jackson, decided she wanted to form a band. She then took it upon herself to recruit the three other members: Soph Nathan (guitar, vocals), Celia Archer (bass, vocals), and Fern Ford (drums). They started gaining attention when they released their single "Sucker" in 2015, and a year later, they released The Road EP. You can now watch the music video for their latest single, "Silent Movie Susie," which we premiered right here a few days ago. If you're a fan of Barbie dolls, definitely check this out.
Corrie Harrigan, Kitten Forever
Kitten Forever, a punk rock band from Minneapolis, is the kind of band you listen to when you want to feel like a badass feminist. The band consists of Liz Elton, Laura Larson, and Corrie Harrigan, all of whom met at a show and then started rehearsing that same week. Fun fact: In a previous band, Harrigan played guitar, but when she joined Kitten Forever, she decided to change things up a bit. The band's new album 7 Hearts came out March 25. About the album, Harrigan told NYLON,  "I feel like the album is about change and growth, and trying to come out on the other side of things that have happened to you that might not necessarily be positive. I think it's about how you can break apart and still become a new whole thing."
Victoria Mandanas, Potty Mouth
If you love the '90s, you'll love Potty Mouth. When we asked about their aesthetic, the girls said, "Powerpuff Girls meets Kat from 10 Things I Hate About You and [they] eat Lucky Charms while listening to Veruca Salt." I mean, it doesn't get more '90s than The Powerpuff Girls. The pop rock band started in 2011 when Victoria Mandanas met Ally Einbinder at Smith College. Then Abby Weems came along, and Potty Mouth was born. Together, the girls produced the grunge sound that we all know and love. Although we're still waiting on their next project, we can still binge-listen to the band's self-titled EP, which was released this time last year via Planet Whatever Records.
Danielle Haim, Haim
Los Angeles-based band Haim consists of sisters Este, Danielle, and Alana Haim. In their early years, the sisters were in a cover band with their parents called Rockinhaim. After the girls kicked their parents out, they blessed our ears with soft rock magic and released their debut album, Days Are Gone, in 2013. We've been waiting for new material ever since. Danielle, the middle sister, is known for her epic guitar solos, but when she's in the studio, she plays the drums. Two summers ago, The Killers noticed her talent and invited her to play during a show in San Francisco. Brandon Flowers, the band's frontman, told the crowd, "Danielle, the singer from Haim, is actually a hell of a drummer, and she's gonna play with us."
Kimberly Thompson
Kimberly Thompson's resume is forever growing. First of all, the jazz musician released her sixth album, Treasures Abound, this spring. She's also the founder of her label, KTProductions. And did we mention that she toured with Beyoncé for more than six years?! It was within that span of time that Thompson transitioned into her signature mohawk. She told NYLON, "I couldn't have done it without Beyoncé's approval. I had to show it to her, and she had to say 'okay.' It's a part of her packaging and branding. She agreed with it. She loved it." Thompson's most recent project is recording drum parts for a Broadway Musical that will soon debut in New York City.
Antonela Périgo, Las Piñas
Las Piñas is made up of Sofia Cardich (guitar), Antonela Perigo (drums), and, most recently, Celina Ortale (bass). The surf punk band is from Buenos Aires, Argentina, but the band has toured all across South America, including Brazil and Paraguay. Originally, it was just Cardich and Perigo playing in a basement, but when they met Ortale during a friendly soccer match, they asked her to join. The band's new album, Espanto Caribe, was released via Yippee Ki Yay Records, and their latest music video is for the album's opening track "Panteras." The video gets a little crazy as the band fights to share gym space with some sweaty basketball players. Check out the bloodbath, below. 
Amber Grimbergen, Hinds
Madrid-based band Hinds originally started out with guitarists Carlotta Cosials and Ana Perrote. The duo bonded over their cheating ex-boyfriends and uploaded "Trippy Gum" and "Bamboo" to SoundCloud soon after. In April 2015, they brought along bassist Ade Martin and drummer Amber Grimbergen. Now, the four girls are sharing their DIY sound all over the world. If you haven't already, check out the band's debut album Leave Me Alone, which dropped on January 8.