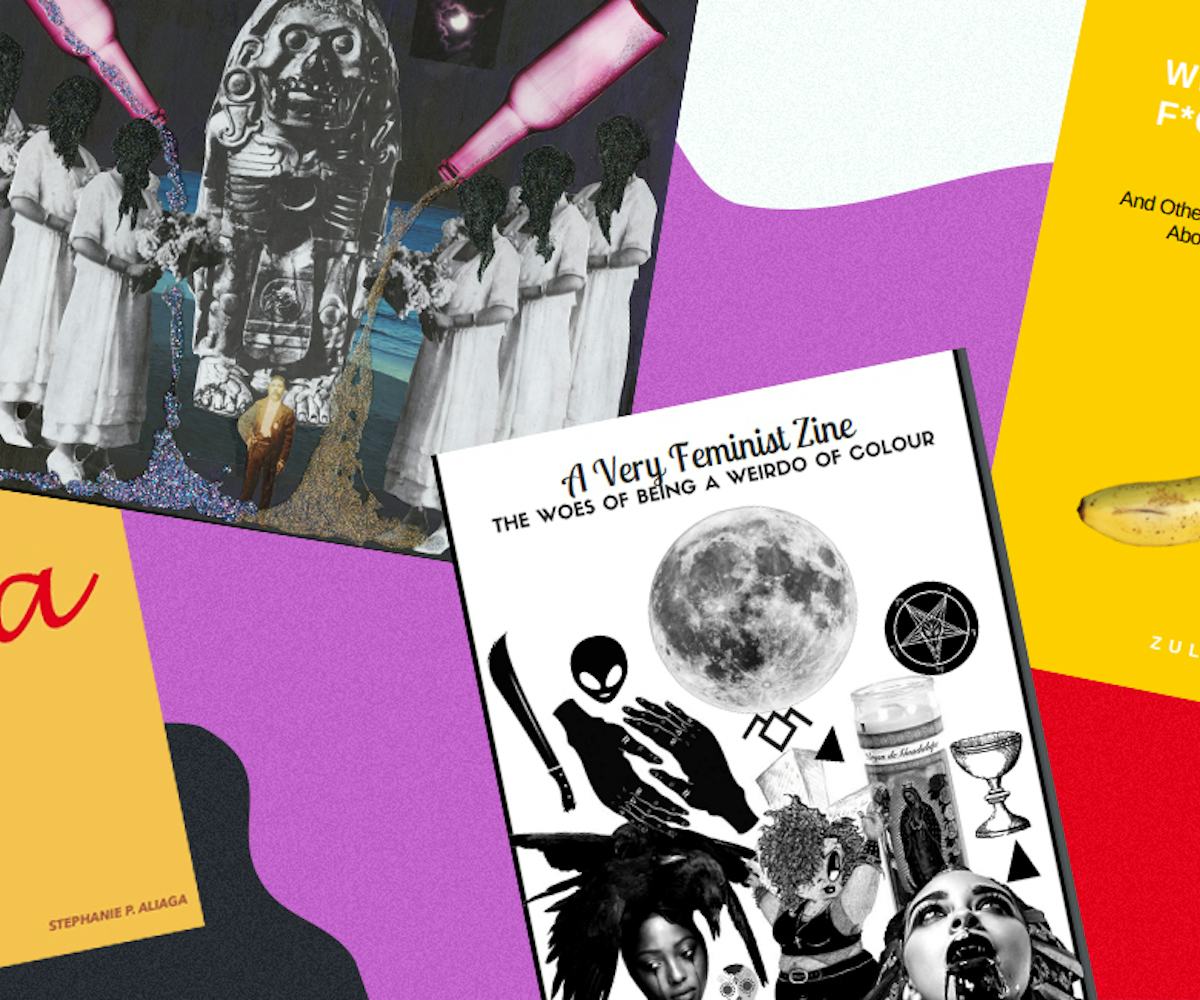 How Women Of Color Are Leading NYC's Art Collectives Moment
When you visit an art gallery, what do you see? Do you see yourself in the paintings that hang on the wall? What about when you read poetry or hear it spoken out loud? Do those rhythmic lines resonate with your own story?
If you're white, chances are you can easily find yourself represented in mainstream art—particularly if you're male. Established artistic institutions have long promoted the work of white artists to the exclusion of all others. And while there are efforts being made to change the white-washing of art at the highest levels, it is also possible to find the work of artists of color if you leave those institutions and enter the world of New York's art collectives, where work created by and for women of color and the queer community predominates.
There are numerous collectives throughout the NYC area that represent different ethnicities, races, and identities and they all have one thing in common: They create a space of artistic expression for their own communities.
We got to speak with some of the women leading four of these collectives—Stephanie Aliaga of the Mujeristas Collective; Zulema Tiburcio and Amelia Smalls of Odiosas, Shydeia Caldwell of Black Girl Magik, and Itzel Alejandra Martínez of Colectiva Cósmica—and asked them what made their creative output so unique.
The Mujeristas Collective was founded a little over a year ago by Stephanie Aliaga after she took a theology course at St. John's University in Queens. Inspired by Cuban activist and theologian Ada Maria Isasi-Díaz's book, Mujerista Theology: A Theology for the 21st Century, Aliaga named the collective "Mujeristas." The word can be interpreted in many ways, but at its core, it is a way to describe a kind of Latina-based feminism.
The group is made up of four other Latina and Afro-Latinas—creative director Ariana Ortiz, content producer Denisse Jimenez, editor Reza Moreno, and managing editor Yovanna Roa-Reyes. They create zines with submissions from other artists and even host their own zine fests. They also collaborate with other collectives so that they can showcase each other's work.
Often times, women like Aliaga, who is of Colombian and Peruvian descent, find that they need a way to connect to their cultures. Growing up in the U.S., people of certain ethnicities and races may feel like they need to assimilate in order to be accepted, but that's not the case with Aliaga and her collective.
Aliaga created this collective to provide a space for people like her: women of color who want to talk about their everyday challenges as well as the more complex topics they grapple with. Most importantly, they want to ensure that their stories and their art are not forgotten.
"Mujeristas Collective matters because we are documenting and presenting a diverse collection of unique historical stories from Latinas in a U.S. perspective," Aliaga says. "Our goal is to expand the narrative about the histories of our communities and our countries of origin, nationally and internationally. We want to make the academic world, our communities, and art institutions take note of us—who we are, our struggles, our dreams, and stories."
Similarly, Odiosas—an art collective based in the Bronx—was created in 2016, after founder Zulema Tiburcio realized that there was the need for a space where people in her community could talk about matters that affect them and feel comfortable while doing so.
Tiburcio says that the conversations about feminism and other social issues are usually led by white academics, but what about the people who are also facing these issues that can't express themselves in the same way? "The lingo is usually not very accessible to people who haven't completed certain college credits. It felt stuffy, and I didn't like the environment of those groups that existed," Tiburcio says. "I felt like I was being judged because I didn't go to school for education, I went to school for art."
Tiburcio, who is Afro-Dominican, is a graduate of the Art Institute of New York and the California State University, San Bernardino. She creates her own zines and handles the creative side of the collective. Amelia Smalls'—who is of Puerto Rican and Antiguan descent—role is to curate memes for the group's Instagram account, which has almost 5,000 followers.
This past October, they hosted an event titled "The Woes of Being a Weirdo of Colour: Emo Nite," in collaboration with another Bronx-based collective, Hydr0Punk. Leading up to the event, they shared videos of followers as they danced to the music of emo idols like Paramore, Taking Back Sunday, and Circa Survive, to name a few.
They also organize workshops where they talk about "hood feminism," gentrification, and displacement in the Bronx. "We both live in the hood, so we're seeing what's going on in our neighborhoods," Smalls says. "Right across the street from our house, we're seeing all these developers pop up and a lot of these capital improvements happening—and it's not for us."
Smalls explains that by being a "genuine voice" for their community, Odiosas helps empower them to fight for their rights.
It's clear that these art collectives serve a bigger purpose beyond just bringing art to their communities—and Black Girl Magik is no exception.
Before it became a transnational network for women across the African diaspora and garnered almost 21,000 followers on Instagram alone, Shydeia Caldwell founded the collective in 2015 when she moved to NYC. The South Carolina native always knew she wanted to create a place for black women to feel empowered and appreciated, and the success of her first-ever BGM meetup served as a testament to the need for black women to create a bond that was more than just skin-deep.
After announcing the meet up on Tumblr and sending hundreds of Twitter DMs to women, the event went viral—with dozens of women gathering in Brooklyn's Prospect Park. "We talk about everything, whatever the black woman needs to get off her chest in a BGM meetup," Caldwell says. "In a BGM meetup, you don't meet a stranger, you meet a sister."
Caldwell, who is the executive director of BGM, says that they began as a business, but later found that being a collective is a more ethical and healthier way of executing their work. Her team is made up of social media director Sierra King, creative director Zainab Aliyu, events director Isabelle Ofume, public relations director Amina Cush, project and operations lead Amina Maureen Nicol, editor Amora Miller and human resources director Brittany Josephina Spell. "Every individual collective member on this team—this was their chance to do their purpose work," Caldwell says. "Even though we work for the community, we also work on ourselves. BGM is a very intentional business, very holistic, very purposeful."
Just three months ago, they were awarded the Girlboss Foundation grant, which will give them the financial backing they need to embark on a journey across the U.S. in 2019, where they will create programming and meet creators. She believes that BGM, and all collectives, deserve to have the resources that will help their work thrive.
Colectiva Cósmica is another group working to elevate work that, more often than not, goes unnoticed. One of the founders, El Paso, Texas native Itzel Alejandra Martínez, says that the idea began out of a desire to not only create art and zines but to showcase the art created by women of color.
"We have a bunch of artist friends, a bunch of beautiful women that make art—and where is it gonna be exhibited?" Martínez says. "These art spaces sometimes are so limited, but we want to express ourselves, so we kind of did it out of necessity."
Martínez, Barbara Calderón, and Maribel Falcón are the current members of Colectiva Cósmica and have published eight zines as a group. Their work is centered on celebrating the feminine spirit, something that, Martínez says, society has tried to convince us is weak, when in reality it's anything but.
The aesthetic is in the name Colectiva Cósmica itself, which translates to "cosmos," as they see themselves as a collective that honors the universe. "When thinking about what to call our collective we asked: What unites us as art girls? Sure, we're all Latina, but identity politics is so limiting. What's bigger than colonial identity? The cosmos," Martínez explains. "And when learning about indigenous stories of creation in the Americas and beyond, you find that stories about the stars exist universally."With over 18,000 followers on Instagram, Colectiva Cósmica looks to make connections with other women by using their platform to share past and present work by women of color, and by organizing workshops to teach the next generation of artists. "I think collectives is just one part of a larger network of New York artists, visual makers, and creatives as a whole. I see it as this huge network where we are all kind of collectively doing different things, but we're all somehow connected," Martínez says. "That's what I think is so beautiful about this moment right now in New York, especially for POC and Latinxs collectives."