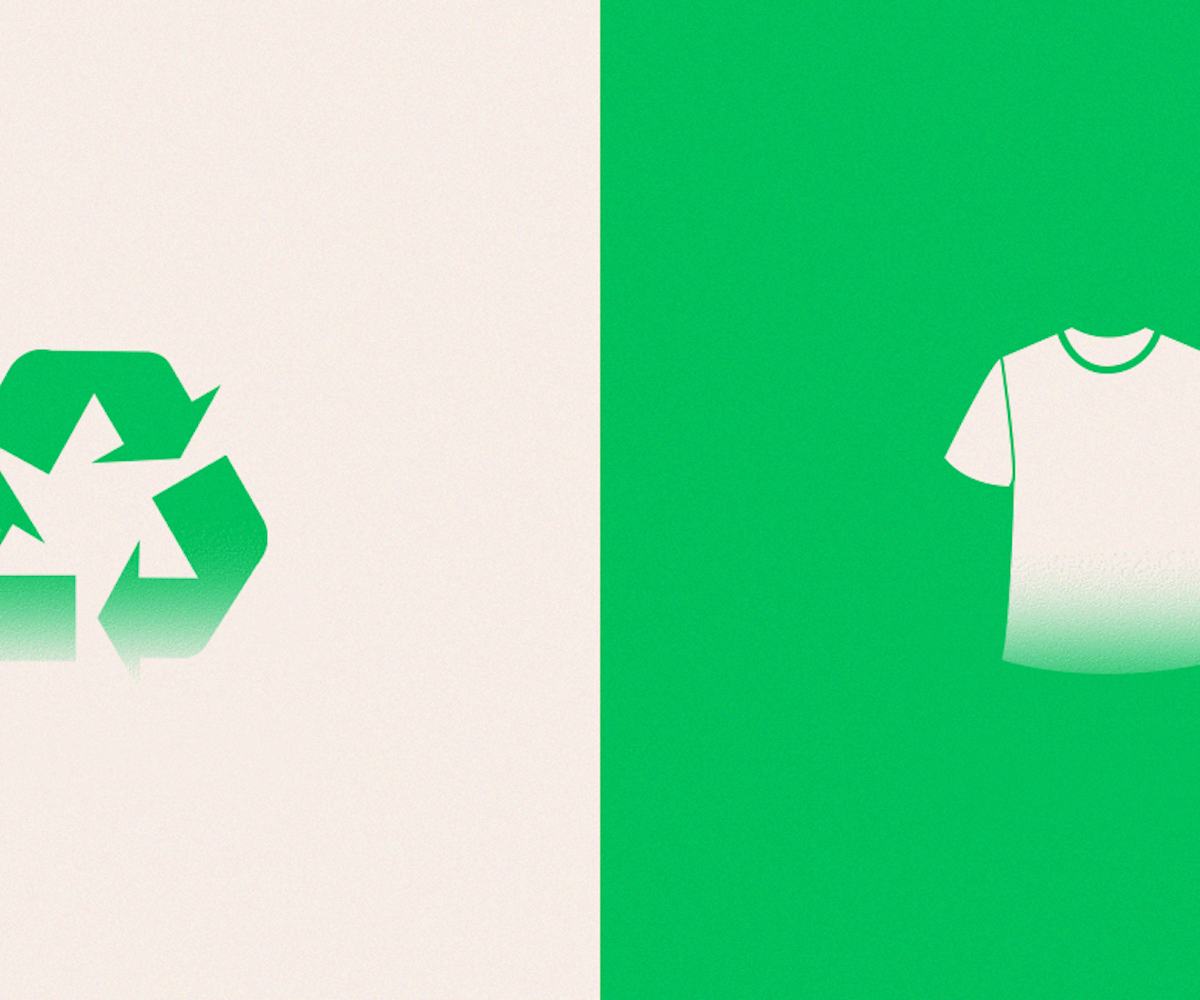 These Sustainable Fashion Experts Have Tips On Shopping Ethically
Learn how to be a mindful consumer
By now, it's pretty clear that the fashion industry is not so good for our planet. The industry as a whole is the second most polluting industry in the world, falling right behind oil, which says a lot. As more truths about industry practices—and our dying planet—become uncovered, it's at least reassuring that the sustainable fashion industry is booming.
New fashion brands emerge each day that strive to be as sustainable as possible, working with strictly organic materials or using ethical production practices. Pre-existing brands are moving forward with sustainability efforts to reduce their carbon footprints, too, such as putting out ethically sourced lines or implementing buy-back programs. Rather than throw away old clothing, consumers are choosing to donate their clothing, or sell them to recycled fashion retailers such as Buffalo Exchange.
While these are obviously good things, it's still not making much of a change in terms of actual environmental impact.
Organic cotton, which you'll find used in many of the sustainable brands out there, still only makes up 1 percent of global cotton production. According to Newsweek, only .1 percent of clothing donated to all charities and take-back programs is recycled into new textile fabric. In fact, 84 percent of disposed clothing ends up being incinerated, which, as you would imagine, is terrible for our planet.
Why? Because there's more discarded clothing circulating in the world than we know what to do with.
The issue here is that, as consumers, we're incredibly wasteful. Americans are buying five times as many clothes as we did in the 1980s, and the accessibility of fast fashion certainly isn't helping the cause. There's lots more work to do to turn around the fashion industry, and if real change is going to be implemented, we have to start with our shopping habits.
We talked to three women in the fashion industry on how they're working to spread the message of sustainability and educate the masses, and snagged a few of their shopping (and non-shopping) tips, too.
Clare Press is an Australian fashion journalist of 17 years who, earlier this year, was appointed as Vogue Australia's sustainability editor-at-large—the first position of its kind. A reformed clothing obsessive, Press has not only written a book on the environmental dangers of the industry, Wardrobe Crisis, How We Went from Sunday Best to Fast Fashion, but turned it into a weekly podcast, on which she interviews designers such as Karen Walker and Christopher Raeburn, as well as other thinkers, creative, and change-makers. "It's about broadening conversations around what fashion is for, what its impacts are, and how the system works.
It all started after she began learning and writing more about the issues around sustainable and ethical fashion after a Bangladesh garment factory collapsed in 2013 killing over 1,100 people. "Gradually, I joined the dots with everything from fashion's impacts on the environment to how we might transition toward circularity to the real stories behind who makes our clothes. I now look at all the stories I tell through this lens."
Her goal is to reach as many people as possible. "If we're going to build a sustainable fashion movement, we need to invite as many people as possible along for the ride," she says. She feels it's important to not only educate people on the bad stuff but, also, make a point to celebrate the good—such as all the new sustainable brands out there. "Doom and gloom doesn't always change minds. We need to harness positivity into the conversation. Negativity only motivates a small minority."
Colleen Coughlin was a fashion designer with over 14 years of experience in both the NYC and Miami apparel industries. After a pretty horrifying experience working in fast fashion, where the brand she was designing chose to incinerate 15 bins full of trims, buttons, fabrics, and developmental samples rather than donate them to a local design high school, she quit, went back to school (graduating from FIT's very first Sustainable Design Entrepreneurship class), and started her own upcycling and professional closet editing business called TheFullEdit.
Coughlin's approach to educating on sustainability is to make it fun. "This way the message sticks. No one likes an angry activist telling them what to do." On a client level, her company organizes, purges, and styles their closets, being sure to repurpose or recycle anything no longer being used. The goal is to lessen clients' needs to buy more, having them invest in quality, conscious, and classic pieces instead.
But she does much more for the masses. She holds upcycling workshops where attendees create something new from secondhand clothes, speaks to schools and organizations on the importance of sustainable fashion, and consults businesses on zero-waste living. She even co-organized Miami's first Fashion Revolution event last year, hosting panels on sustainability, with a hem-repairing workshop being planned for this year to teach people to repair old items rather than discard them. 
Jennifer Rosson of Style Your Life is a wardrobe stylist and personal shopper who wants to change the way the world looks at shopping. Working in the industry for over 20 years, she's a strong advocate for avoiding over-shopping, donating used clothing, and secondhand shopping—and educates her clients on these habits. Over the years, she's teamed up with brands such as Rent the Runway and 260 Sample Sale on video projects to help educate consumers on shopping sustainably.
Her goal is to educate consumers on how to be more mindful when shopping—especially when it comes to all of the "disposable" pieces out there today. "It's much better to spend a little more on a quality piece that will last years and years," she says. "Not only will it help the earth, but also your pocketbook."
Ultimately, she feels that the recent popularity of sustainable fashion is destined to change the industry. "I think all brands will have to add a sustainability component to their lines, and it will be exciting to see how this evolves. Innovation will play a huge role in future brand consideration."
All of these women are using their expertise to spread the message of mindfulness when it comes to our clothes. Because it's ultimately up to consumers to impact real change—and to change those pretty sad statistics. Each offered their tips on how we can all become more mindful shoppers and be more environmentally conscious:
Create a shopping list: Shopping lists aren't just for your groceries. Rosson wants you to make a list of the items you need, like a new winter coat that will keep you warm or a blazer to wear to your new job, to avoid making any impulse purchases. "People don't usually think of shopping with a list when they shop for clothes, but they should. Shopping with a list is helpful, so you only purchase items that you truly need!"
Shop for more investment pieces: While, yes, many of us can't afford designer prices all of the time, Rosson wants you to consider saving up for more timeless investment pieces that you'll wear for years. Not only will the higher quality allow the piece to outlast any trendy fast fashion piece, allowing you to get way more use out of it, but rather than having to simply throw it away, you can consign it once when you're ready to retire it. "You'll be able to consign these pieces and get more of your initial investment back," says Rosson. This is something you won't be able to do with seasons-old Zara or H&M.
Consider how often you'll wear an item: Find yourself drooling over that statement-making embellished mini skirt in the window? Coughlin wants you to ask yourself just how often you're going to wear it. "I believe if you ask yourself, How many times am I going to wear this? and consider the price of the garment divided by the cost, you'll be more mindful." For example, if something costs $100 and you know you're only going to wear it four times, then look at it as $25 per wear. If this is something you can get behind, then go for it, but if the per-wear cost just doesn't add up, move on.
Throw a clothing swap: The next time you're looking to clear out some space in your closet, Coughlin suggests throwing a clothing swap with your friends. "This way, you can exchange your 'no thank you pile' for theirs." New, free clothes for our personal wardrobes, while ethically clearing out the things that we no longer want or need? Sounds like the perfect plan for us.
Ask more questions: "As Fashion Revolution says, be curious, find out, do something," says Press. Research a brand or a store before you go in: What are their sustainability practices? Are they offering pieces from sustainably made brands, or are they totally trashing the environment? And while the answers may not always be so black and white, the answers you do get should ultimately influence your purchasing decisions. And find out what you can do on your own to make real change.
As Earth Day approaches, let these tips influence the way you shop (or don't shop)—not just on April 22, but year-round. Remember, in the end, the state of our planet—and the effect the fashion industry has on it—is really up to us.