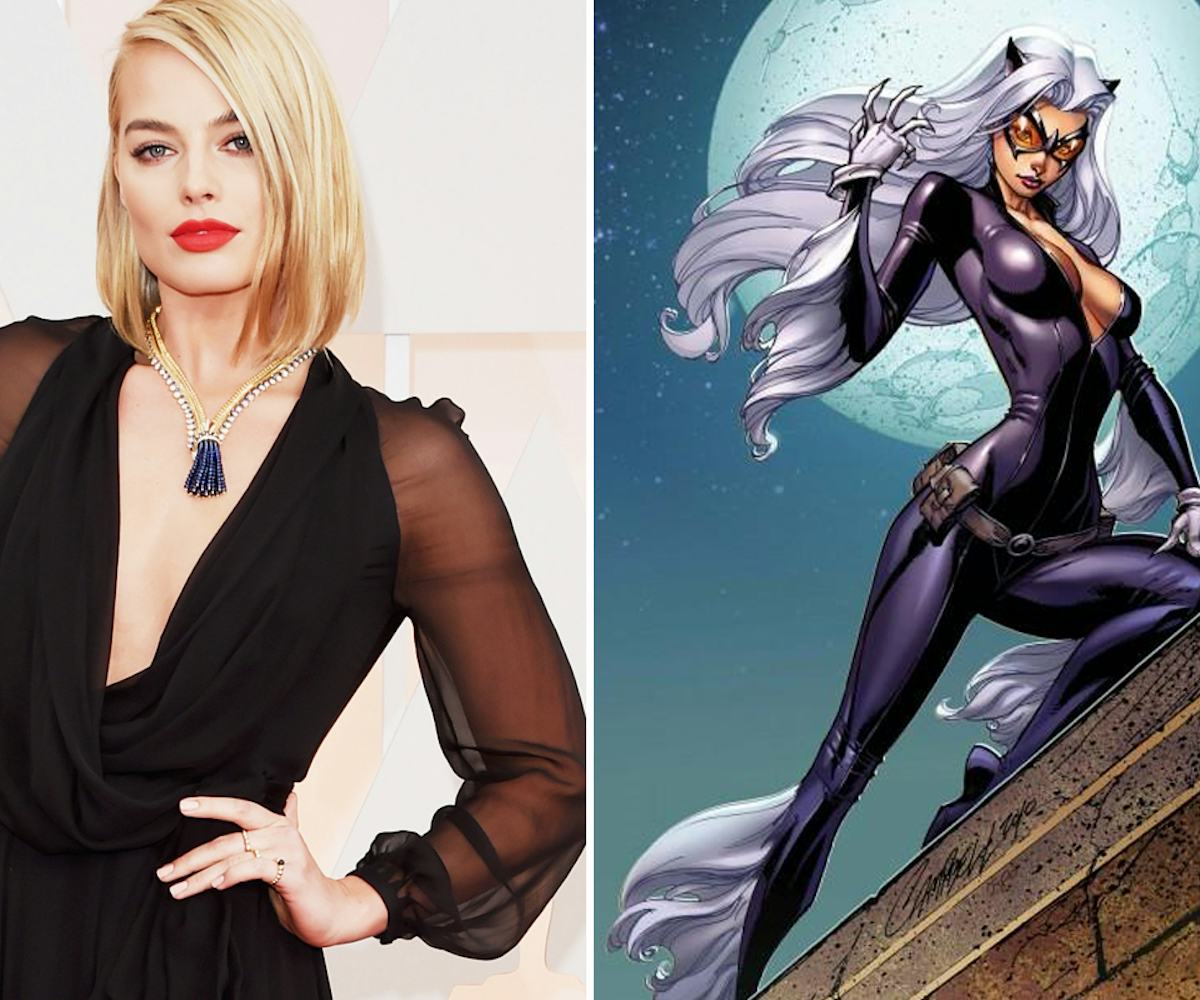 Photo by Jason Merritt/Getty Images, Photo via Marvel
9 Women Superheroes Who Deserve Their Own Movie
By now you've probably heard that, well, to put it bluntly, Batman v Superman: Dawn of Justice isn't very good. Most critics seem to agree that the best part of the movie is Wonder Woman, who, after so many years of studio missteps, finally gets the big-screen treatment she deserves. That bodes well for 2017, when Gal Gadot will star as the iconic DC superhero in the first standalone Wonder Woman movie ever. Could this mark a new era for the traditionally testosterone-heavy comic book genre? With a standalone movie for Marvel's Captain Marvel also on the way, the future for women superheroes in Hollywood is a bright one.
Below, nine women superheroes who deserve their own movie and who we would cast to lead in them. 
Captain Marvel
Why Her: After almost a decade of letting the boys have all the fun, Marvel will finally give a superheroine her own movie, when Captain Marvel hits theaters in 2018. It will focus on Carol Danvers, who's been one of Marvel's most enduring characters since she first appeared in 1967. With powers that include flight, super-strength, and the ability to shoot bursts of energy from her hands, Captain Marvel may just be more powerful than all The Avengers combined.
Who should play her: Ronda Rousey
Just about every A-list actress has been attached to what has become one of the most coveted roles in Hollywood. And, while proven movie stars like Jennifer Lawrence and Charlize Theron could certainly do Captain Marvel's iconic jumpsuit justice, they're nowhere near as intriguing a choice as Rousey, who's been publicly campaigning for the role, and who's real-world superpowers would make the VFX team's job a whole lot easier.
Batgirl
Why Her: The only big-screen incarnation we have of Gotham's teenage vigilante is Alicia Silverstone's version in the unfortunate Batman and Robin, where she had little more to do than be crush material for Robin. Barbara Gordon deserves better. What better way to reboot one of DC's youngest superheroes, than by adapting Brenden Fletcher and Cameron Stewart's recent Batgirl Vol. 1: The Batgirl of Burnside, in which our twenty-something heroine moves to Gotham's hipster borough to live life as a normal millennial. Well, except for that whole crime-fighting thing, of course.
Who should play her: Emma Stone
This would be the first pure action role for Stone, and she wouldn't even have to dye her hair, as both she and Batgirl are known for their fiery locks. And while it's rumored that Jena Malone plays Commissioner Gordon's daughter in Batman v Superman, which means she could don the cape and cowl in future DC films, Stone as Batgirl just feels like it was meant to be.
Wasp
Why Her: Though Ant-Man's end credit sequence sets up Evangeline Lilly's Hope Van Dyne as Scott Lang's female counterpart in future Ant-Man films, we had no idea just how prominently she'd figure. The sequel, due in 2018, will be called Ant-Man and Wasp, which will mark the first Marvel movie with a heroine's name in its title. Listen, it's not her own standalone movie per se, but it's a start.
Who should play her: Evangeline Lilly 
Once again, Marvel proved that when it comes to casting, no one in Hollywood does it better. The former Lost star was perfect as the future crime fighter, and should retain her role as Wasp becomes more deeply embedded in the Marvel Cinematic Universe.
Black Widow
Why Her: Audiences have already fallen in love with S.H.I.E.L.D's cunning super-spy, which is probably why Marvel packs her into virtually every film they make. And, while the studio, rather inexplicably, has yet to announce plans for a solo Black Widow film, continued pressure from fans should force their hand sooner rather than later.
Who should play her: Scarlett Johansson
You know what they say: If it ain't broke, don't fix it. 
Rogue
Why Her: With the power to absorb the abilities and the psyche of other human beings, Rogue has one of the most unique skill sets of all the X-Men. But what really makes this Southern belle so deserving of her own franchise, is how much she hates being a mutant. Couple that with a previously unmined backstory, in which she's a villain before eventually joining the X-Men, and what you get is a story ripe with conflict, self-discovery, and ultimately redemption.
Who should play her: Rebecca Ferguson
Anna Paquin did a fine job in the original X-Men films, but after stealing every scene in Mission: Impossible - Rogue Nation, Ferguson is primed for real cinematic stardom. What better way to make sure that happens than by handing the Swedish ingenue the keys to her very own superhero franchise?
Vixen
Why Her: After Vixen made her first ever live action appearance on The CW's Arrow, fans immediately called for the hero to have her own show. But we're willing to take it a step further. With her unique ability to channel the physical properties of every animal that's ever lived and her mysterious African heritage, Vixen is ready for her close-up.
Who should play her: Zendaya
This dream may already be DOA since Zendaya already signed on to join Marvel's upcoming Spider-Man reboot. It feels like sacrilege to crossover from Marvel to DC, but we can dream, can't we?
Black Cat
Why Her: Let's ignore for a second, what happened when Batman's cat burglar girlfriend got her own movie. Yes, Halle Berry's Catwoman was an unmitigated disaster, but it was also made at a time when studios didn't quite know how to adapt comic books for the big screen. Now, we're in the midst of the genre's golden age, which means if there was ever a time give Marvel's resident feline her own movie, that time is now.
Who should play her: Margot Robbie
In the comics, Felicia Hardy is the former girlfriend of one Peter Parker, which would place her somewhere in the realm of sophomore to senior. But that won't stop us from lobbying for Robbie, who looks to have mastered the whole anti-hero thing as Harley Quinn in this summer's Suicide Squad. 
Promethea
Why Her: Believe it or not, there is life outside of Marvel and DC, particularly in the work of Alan Moore, whose graphic novel series about Sophie Bangs, a college student with mystical powers, are ambitious masterpieces that combine elements of magic and spirituality. Don't let the big-screen adaptation of Moore's Watchmen fool you. Promethea needs her own movie and she needs it now.
Who should play her: Alicia Vikander
She's playing every other role in Hollywood, so why not this one, too?
Storm
Why Her: Her ability to manipulate the weather makes Storm one of the most powerful X-Men ever, and if Gambit—a mutant who throws glowing cards at his enemies for chrissakes—gets his own movie, then surely a silver-maned demigod who can generate a hurricane in the blink of an eye, deserves one too. She also remains one of the few prominent superheroes of color, so her own franchise would bring some much-needed diversity to a genre that so desperately needs it.
Who should play her: Zoë Kravitz 
Halle Berry's take on the character was underwhelming, and the jury's still out on newcomer Alexandra Shipp, who'll carry the torch when X-Men: Apocalypse comes out this summer. But a standalone movie requires someone with the budding star power of Kravitz, whose combination of real-life edge and otherworldly beauty make her the perfect choice to play the character.