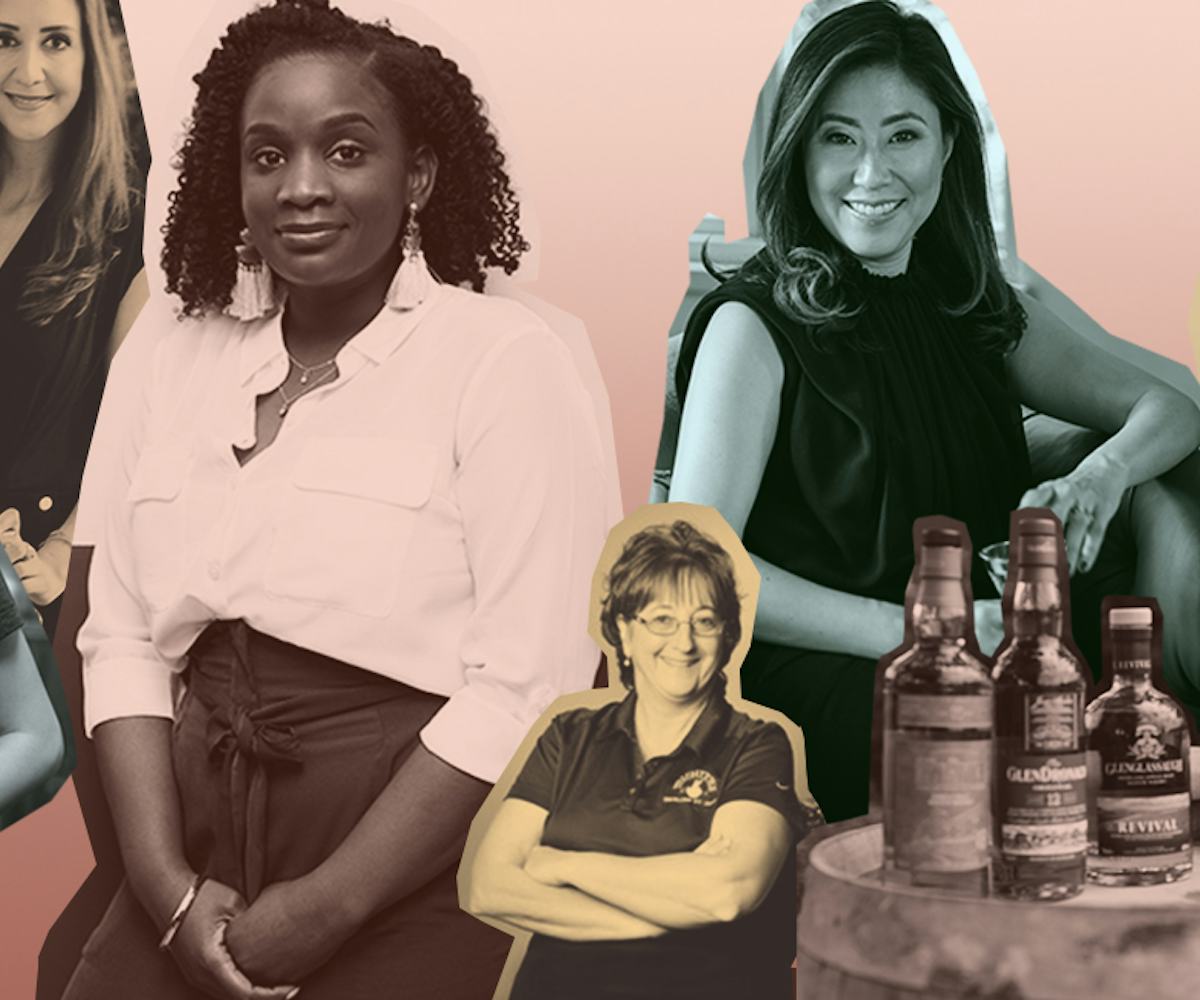 Whiskey Women: Meet The Women Changing The Spirits Game
Sippable spirits see no gender
Women are responsible for a great many things: Solar power. Computers. Whiskey. You probably didn't see that last one coming, but it's true. Women have always been part of whiskey's history. In Whiskey Women, The Untold Story of How Women Saved Bourbon, Scotch and Irish Whiskey, author Fred Minnick details the story of how, without women, the spirits would never have existed. In 3 AD, an Egyptian woman created the alembic still, an early prototype for stills used today. Medieval women worked in apothecaries distilling tonics from everyday ingredients like rosewater and potatoes. By the mid-1400s, women in London accounted for 30 percent of the brewers guild and from the 1700s to 1950s, women distillery owners were among the most important in the industry.
"They were distilling anything and everything before whiskey became a popular term," Minnick writes. "Their contributions should not be overlooked."
I feel the same way about the women leading the whiskey charge today. While the food and liquor industries are still mostly dominated by men and the sheer mention of the word "whiskey" may provoke images of your dad, grandpa, and Mad Men, there are an amazing group of women working their way to the front of the pack of the industry, changing all that. From master distillers to brand ambassadors and company owners, we raise our glasses in cheers to these whiskey women.
Jill Boyd, Whisky Maker, Compass Box
How did you get started in the industry?
I was incredibly lucky that I was in the right place at the right time. I was working for a fantastic whiskey bar in Elgin (Scotland) when I got a call from a recruitment agency asking if I would consider doing three months' cover in a distillery lab. It was an opportunity to combine two of my favorite things—science and whiskey—so I couldn't say no and it quickly became apparent to me that this was the industry I wanted to be in. Fortunately, they were looking to take on a new permanent team member in the lab and there I was practically chaining myself to the stills to stay.
How do you see the industry changing?
The rules of the past are relaxing, but people can choose to be experimental or traditional. There is an openness to innovation and trying something new, but there is still an appreciation for the heritage in the industry.
Elizabeth McCall, Assistant Master Distiller, Woodford Reserve
How did you get started in the industry?
I got in really by chance. I got my undergrad in psychology and masters in counseling psychology, so I thought I wanted to be a therapist. And then there was a turn of events at my younger brother's graduation party. There was a man there [who] said to me, "I hear you talking about having to find a job, and I have an open position in our sensory lab. If you're interested in working at Brown Forman, very entry level, send me your resume. Everyone that comes into the sensory lab has a psychology background." And I, that night, jumped on that opportunity, touched up my resume and sent it to him the next day.
Your mom also worked in the industry?
My mother worked as a bottling manager at the old Seagram's plant. She has influenced my career by being a great example of a strong woman with a great work ethic. After my mother left Seagram's, she was a stay at home mom for a while, then went back to work and she is still working full time. She just last year applied for a different position within her current company, got it, of course, and shows no signs of slowing down! Anything is possible if you work hard and are dedicated!
Eboni Major, Bulleit Whiskey Blender
You work for one of the most recognizable brands in the industry. When you tell people what you do, what is the common reaction?
When people find out that I'm a whiskey blender for Bulleit, most of the time people are both shocked and excited, as it's not a common career path. People are filled with curiosity about what the job entails, and how my background in food science led me down this path.
Did you always want to work in spirits?
Working on Bulleit Bourbon was my first job in the distilling industry. This was a dream come true as it provided me many opportunities to learn. Before that, I worked in food quality, which created a solid foundation to build on. My vision wasn't necessarily as specific as "whiskey blender," but I did know I wanted to work somewhere where every day would feel like a new science experiment. I'm proud to say I've accomplished that and I work with a team at Bulleit that encourages me to be creative and take risks and create delicious whiskey in the process.
How many whiskeys do you taste or smell on a daily basis?
We are constantly receiving new whiskey samples from the distillery for inspection, so while there isn't a minimum number we need to taste or smell every day, I would say it's between 30 and 75 samples.
It's an artistry to determine which whiskeys will blend well together, and the decision-making and quality control is based largely on personal sensory profiles including how we see a whiskey's color, smell its nose, and ultimately taste its flavors and finishes.
How do you drink your Bulleit?
Bulleit's high rye content makes it perfect for cocktails, so I leave my trust with the bartenders when I'm out and looking to enjoy a glass of Bulleit. The essence of mixology is similar to that of whiskey blending, so I always appreciate the care and creativity that mixologists exercise with our whiskeys behind the bar. I like to discover why others love Bulleit and I find that bartenders are able to share their story through their cocktails. I love all things fruity, so my bourbon go-to is a Bulleit Smash, preferably with strawberries or blackberries.
Allison Parc, president and founder of Brenne French Single Malt Whisky
How does one go from ballerina to booze maker?
The leap from ballet to booze did not seem so wild to me as others have thought. For me, I see a clear balance between science and artistry in both worlds. When I retired my pointe shoes, I was finally able to indulge in the food and drink previously restricted by my ballet lifestyle. Whiskey really stood out to me, as it was interesting, complex, and full of nuances. I was enamored by the conversation surrounding "terroir" (of the earth) in wine and the experience of drinking whiskey. It made me wonder, how are people applying terroir to the whiskey category?
Have you faced any opposition or negative feedback from anyone in the industry? Or some really unique/hard challenges in general?
I've faced many challenges as a woman in a male-dominated industry. I've worked hard (in heels!) to change the perception that whiskey entrepreneurship is gendered. I connect best with others on a shared love of knowledge and beautiful whiskeys. The incredible workload that came along with learning a new industry was all part of the process. It is one thing to sell whiskey, it is quite another to sell something that it is truly your own and is completely different from everything else out there.
How do you see the industry changing?
I think that people are focusing more and more on the grains used in whiskey making. People want to shop whiskeys that use local ingredients and organic farming practices. Many of us have moved away from traditional techniques and are focusing on environmentally friendly practices. Brenne is crafted from seed-to-spirit in the heart of Cognac, France, is 100 percent organic and certified non-GMO.
Raquel Raies, U.S. National Brand Ambassador for The Macallan
You have an impressive wine background and have worked with a variety of different whiskey and bourbon brands. How did you come to become the first female Brand Ambassador The Macallan has ever had?
I've been in the drinks business for a while. I started off in the wine business, but I was born in Scotland. So scotch has been a big part of my life since I was a baby and they were rubbing it on my gums. So, I knew I was going to make the transition from fine wines to fine whiskeys.
I started off on the sales side of things as the national sales manager for a number of different single malt scotch whiskeys and bourbon. And I lived in Kentucky for seven years working with bourbon, so I knew it was where I wanted to be. Of all the brands I worked with The Macallan is the one I fell in love with. The distillery is magical. So I was really focusing on them and when the opportunity came up for a National Brand Ambassador in Chicago, I went for it and I got it. It was only after I had moved and was in my first week in the position did I realize I was the first female ambassador ever for The Macallan. It was exciting but also a little bit nerve-wracking to be the first. But, it's my dream job. The opportunity to tell the story of women in the industry and champion more women getting into the industry is just so inspiring.
What challenges do you face?
When I've hosted male-dominated events, yes, there are sometimes challenges. And I do want to say, it is definitely changing. Over the last five years, the comments I get are slowly going away. At first it was a lot of "what do you know, you're a woman, do you even drink scotch?" There are not so many of those anymore. Being it was an old man's drink for so long there is a stereotype—just like those pink fruity drinks are considered girly. But we are changing these stereotypes as we grow the industry forward. We are at the forefront of that.
You've said that women are actually better tasters than men?
I am always telling women who don't want to taste scotch that they don't have to taste with their palette. You can taste with your nose, and women are scientifically proven to have a better sense of smell than men. So we can actually taste by smelling. Telling women that really intrigues them to try.
What's your favorite part of the job?
Giving women the confidence to go and order the scotch they like—that is a powerful thing. Men always think they know everything. Five minutes with me and I can teach a women way more than a man knows and he's been drinking scotch his whole life.
Ellie Wong, Head Mashwoman, Westland Distillery, Seattle
How did you get started in the industry?
I remember seeing the job opening online. At the time I wanted to work in skilled labor and agriculture. The search led me to this job posting calling for a "mashperson." It was an entry-level position in the spirit industry and after an hour of dissecting the company website, I was super curious; I drove my truck to the distillery the next day. At the time Westland had only one offering, Deacon Seat. It the best whiskey I ever tasted. I went home with two bottles and a whole lot of ambition. I sent my resume that night.
What is a Head Mashwoman?
I oversee the mashing process, which means my whole day is about barley, water, and yeast. We work with specialty malts, which is pretty unusual in the single malt distilling world, every mash has to be overseen carefully because each one is different. To put it simply, my job is to make the sweetest water I possibly can, using only barley. The yeast feeds on the sugar and creates alcohol.
What's your favorite part of your job?
I think my favorite time is in the fall when we hold our annual Peat Week in Seattle where we import 20 tons of peated barley from overseas and I mash it to become our annual Peat Week release (something we've done for three years now). Every bag has to be thrown over the shoulder and hoisted into the mill. I carry about 88 50-lb bags every day for roughly a month. The nature of the malt makes my sweat have this sweet, smoky aroma that I find really addictive.
Why is whiskey having such a moment right now?
People are doing wild and ingenious things with whiskey. Creativity is the new currency of the spirit industry, and this is inspiring lots of interesting new flavors to explore. For example, we use specialty malt that was once only reserved for beer; when those flavors are allowed to mature in a cask we get flavors like Luxardo cherries, candied clementine, and chocolate. This is drawing people toward whiskey as they discover how much more it has to offer.
What's your favorite way to drink whiskey?
Straight from the barrel with an ice water on the side.
Ann Soh Woods, Founder, Soh Spirits, makers of Kikori Whiskey
How did you get started in the industry?
I didn't have an invitation. I started a whiskey company without much experience, but I have always considered that an advantage. I knew from the beginning that I wanted to develop something unique that reflected the essence and traditions of Japan but was accessible to U.S consumers. I did a lot of research, studied lots of whiskeys (and sometimes sampled a few too many; one of the perks and pitfalls of the job).
What is one of your biggest challenges?
One of my toughest challenges and greatest rewards is that I produce, age, and bottle Kikori all in Japan; we also do nearly everything by hand. One time, not enough glue was applied to our labels, which resulted in some of them loosening upon arrival in our ports.
Rice-based whiskey is still new to the industry and Kikori, considered a small batch artisanal product. has set itself apart as a true gem. Is being the new kid scary?
We sell a lot of Kikori, but are still very small compared to some of the sophisticated giants in the industry. We simply do not have many of the technological or financial advantages. However, what we do have are creativity and a beautiful whiskey which goes a long way and perhaps would not have been possible 15 years ago.
You found this game-changing company. What is your day to day like?
I am fortunate to be surrounded by a great team, so I have strong support in all parts of the business.  Since we are such a small company, I do wear many hats, but I would say I dedicate most of my time to sales, marketing, branding, and planning the development of new markets. I often start the day with early morning East Coast calls before running the kids to school and then work on supporting my sales team, reviewing events, marketing initiatives, budgets, goals, following up on emails, putting out fires and chowing down lunch at my desk. I also spend too much time figuring out the right music to play on Sonos, recreating and tasting new cocktail recipes, and getting lost in the spirits sections of liquor stores.
Alison Egan, Brand Owner & Senior Account Manager, Egan's Irish Whiskey
Whiskey came into your life thanks to love, literally.
In 2012, I was working as a Montessori teacher in Beijing. It was there I met Jonathan Egan—6th generation of the Egan family—on an aircraft carrier off the coast of China. He and his best friend, John Ralph, had been discussing the idea of reviving and relaunching his family's whiskey business. When he met me, the pieces seemed to fit together. Shortly after, we married and re-introduced Egan's Irish Whiskey to the market.
I quickly became an active participant in the marketing and promotion of our brand – dishing out samples at trade shows (even while pregnant!) and working as a brand ambassador in Chicago and other parts of the country. After my son was born, I could often be seen wheeling his stroller through the streets of Manhattan trying to sell our whiskey!
How do you see the industry changing?
Whiskey is on the rise, and we don't see that slowing anytime soon. The modern whiskey drinker is curious and open to trying new things, which is great news for brands like Egan's; it's allowed for a greater number of independent brands to enter the stage. We're up against huge companies with seven-figure budgets, but I think people are really looking for authenticity and premium, craft spirits. While we have faced some challenges with the recent amalgamation of large distribution companies, which is making it harder for smaller brands to gain market share, it's inspiring us to find new and innovative ways to make our brand stand out.
Have you faced any opposition or negative feedback from anyone in the industry? 
Yes, every day! It's part of the job, but it only makes me stronger. Some days it's like a million doors slamming in my face, but I just persist. We have a great product in Egan's Irish Whiskey, so if I can get them to at least try it, it usually sells itself.
What are the challenges of being a female brand owner?
With such a breadth of competition out there it can be very difficult to stand out from the other brands, and as a female brand owner in this male-dominated industry, it can be ever harder. When I first started out I was often subjected to inappropriate or sexual comments for which I really wasn't prepared. I now make it very clear that these comments and this kind of behavior will not be tolerated. All of the women I know in this business are incredibly tenacious—it's important we demand to be taken seriously and treated with the respect we deserve. After all, I've yet to see any man hand-selling his whiskey while pushing a sleeping baby in a stroller from door-to-door!
Kendra Scott, Lead Distiller, Hotaling & Co.
You are the lead distiller. What is that like?
My typical day start at 5am. Because we are a small distillery (a team of only five), we all do everything. My day could be anything from rebuilding a pump to filling barrels with new make spirit that will age into one of the Old Potrero expressions.
Innovation is party of the brand identity of Hotaling. How do you play a part in that?
The distilling team has been leading innovation for the past three years. For example, last year we introduced Old Potrero Straight Malt Whiskey Finished in Port Barrels; it is one of the products I'm most fond of! It's exciting to have a job where I continue to be inspired by the people I work with and the products we make.
What's your favorite part of your job?
I love that every day I get to work with my hands, utilize all of my senses, and be creative.
You've said you haven't faced too much opposition in the industry, but whiskeys have. How?
The whiskeys are always fighting some misperception—like the idea that younger whiskeys are inferior compared to older whiskeys. Our 18th Century Old Potrero expression is extremely flavorful thanks to the lightly toasted barrels, and yet it is only aged two-and-a-half years.
What is the most interesting thing you have learned or taught someone?
Fritz Maytag, the founder of Anchor Distilling Company, would tell the distilling team that when someone tastes a product, it doesn't only have to taste good on the palate but it also has to taste good in the mind. Flavor alone does not make a good product. A great flavor has to be in conjunction with the experience, environment, context, backstory, quality, and perception. I think that's so true.
Robyn Greene, SVP Brand Marketing and Innovation at Cooper Spirits Company
How did you get started in the industry?
I had the good fortune early in my career to work on an agency team that managed the Rémy Martin cognac business. My specific focus was on Louis XIII, the ultra-premium brand in their portfolio, one of the finest spirits in the world; it was quite the introduction to the spirits industry! This experience had me traveling to Cognac, where I was fully immersed in the craftsmanship of cognac making and the incredible history and story of the portfolio's brands. After that, I was hooked on the industry: the artistry of production, the heritage and poetic brand stories and the challenge of creating relevance to today's consumer.
What's your favorite part of your job/role?
I really enjoy watching consumers experience our brands for the first time. Being there at that moment of discovery is incredibly special. Consumers hear straight rye whiskey and they are automatically intimidated by its bold reputation. And then they take their first sip of our Slow & Low Rock & Rye and they are immediately put at ease by its approachability.
What is the most important thing you've learned?
I learned early on in my career that "the devil is in the details" and have passed on that notion to those who I've mentored along the way.
Pamela Heilman, Master Distiller and Executive Vice President - Production, Michter's
You have literally made history in this industry. What does it mean to be Kentucky's first female master to join Kentucky Distillers Association since prohibition?
When I think about it, it is very humbling and a great honor to be the first at anything in your life. For me, everyday, it's not something I think about until someone asks me that question. But it's very humbling and a very big honor. I try and have always tried to do the very best at whatever I chose to do.
You've  distilled some of America's highest end bourbons and ryes.  What characteristics do  you look for when you are creating whiskey? 
For me it's about the art and the science when I am distilling. I love cooking, so that is my natural instinct in thinking about what tastes good and what combinations work well together. 
What advice do you have for women just starting out in the industry?
My advice is that you can learn from everyone. Don't discount anyone. When you take a job, you don't have to start at the top. I didn't: The first job I had in the distilling industry was the worst job I ever had. But, it prepared me for today. It taught me all kinds of things that I never thought I would ever need. So, listen and keep your mind open and learn everything you can.
Andrea Wilson, Master of Maturation, Michter's
What does a Master of Maturation do?
There is a lot of debate about what are the contributing factors of the overall final product that we call Kentucky bourbon rye and spirits. The roll that I play is around the cooperages and drying of wood. We season and air dry for 18 months to get rid of astringent and bitter qualities.
What is your favorite whiskey and food pairing?
That could be a story all on its own! I think the wine and food pairings phenomenon has been going on for long, long time. I use our whiskeys to make BBQ sauces, homemade whipped creams, and to give a kick to a pie. As a straight pairing, I've done a goat cheese and straight pours for friends with some roasted figs, and it's beautiful. Really simple and delicious and something everyone can do.
How do you explain the differences in whiskey to novice drinkers?
Bourbon will tend to be a slightly different flavor profile than a rye in terms of the grains used. Corns are at the sweeter end of the spectrum. Ryes are spicier and then there are barley malts which have more of a nutty type character. Michter's mash fills are made of corn rye and barley malt of varying percentages. Our bourbons will tend to be vanilla- and caramel-forward.
Aimée Gibson, Blender, Johnnie Walker
It doesn't get any more iconic than Johnnie Walker. What's your favorite?
When people find out that I work as a whiskey blender they often ask me: "What's your favorite whiskey?" There are several different whiskeys I could name but one of my absolute favorites is Johnnie Walker Black Label. It's stood the test of time as an icon of Scotch all around the world. Its smooth flavor, rich fruits, and sweet character make it a really great tasting, versatile whiskey which I love.
How many whiskeys do you taste or smell on a daily basis?
There is no typical day for us as blenders, but you can be pretty certain that sensory will play a role in each day. We will assess samples from different distilleries, different ages and from different cask types.
Sensory is very much a collaborative process and as a team we can nose hundreds of samples in a week, sharing ideas and building knowledge together.
How do you drink your Johnnie?
I love a Johnnie Ginger Highball; it's an all-time classic and a very refreshing drink but what I like about it most is that it showcases the whiskey. It's a simple way to taste the rich flavors of Johnnie Walker Black Label.
Rachel Barrie, Master Blender, Benriach
You have been called the most prominent woman in your field. How much pressure is that?
Pressure is a state of mind. I don't really feel any pressure, as I'm driven by passion, a love for what I do, and a quest for depth of understanding to inform the decisions necessary to make the best possible whisky.
What inspires you when blending?
Everything inspires me, whether nature, the seasons, art, music, the science and technology of distilling, and the intricacies and chemistry of oak maturation. It's like composing music, except I'm sensing and combining flavor notes rather than musical notes to imagine and create new malt symphonies.
How do you drink your whiskey? 
In autumn and winter, I enjoy GlenDronach 12 and 18 year old, served neat after a hearty warm meal, with family and friends whilst listening to mellow relaxing jazz or classical music. In spring, it's BenRiach 10 in my garden in the woods, in a highball with ice and soda; and in summer I most enjoy Glenglassaugh Evolution by the beach with a luscious fruit cocktail and ice cream, spiced by the sea.