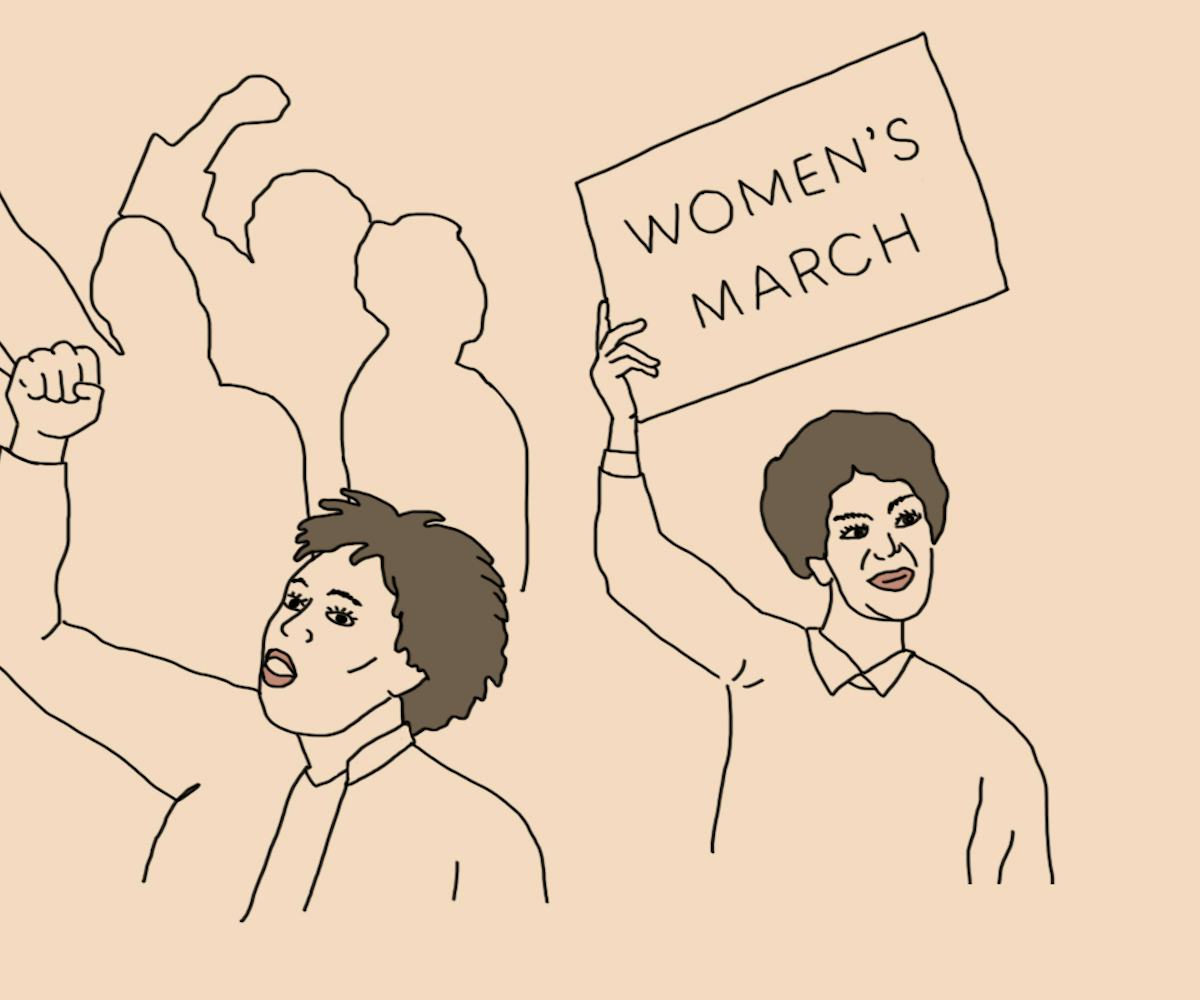 Illustrated By Jihyang Lim.
Why The Women's March On Washington Must Be For Everyone
A fight for ALL women's rights
The day after the election, once it became clear that Donald Trump would become our next president, Teresa Shook started a Facebook group from her home in Hawaii, rallying her friends to protest. Across the country, Bob Bland did the same in Brooklyn, New York. Eventually, the two women combined their initiatives to start what first went by the name Million Women March, a name that didn't sit well with many women of color who were aware of its historical significance, even if Shook and Bland weren't.
The original Million Woman March took place in Philadelphia in 1997 and was organized by black women. It was a response to the male-only march that took place two years prior in Washington. As one Facebook user pointed out, co-opting the name was appropriating and eclipsing the work of these activists: "I will not even consider supporting this until the organizers are intersectional, original and come up with a different name." Whether or not the tone-deaf name was intentional, the fact that the 1997 march was in response to mainstream women's groups ignoring issues in the black community makes the original decision all the more ironic.
Women's marches have a history of leaving out black women. During the 1913 suffrage parade in Washington, black suffragists were asked to march at the end of the parade. Ida B. Wells refused to do so and was seen during the event marching between two white delegates. The 19th amendment, passed in 1920, gave women—both black and white—the right to vote; but that right was difficult for black women to exercise, thanks to prohibitively restrictive and racist Jim Crow voting laws. All too many white suffragists shared the sentiment of Susan B. Anthony, who once said, "I will cut off this right arm of mine before I will ever work or demand the ballot for the Negro and not the woman." Of course, that binary of being black or a woman is a false one: black women don't choose between the two. Instead, they face a double battle, that of earning both civil and women's rights. This is the very basis of intersectional feminism.
When it appeared that black women's concerns about inclusivity regarding the Women's March were being silenced—some posts being deleted and others blocked—many grew concerned that history would repeat itself and that white activism would continue to be lazy activism. In response, the group changed the name from Million Women March to the Women's March on Washington. A move, leaders say, that is an intentional nod to Dr. Martin Luther King Jr.'s historic 1963 civil rights march. Three veteran activists were also asked to come on as national co-chairs: Tamika D. Mallory, Carmen Perez, and Linda Sarsour, all women of color.
"These women are not tokens," a post on the Women's March on Washington Facebook group assured. "It is important to all of us that the white women who are engaged in this effort understand their privilege, and acknowledge the struggle that women of color face. We have and will continue to encourage our state organizers to reach out to women from all communities. This means not only asking them to join the WMW, but also challenging our new community to show up in support of the efforts of other activists and fighters for justice." The Women's March policies fall in line with their stance of addressing intersectional issues. The four-page long declaration covers everything from economic justice to ending racial profiling.
On October 25, 1997, approximately 750,000 black women from across the country gathered to have their voices, concerns, and issues heard. This Saturday, hundreds of thousands of women of all backgrounds, creeds, and races are coming together to do the same. Bell Hooks once said, "We could only become sisters in struggle by confronting the ways women—through sex, class, and race—dominated and exploited other women, and created a political platform that would address these differences." Addressing these issues might make some women uncomfortable, but that's okay. This march can—and must—be a catalyst for protecting women's reproductive rights and bridging the equal pay gap, while simultaneously voicing concerns about police brutality and immigration. Protesting for the rights of women is essential right now, but just as important is making sure that every woman is included and all of their issues addressed. Not just some.