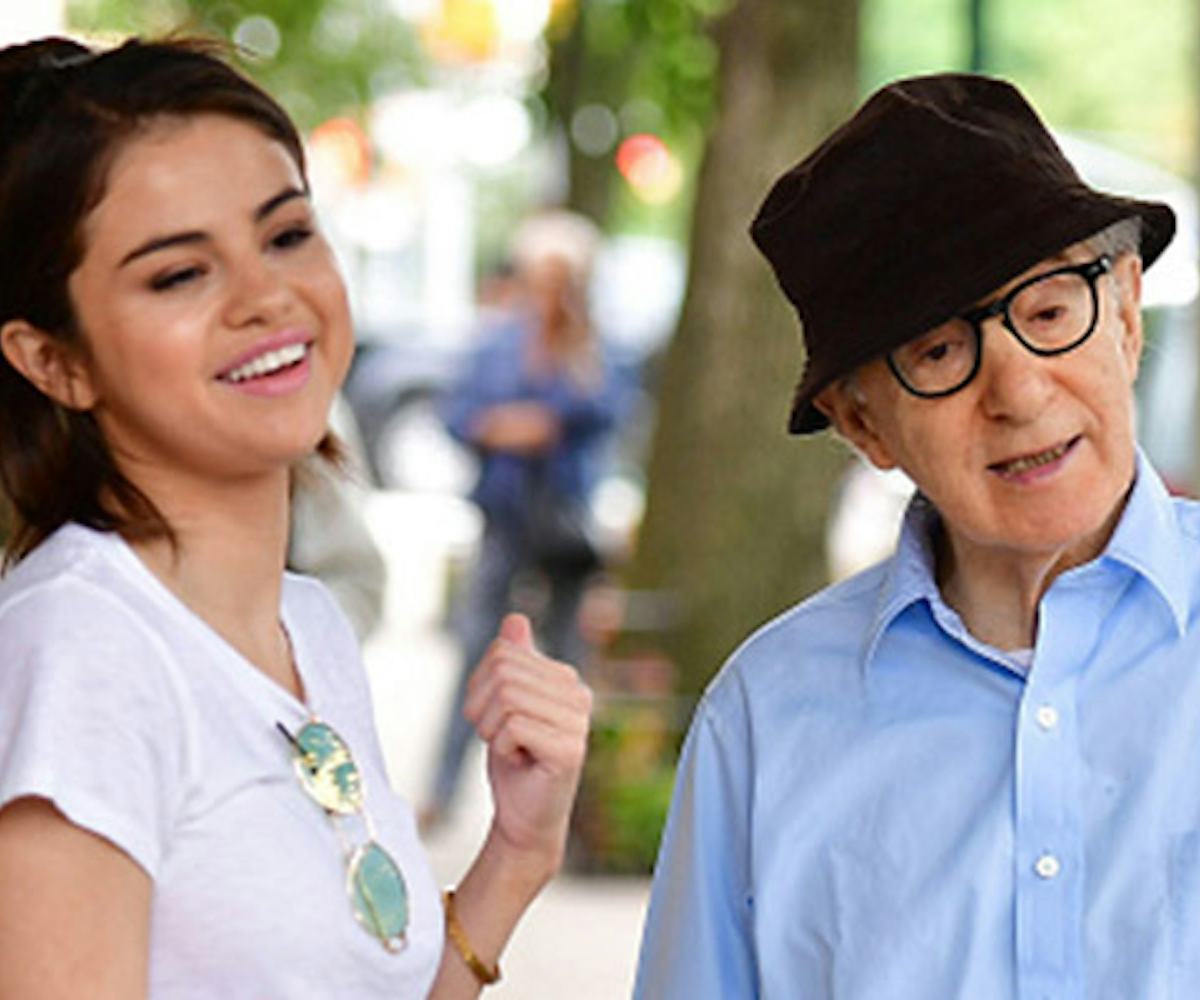 Photo by James Devaney/GC Images
Woody Allen's New Film Will Be Just As Gross As He Is
Once again, a teenager dates a much older man
In the least surprising news of the week, Page Six revealed the plot of Woody Allen's upcoming film will involve a sex scene between a 15-year-old girl and a much older man. A source told the site that the movie, which is currently filming in New York, centers on a middle-aged man who is sleeping with "a much younger woman, among other actresses," and, according to the script, "makes a fool of himself over every ambitious starlet and model."
According to Page Six, in one scene, a character played by Rebecca Hall accuses 44-year-old actor Jude Law's character of sleeping with a 15-year-old "concubine," played by Elle Fanning, who is 19. 
This kind of dynamic is not new for Allen. In Manhattan, a 42-year-old Allen dates a 17-year-old Mariel Hemingway. For that film, the director was nominated for an Oscar. In Magic in the Moonlight, a 25-year-old Emma Stone plays the love interest of 53-year-old Colin Firth, and in Whatever Works, a 62-year-old Larry David dates 21-year-old Evan Rachel Wood. 
Clearly, Allen, like most directors, is inspired by his own experiences. Considering he married his ex-girlfriend Mia Farrow's adopted daughter, Soon-Yi Previn, when she was 21-years-old and he was 56 and has been accused of sexually molesting his adopted daughter, Dylan, when she was seven years old, it's not surprising these are the kinds of relationships Allen chooses to write about. 
What's more surprising is that actors like Stone and Firth, and now Selena Gomez, Fanning, Law, and Hall continue to work with Allen, despite the public allegations against him. It's more surprising that the Academy continues to shower Allen with accolades while condemning Harvey Weinstein. It's more surprising that people are actually surprised Allen would write a sex scene between a teenage girl and a grown man. It's even more surprising that he's not in jail.