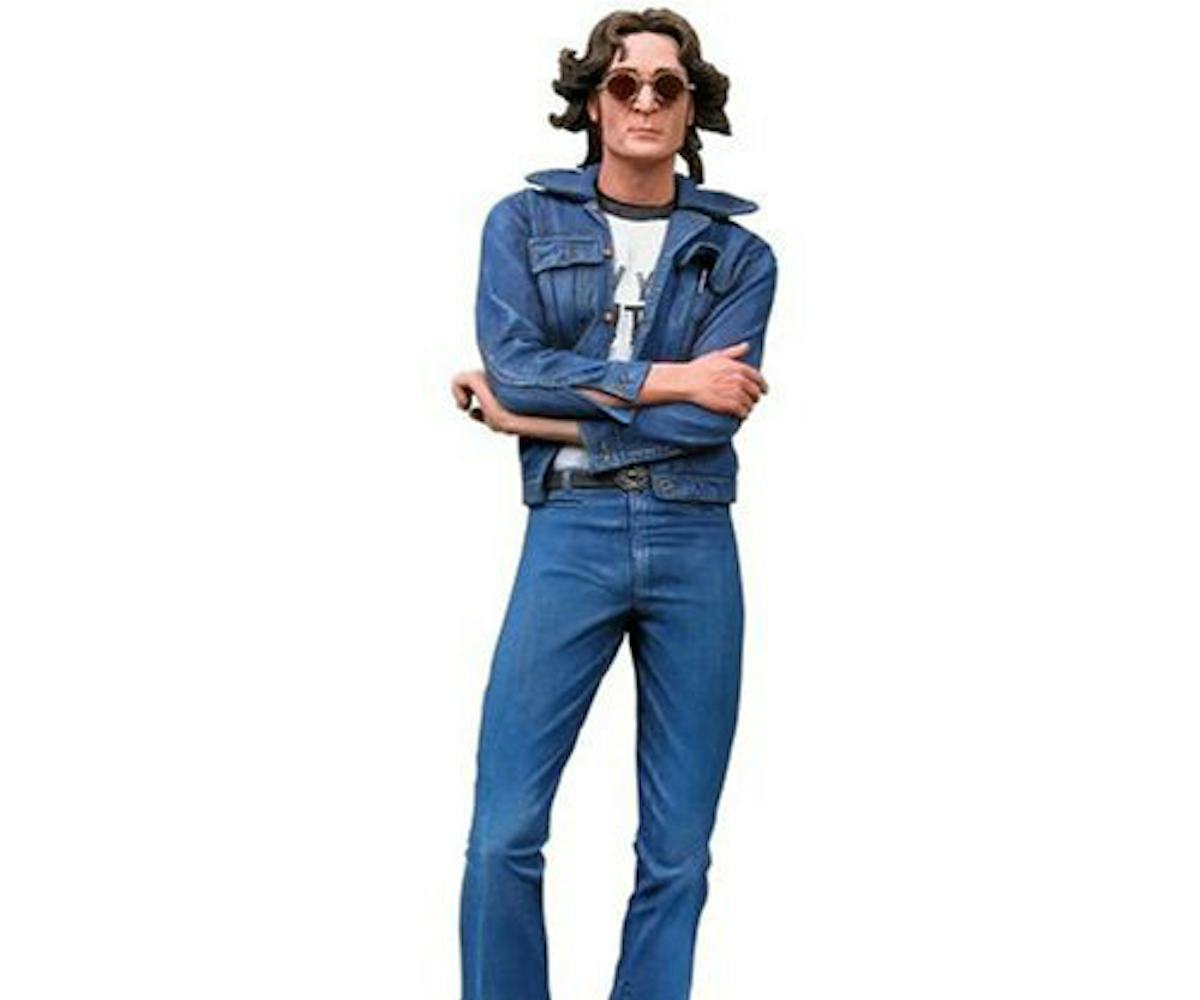 Photo: via Amazon.
The Most Peculiar Gifts We've Ever Received
d'aw, you shouldn't have…really…
'Tis the season of giving and all through the world, people are unwrapping some gifts to be hurled. Now, the very act of giving a gift is one that should inspire gratitude in one's soul. The sad, pessimistic truth of the matter is, that's not always true. Sometimes a gift is so off the mark that you wonder if the giver even knows who you are. Were you an afterthought? Are you really that hard to shop for? What gives, giver? Like a pro, though, you hide your true feelings, muster a "thanks," and save the venting for opportunities like this. We asked a small, select group of folks to recall some of the more peculiar gifts they've ever received. The results range from dreadlocks to talking John Lennon dolls—things you probably didn't even know existed until now. Bask in all the awkward glory and maybe take note; if you think a person's not going to enjoy their gift, they probably won't. Is it even worth giving at that point? You be the judge.
Every year, throughout my entire childhood, my aunt gave me the same thing for Christmas—lingerie. From a thrift store. — T.
Barbra Lingerie, Barbra's 6 Pack of Lace Boyshort Panties, $13.50-$17.50, available at amazon.com.
For my 21st birthday, my mother gave me a vacuum. Now, birthdays really aren't a big deal in my family, so it's not like I was expecting something extravagant, or like I had requested something else. But a vacuum?! I wasn't sure if I should be offended. I guess my floors were pretty dirty? Needless to say, that vacuum has survived eight years and three NYC apartments, and is still going strong. It's small and easy to maneuver which is a big deal in a small space. And not to be totally superficial, but it's really freakin' cute. — L.
Miele, Classic C1 Olympus Canister Vacuum Cleaner in Lotus White, $329, available at amazon.com.
My evangelist uncle gave me a "talking" John Lennon doll for Xmas one year. It said a bunch of phrases made famous by John Lennon whenever a person walked by the motion sensor. However there was no "off" button. For roughly a year, I couldn't be near the thing without hearing "give peace a chance" in some nasal-type voice. The batteries finally died. My uncle mainly gives religious gifts, so this was actually a pleasant surprise. — C.
NECA, Talking John Lennon Action Figure, $199.99, available at amazon.com.
This one time, my aunt's now ex-husband gave me a pack of white socks. I believe that I was somewhere between the ages of 8 and 12 years old. Don't get me wrong—socks are great and it's awesome when you can get them in bulk—but these weren't even good quality socks! Like, I'm pretty sure they were from some random store because they didn't even have an official brand. My Mom was low-key pissed about it and didn't say anything. I had a delayed reaction because I was confused, so then my Dad took me in the other room and lectured me about being grateful because I was lucky I was even getting anything at all. (Mind you, my parents usually got me whatever was on my Christmas list so I never expected anything remotely close to what I wanted from my relatives, but still!) So yeah, I had to pretend like I was excited about these really shitty socks. After that experience, I realized that it's far better to receive nothing than to get a bad present. — S.
Fruit Of The Loom, Women's 10 Pack Cushioned Crew Socks, $12.99, available at amazon.com.
Most young boys growing up in the Midwest (my brother included) love all things hyper-masculine like hunting or sports, and are generally not afraid of getting a little dirty. Myself, at the age of 12, never really loved hanging out with the other boys. I enjoyed the company of girls jumping rope, gossiping, and had a hard time appreciating anything that I didn't deem cute or glamorous. I read Perez Hilton everyday after school, looked forward to watching The Simple Life every week on FOX and lusted after the Dior Saddle Bag that Paris and Nicole donned on every red carpet (and farm in middle America).
Not many of the boys at school (my father included) really understood my celebrity and fashion obsessions and hardly thought they were an acceptable interest for a boy my age in Kansas. Because of these things, my father and I never really bonded or hung out in the way that him and my brother did. In an effort to try and understand his young, effeminate son, my father asked me to hang out for the day and go shopping, promising to buy me one thing that I really wanted. I was so excited. I mean, shopping was my thing. I knew I would not only be in my element but I would certainly impress my father with my extreme knowledge of what every It-girl was wearing that season. My excitement quickly turned to horror when we pulled up to my town's sporting goods store, Cabela's. I immediately had two thoughts: 1. This had to be a SICK joke and 2. This is why we had no relationship—he obviously had NO idea about any of my interests!
Not one to spiral or pout, I took the situation into my hands and picked out the most fashionable camo print jacket that was almost identical to the one Paris and Nicole wore on the farm a week earlier (sadly missing the Marc Jacobs label). I left that God forsaken store with two thoughts standing out in my mind, a wondering why I had not been born a young, beautiful heiress who had access to every label I only read about online and a poly-blend jacket that I truly didn't want or need as I would never hunt an animal. But, for the next year or so I would LARP as Paris and Nicole every Tuesday night while watching FOX. — S.
Cabela's, Men;s Storm Cotton Full-Zip Hoodie, $55.99, available at cabelas.com.
My ex-boyfriend actually gave me a dreadlock off of his head. He shaved them off (it was the '90s) and wanted me to have a piece of his hair. It was so gross and I kept it in a plastic bag to show to people because of how messed up it was. We broke up shortly thereafter, but sadly, the dreadlock had very little to do with that. — L.
DreadLocks, $20, available on ebay.com.
The worst gift I got was a silver and leather bracelet, which I got about a year ago from a family member who lives in Europe and was visiting. It's not like the bracelet itself was particularly hideous, but buying jewelry for someone, particularly a guy, who you're not sure is the jewelry wearing type, is incredibly presumptuous. When she handed it to me, my first thought was, "Do you expect me to wear this?" Needless to say, I have not.
Casoty Jewelry, Love Infinity Wristband Cuff Bracelet, $4.75, available at amazon.com.
The worst store-bought gift anyone has ever given me was a used ice cream maker that my grandparents gave me for my 13th birthday. It was from the '50s. I never even opened it, just tossed it. They are notoriously bad gift-givers and there were a lot of weird ceramics during the holidays. — L.
AyMujerVintage, 1950's Ice Cream Maker, $40, available on etsy.com.