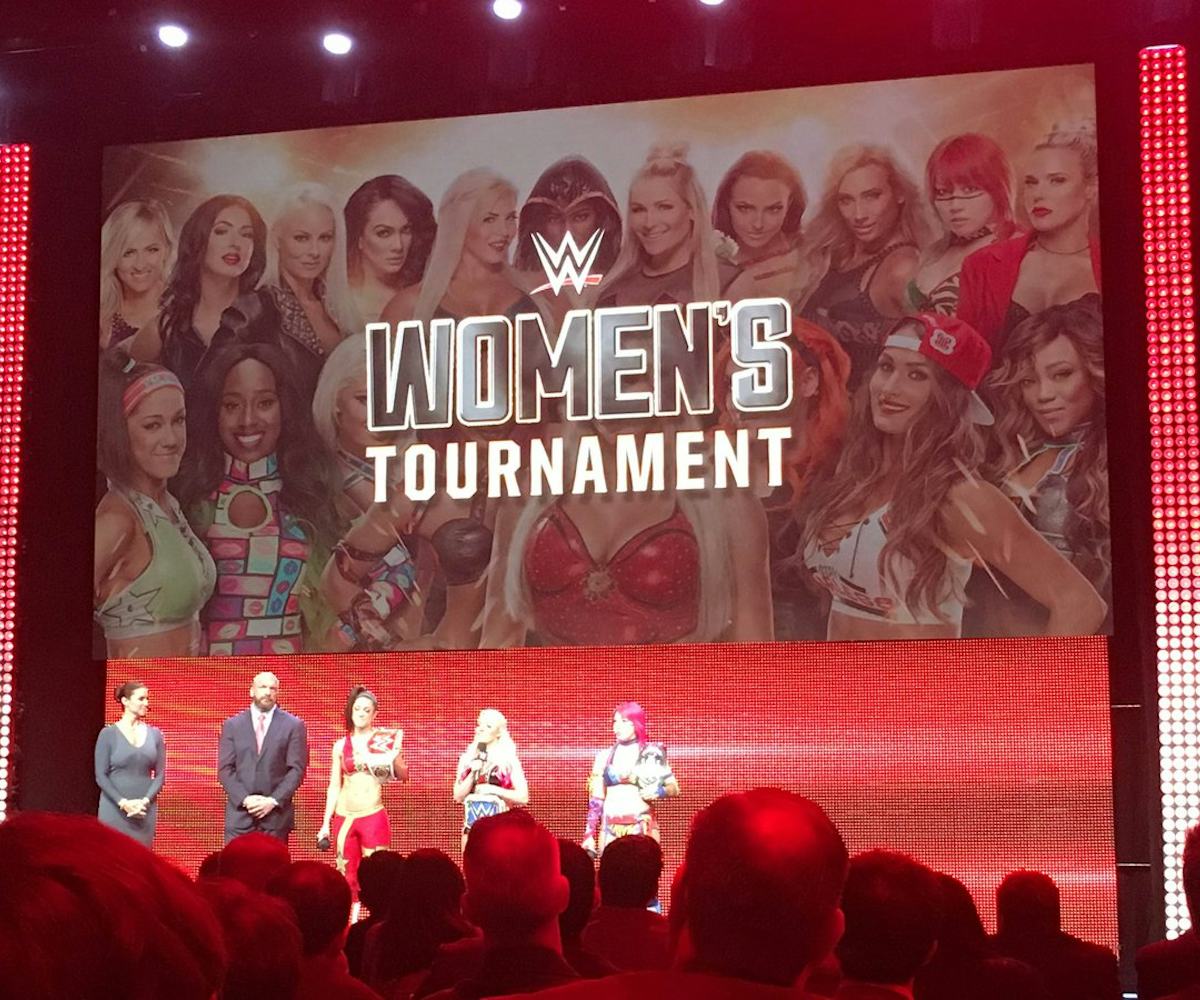 Photo Via Twitter @WWEgames
Why The Upcoming WWE Women's Tournament Matters
The world's biggest wrestling promotion is taking huge steps forward for equality
Pro-wrestling does not have the best reputation when it comes to gender parity, and for good reason. After decades of wanton chauvinism, the WWE is only just beginning to get up-to-speed on issues of gender and sexuality. And the conception that pro-wrestling as a hybrid art form and athletic endeavor is inherently misogynistic isn't without precedent; those of us who grew up in the '90s and early-2000s will surely remember the preponderance of lewd and crude commentary, overtly sexist sentiments, and "matches," which more closely resembled a specific subset of soft-core porn than any kind of actual competition. What casual fans or nostalgia connoisseurs might not realize is that the WWE has made significant progressive strides in their attempts at putting women on equal ground as the male brawlers.
Now, after handfuls of botched attempts at reform, the world's biggest wrestling promotion is taking big, feminist jumps toward equality. After considerable speculation, the WWE has finally confirmed rumors about an upcoming tournament held entirely of women wrestlers. Recently dubbed The Mae Young Classic, the competition has just been finalized over Twitter. For those who are not sports entertainment cultists, the news hardly sounds groundbreaking. But without the history of the WWE in mind, it's hard to explain just how big of a deal this really is. 
The legacy of female talent in the WWE (then known as the WWF) starts with wrestlers like Mae Young and The Fabulous Moolah, who broke ground back in the '60s, '70s, and '80s as some of the only women who ever were considered a draw for the predominantly male audiences. Behind the scenes, Moolah had a pretty nasty reputation and eventually was accused of manipulating younger women into various non-consensual sexual endeavors. In the '80s, the focus was on creating household names like Macho Man Randy Savage and Hulk Hogan, but not much consideration was given to women outside of their occasional interferences in matches. As the '90s rolled around, the WWF courted purposefully controversial story lines in order to milk the shock value: characters became increasingly racist, women were put into demeaning "bra and panties" matches, and wrestlers were quite openly homophobic. Of course, there were some notable exceptions like Chyna, Lita, and Trish Stratus, who laid the groundwork for women's matches to be taken seriously and often held their own against male competitors, but they were few and far between. 
Ratings skyrocketed during the so-called Attitude Era, but the shock value wore off, and the company rethought their aesthetic. Around 2010, the WWE slowly shifted to become a family-friendly business, which meant toning down both the sex and the violence. Women wrestlers were given opportunities and hardworking talent certainly toiled away, but women's matches were often short and the characters were underdeveloped in comparison to the men. This, paired with the unfortunate naming of the women's division as The Diva's Division, kept the women as kind of sideshow to what was seen as more important main events. Retired wrestler AJ Lee has also since come forward and spoken about the significant pay gap between the male and female talent at this time.
In 2012, the WWE developed a new brand called NXT, which was meant as a testing ground for up-and-coming talent before they were imported onto the company's main shows. With creative direction helmed by former heavyweight champion Triple H (the IRL son-in-law of the company's often tyrannical CEO Vince McMahon, who some blame for the league's more backward policies), writers were given more liberty to develop complex narratives around female talent. This, paired with both increased attention to the women of WWE due to the popularity of the reality TV show Total Divas and the ascension of massively beloved new wrestlers like Sasha Banks, Charlotte, Bayley, and Becky Lynch, had many taking the women of the company more seriously.
Those wrestlers, nicknamed The Four Horsewomen, amassed such popularity in NXT by putting on truly incredible matches that upon their entrance into the company's main shows, Stephanie McMahon (Vince's daughter and Triple H's wife, who is both a high-up in the company and a frequent villain in WWE plots) proclaimed their entry into the league a "Divas' Revolution."
Unfortunately, WWE writers lagged behind this revolution and continued to dole out short, undeveloped matches and story arcs to the new women, leading to considerable fan outcry. The WWE openly pledged to do better: In 2016, they dropped the "Divas" moniker and attempted to begin to give the women equal time as the men. (As it stands now, the women compete in a separate division from the men, and inter-gender matches never occur; a man hitting a woman, even in an agreed-upon contest, would risk the PG rating of the programming.)
Women have since been main-eventing Pay-Per-Views and have popularity on par with the biggest names in the business. NXT continues to produce a hyper-skilled new generation of powerful pugilists and fans continue to hunger for more. At Wrestlemania, Triple H made official the upcoming Women's Tournament, which will pit 32 of the most accomplished wrestlers from small, independent leagues, mainstream foreign promotions, and homegrown talent against each other. A women's only competition of this size, esteem, and profile is, quite literally, rather unprecedented in the history of pro-wrestling.
While wrestling story lines are often criticized for their jingoistic overtones and the lack of racial diversity amongst champion superstars, the WWE is also now experimenting with popular foreign talent in this upcoming competition as well. The current NXT women's champion is the groundbreaking Asuka (formerly known as Kana), a semi-psychotic, Japanese, fan-favorite who currently remains undefeated in one of the longest title streaks in the company's history. Although officially unconfirmed, rumors suggest that two of the biggest Japanese wrestling stars, Kairi Hojo and Io Shirai (who are both widely considered some of the best wrestlers, male or female, in the entire world) are likely choices for the upcoming tourney. Similarly, the WWE is slowly beginning to introduce women with more diversity in terms of body shape and size; a notable example of this is Nia Jax, whose impressive stature serves her well as a heel (that's wrestling lingo for bad guy) on RAW. The WWE has also emphasized their commitments to equality by redesigning all of the women's belts to more closely resemble the men's belts and ditching the laughably outdated sparkly, pink butterfly designs of yore.
The WWE still has a long way to go, though. A recent plot line, in which wrestling veteran Alicia Fox was passed around as a trophy girlfriend for the men who win matches in the company's cruiserweight division, shows that writers are still struggling to create plots that don't feature women as mere objects. Stephanie McMahon recently declared her commitment to eventually including LGBTQ characters and story lines, but audiences are yet to see any evidence of progress in this area so far. That said, the WWE's roster includes two openly gay fighters: Darren Young (out on injury) and the recently reintroduced character Sonya Deville (formerly Daria Berenato). It remains to be seen whether or not their sexualities will become part of the story, though, or continue to remain in the background.
The a la carte WWE Network has successfully created niche special events out of the Cruiserweight Classic and United Kingdom Tournaments, with both receiving high praise from fans and critics. But for women's wrestling fans, watching the WWE often feels like a constant two-steps-forward, one-step-backward process. The upcoming tourney, and rumors of an eventual spin-off program of only female talent, represents a huge change in the pace of this march toward equality.
The Mae Young Classic will be held on July 13 and 14 at Fullsail University.