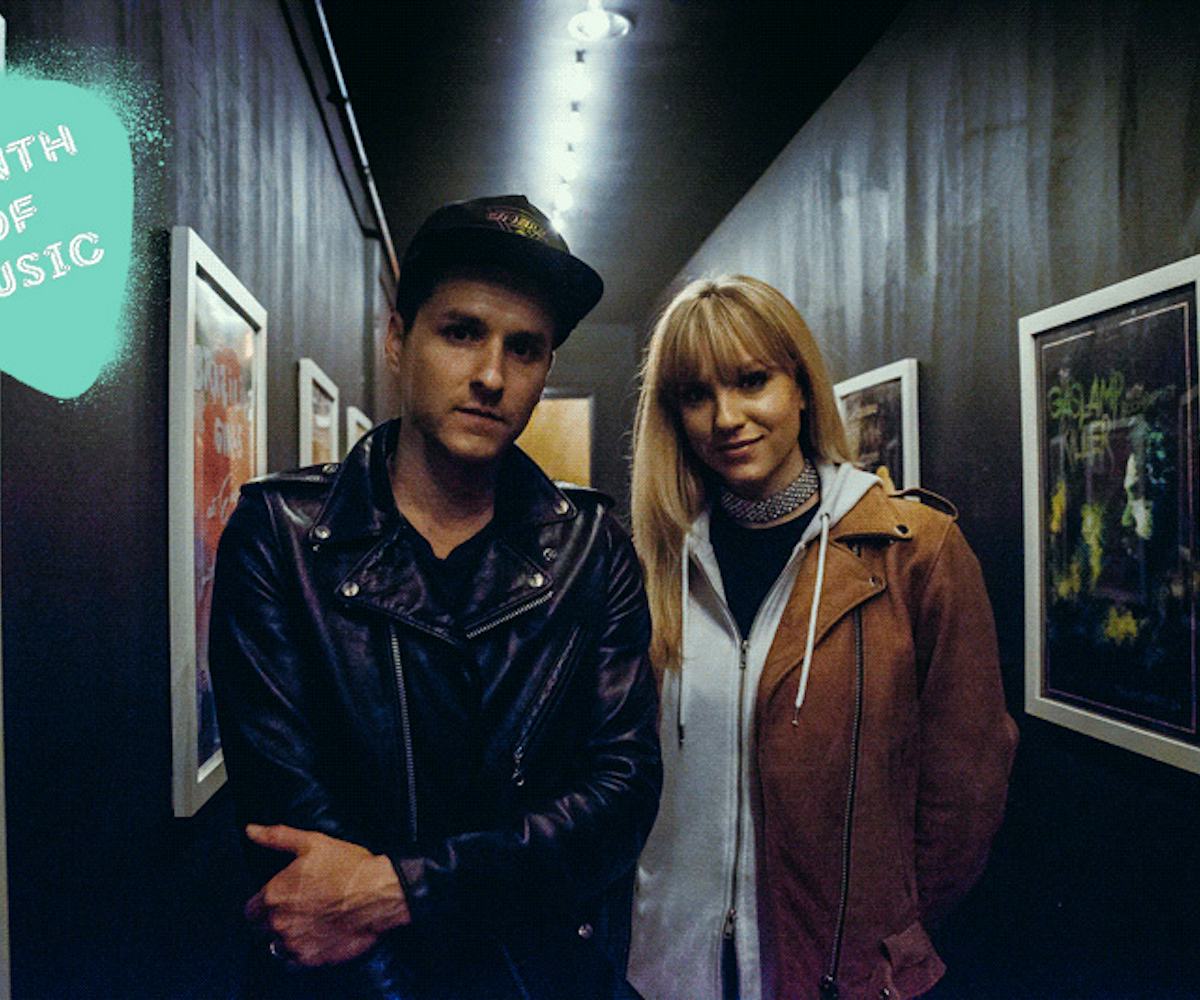 Photographed by Kara Smarsh.
XYLØ Makes Dark Pop You Can Feel Good About
Say hello to Chase and Paige Duddy
We share music because we want to connect with others on a deeper level. We want to relay and relate to a message that can't be said with just words. This April, NYLON is dedicating six days a week to introducing you to new artists and budding favorites. With interviews and GIF portraits done down at SXSW, NYLON's Month of Music is an exercise in finding aural pleasures outside of the Top 40. It's an exercise in challenging you and ourselves to not stick to one genre. But above all, it's a celebration of bold voices and sheer talent. Enjoy.
Over the course of just two years, XYLØ has amassed a following most new musicians can only dream of. With comparisons to Lorde and Lana Del Rey already being thrown around, that following is only destined to get larger. Chase and Paige Duddy, the brother-sister duo from Los Angeles that make up XYLØ, have found a rich balance between the eerie side of indie-pop and the sultry. Elements of hip-hop pervade their debut America EP while elements of dark and light battle one another. There's an air of mystery surrounding the duo, but in a way that piques the interest rather than turns people away. Dancing with our own devils can be a fun time, after all. XYLØ's soundtrack makes it that much more worth your while.
What song of yours fits the following situations:
Getting Ready in the Morning?
CHASE: Depends if you need a pick-me-up or not.
PAIGE: I think "L.A. Love Song" because it has that [Mimicks guitar riff]. 
C: Or if you can't get out of bed, then "Bang, Bang" or something.
P: Those two are the most upbeat, I think. "Bang, Bang" and "Love Song" so I definitely need that in the morning for sure.
Me Time?
P: "BLK CLD." It's one of those where you're just feeling really emo and you want to connect to a song and you're like, "Yes, I'm totally feeling this."
Hooking up?
C: I would say "L.A. Love Song"
P: That's a good one, or what else is on our EP? [Laughs] Oh, I think for sex, maybe "America." It's slower and moodier.
Can you recall a moment in your life—whether it's a song, a show, a video—that convinced you, you wanted to be doing music?
P: I think the first song I ever wrote with Chase was when I decided I have to do music. I just thought it ended up being way more cool than I thought it would be. I was like, "Fuck. If I keep working on this, it's going to get really cool" and it did.
What song was it?
P: It was in an advert, and we never put it out as an official song. It was like a 30-second clip. But it's called "Edges". People beg us to put it out, but I actually hate it now, if I'm being quite honest with you. It's really fun and upbeat, but it's just not—I feel like it was the first chapter of XYLØ and now I feel like we've grown so much from that.
C: I think it was when I started watching MTV, back in the '90s. That's when MTV was actually music television. Watching Green Day and Nirvana and those bands and their music videos where a lot of those videos are playing and I just remember watching that shit and getting so fired up thinking, "Those guys look so fucking cool." Then, I wanted to do that.
If any artist, dead or alive, could cover your music, who would you want it to be?
C: Somebody like Adele.
P: Adele. Definitely, there's this one song that was called "Heart's So Wild" and we never put it out. It's such a rough demo, but it's such a beautiful ballad and even my dad says, "You need Adele to sing this song," because I don't have the type of voice that would like meet those standards. I think that I would die if she did that.
C: If you're a vocalist like that. That would be unreal.
Have you ever been starstruck, and if so, who or what was going on?
P: Not really, but I met one of my favorite songwriters the other night at a party and it was pretty cool to see how genuine and nice he was when I met him.
Who was it?
P: Justin Tranter
From Semi Precious Weapons? He's cool, so fabulous, so fun.
P: I love him as a songwriter and I've always wanted to work with him, and I met him the other night at a party and he's just so down to earth. You like that person even more when you meet them and they're as nice as you wanted them to be. That was pretty cool.
C: Yeah, I was at a little get together with ten people at Mickey's house from Maroon 5, he's the bass player, and Danger Mouse was there and I was way to intoxicated to talk to him. I didn't want that to be my first impression, but I'm such a fan of what he does. I hope I cross paths with him again because he's rad.
At the end of the day, how do you wind down?
P: I think watching Real Housewives of Beverly Hills.
C: Oh my god…
P: Who's that new one on the show? The blonde one? Erika Jayne!
Yes! We just did a huge thing with her.
P: Really?
Yes! Erika Jayne is fabulous.
P: She's so on point. She's not malicious or anything. She just calls everyone out, but in the best way—in the most sly and sexy way ever.
Okay wait, if you're a Real Housewives fan, what would your tagline be if you were a Housewife.
P: Oh my god, I don't know, I can't. Erika Jayne's is so good. What is hers again? "I'm an enigma, wrapped in a riddle, and cash". Sorry Chase. [Laughs] It's a guilty pleasure and it gets my mind like—I forget about everything. Chase likes to watch conspiracy theories. 
Photographed by Kara Smarsh.