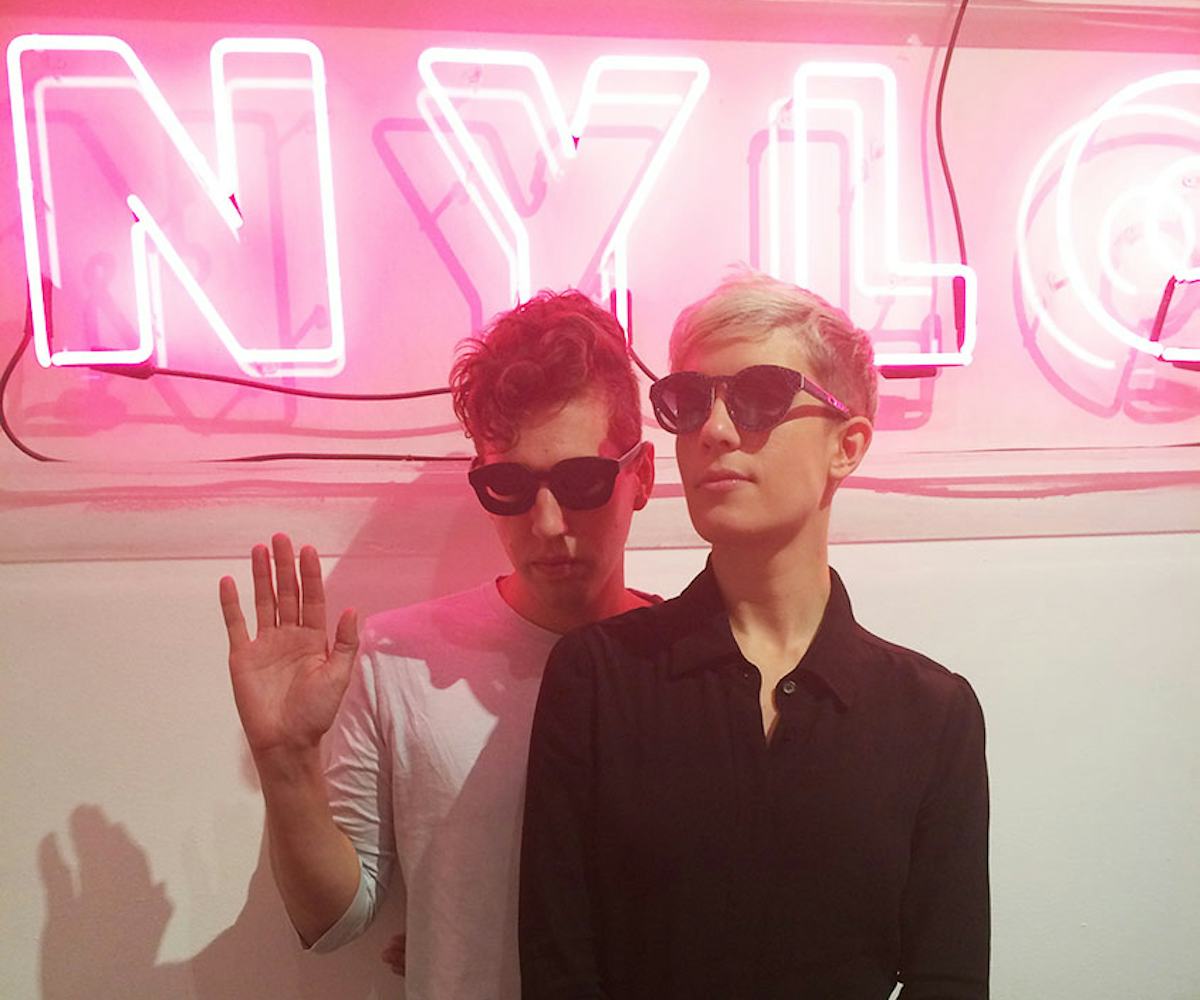 photo by jackie yaeger
yacht designed a sunglasses collection for chilli beans
and told us the best places to wear each pair.
You might be familiar with Brazilian eyewear brand Chilli Beans from their recent collaboration with hip-hop artist Big Freedia (or you might know them for their seriously cool Instagram). For their latest musically inspired collection, they reached out to NYLON fave indie experimental electronic duo YACHT. What you'll find from this collection—called "Make Your Face Smile"—are awesome prints, holograms, rainbow-tinted flip-ups, anchors, and cut-outs--all of which could only have been imagined by the dance punk musicmakers.
I had the chance to sit down with Jona and Claire at NYLON HQ to chat about the best places to wear their new collection, must-see spots in Portland, Oregon, and '90s telephones.
What's your favorite part about the collection?Claire: It was so exciting getting to design sunglasses. They're like our number one favorite accessory as people.
Jona: The two of us have gone through periods of wearing one kind of sunglasses for years. For instance, for all of 2007-2009 I wore white Wayfarers then switched to Clubmasters for three years. So getting to work on something that we can wear for a long time was really great.
Claire: Also getting to create something that didn't exist in the world yet that we would want to exist is such a magic feeling.
Did you have a say in the designs of the collection?Jona:100 percent. We designed it.
Claire: We did all the spec drawings. We learned about all the terminology.
Jona: They didn't give us frames and say, "Put your logo on it." We did everything.
Claire: We designed the frame shapes, we designed the patterns on all of them, we designed the cases. It was so fun, we drew pictures of sunglasses!
Since you're selling these at the merch table on your current tour, I assume you see people wearing them all the time? What else do people wear to your shows?Jona: Yes, they do! People love them.
Claire: People look good, generally.
Jona: The other day when we played in Nashville this guy showed up in a silver suit.
Claire: Like a space suit.
Jona: But, like, skin-tight lamé.
Was this your first fashion collab?Claire: We design all of our own merch, we have for years. This is the first time we've done any accessories.
Jona: We made a fragrance a couple years ago with a very small perfumer in Portland called Olo.
Oh, I'm going on vacation to Portland next week, what are some of your favorite places there?Jona: Well Olo has a store called Milk Milk Lemonade, it's a beautiful space—it just opened.
Claire: You should go to Canteen.
Jona: Do you like ice cream?
Jackie: Who doesn't?!
Jona: You should go to Salt and Straw.
Can you tell me a fun fact about a few pairs of your sunglasses? Where is the best place to wear them or what would you name them?
Mini GrouchosJona: These are called Mini Grouchos. I designed those and the idea was to make the eyebrow slightly larger. I wear these everyday. I would wear these every day, everywhere
Claire: So do I, I wear the clear ones.
'90s TelephoneClaire:These are called '90s Telephone. They're designed to look like they're one of those clear plastic telephones from the '90s.
Jackie: Like, Clarissa!
Claire:Exactly.
Jona: You wear these to prom.
Flips
Jona: These are flips. The original idea was to have a full cucumber slice graphic digitally printed on them and then you would flip up the cucumbers.
Claire:But it was hard to get really macro on a cucumber slice.  
"Still" Flips
Claire:The cool thing about these is that the flips are opposite of what you'd think they would be. When you flip them up, they're still sunglasses, the clear part is on the top. They're non-functional flip shades.
Jona: You wear those to the public pool.
Groucho Maxi
Jona:These are Groucho Maxi.
Claire: You wear these to dance all night. 
Eskimo Glasses
Claire:Those are Eskimo glasses.
Jona: Yeah, you wear those in snow because it doesn't let enough light into blind you. They're the original sunglasses.
The Heart Is The Anchor
Claire:That is definitely the cruise edition.
Jona:Those are called The Heart Is The Anchor.
Claire:That sounds like an emo band name.
Jona:You wear those to Warped Tour.
Claire: No, total booze cruise.
Sci-fi Tuxedo
Claire:These are like, sci-fi tuxedo. They make you look like an alien immediately. They could also be the narcissism sunglasses because everyone loves how you can see yourself in them when other people wear them.
Memphis Faenza
Claire:These are my favorites. I designed those. They're inspired by a Memphis design. Some squiggles, some '90s, a little bit Italian. There are two varieties, white on black and black on white.
Jona:You wear them to, "What's that small town in Italy that we played a couple times with the woman who owns the venue and has the great cat?"
Claire:You wear those in Faenza, Italy.
Jona: She'll make you the best drink ever.
Shop the collection here, or find a pair at YACHT's merch table by scooping up tickets to their current Where Does The Disco North American tour! Plus, see some exclusive photos below.
Photo by Jimmy Marble
Photo by Jimmy Marble