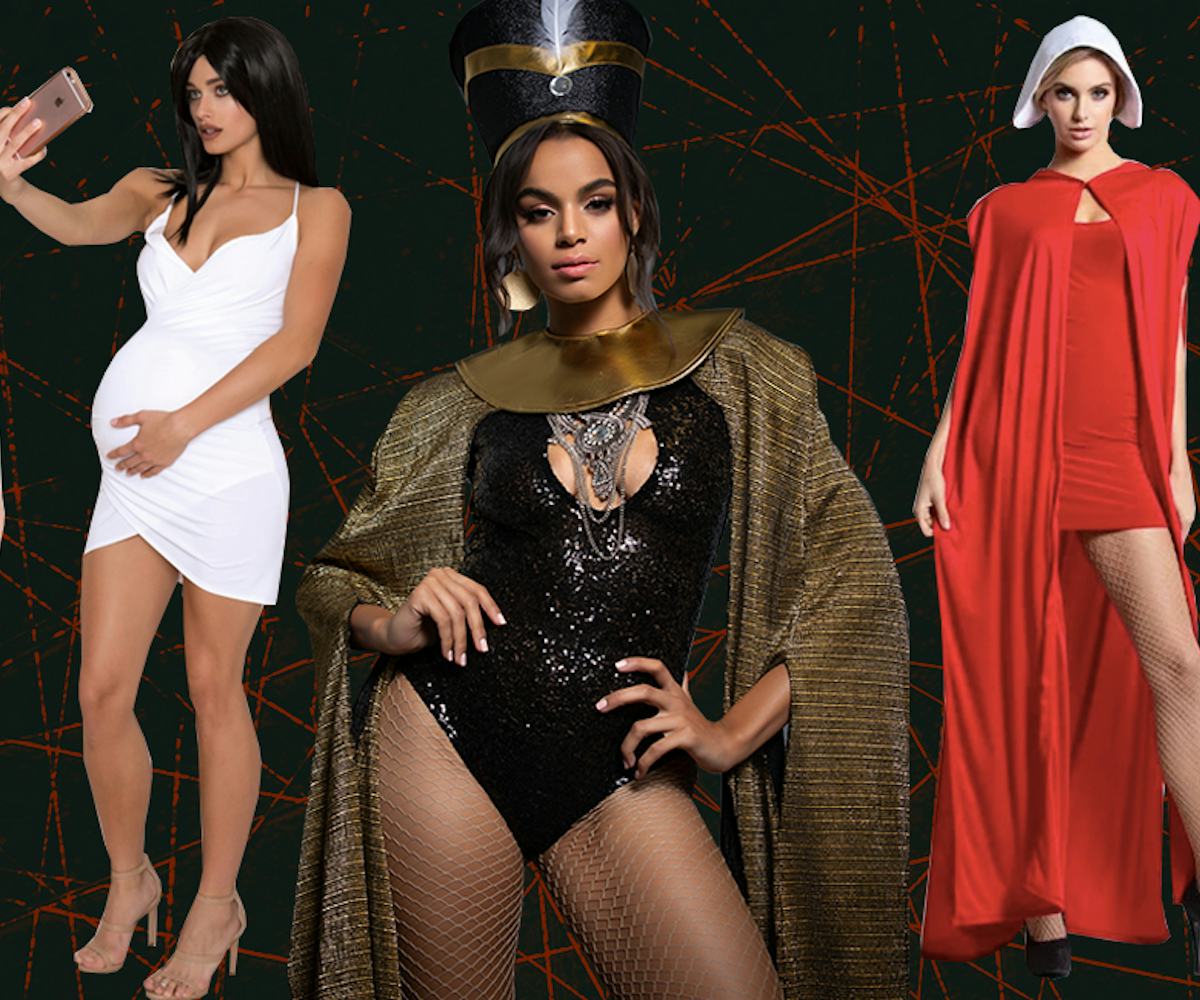 How Yandy Became Halloween's Most Popular—And Controversial—Retailer
Inside the world of the creators of the "Sexy Handmaid"
In 2005, a pair of brothers from Arizona started a lingerie company they named Yandy. A couple of years later, they expanded into Halloween costumes. Their angle was "make it sexy," and the target customer was the 18- to 25-year-old "wearing multiple costumes, going to multiple parties," Yandy's vice president of marketing Pilar Quintana tells me. In 2013, Yandy started to see an uptick in their costumes' popularity, and by 2015, the company was making a reported $15 million just on Halloween costumes, thanks to ideas like "Sexy Pizza Rat" and "The Dress," a riff off the internet sensation of the year.
Three years later and Yandy is still a dominant Halloween presence, though the company has most recently made headlines for the controversy surrounding its sexy Handmaid's Tale-inspired costume. "An upsetting dystopian future has emerged where women no longer have a say," the costume's description read. "However, we say be bold and speak your mind in this exclusive Brave Red Maiden costume." The backlash poured in almost immediately.
This is par for the course for Yandy, though. The company's pop culture- and meme-inspired costumes don't tend to sit well with a lot of people, and this isn't the first,second, third, or even 10th time that the company has received criticism for its costumes. But the Yandy team did something this time that they don't usually do: They issued an apology and removed the offending costume from the website. "We were a little bit different with that costume because we didn't understand at the moment that it was in a way triggering for anybody and we just wanted to make sure that everything was chill," Quintana tells me. "I think that we really stand for women's empowerment, and we've always said that they can wear what they want, but I think it was more people's experiences…" she trails off. 
"We're working on Halloween 365 days out of the year," Quintana says, making clear the way the company—and she specifically—prioritizes the holiday. Quintana has a Google Doc with a running list of costume ideas that she adds to regularly. Every costume that goes to market is seen first by her, and she has final approval over everything, though anyone on the Yandy team can submit suggestions—from people who work in the warehouse to the IT team to the marketing team. Quintana says she'll also get text messages from friends and emails from customers with costume ideas. Currently, she says, people are requesting sexy camel costumes. (Quintana is unsure how to make that happen, though is looking at it as a potential "maternity" costume.)
Every season, Quintana says, the team at Yandy tries to create "in-season pop culture" costumes. Examples of these include the "Brave Red Maiden," as well as a "Sexy Anonymous Op-Ed," which is a nod to The New York Times piece written by an anonymous member of the Trump administration, and "Cloudy Affair," which is a reference to Stormy Daniels. "Right now politics is pretty much dominating the news, and so that's kind of where those ideas came from," Quintana says. She came up with the "Sexy Anonymous Op-Ed" one herself almost a month ago, while "Cloudy Affair," she explains, "was an idea that we've had for a long time, and we were wondering if it was still going to be palatable, and it still was."
These costumes are the ones that get the most attention, but Quintana stresses to me that those aren't actually the items that sell the most. Those would be the cops, goddesses, and vampires—the company's bread and butter. And though Yandy's roots are in lingerie, and they put on a sexy spin on just about everything (the "Sexy Skunk" is the first costume Quintana can remember that really blew up), the website also has a "Safe for Work" category that consists of a little less leg and a little more fabric. "Our customers have grown up with us, so now they're having kids," Quintana explains. "They're going to parties on Saturday, but on Wednesday they'll be trick-or-treating. So, now we're selling them two different costumes."
The company's customers, in their growing age and in the changing times though, are also becoming more conscious of companies who don't appear to respect different cultures and people. A couple of days after the company removed its "Brave Red Maiden" costume, a Change.org petition surfaced, bringing people's attention to the number of indigenous people-themed costumes the brand has for sale on its site (a category that the brand has said brought in $150,000 in 2016). The product names include "Chief's Desire," "Tribal Trouble," "Sexy Dream Catcher," and "Wolf Dancer." Quintana wouldn't talk about this specific petition directly but said costumes like this are made to pay homage. "We value all nationalities, and nothing is ever meant to mock," she says. The petition, titled "Stop Yandy From Using Our Culture As A Costume," currently has over 13,000 signatures. Of all the hot water Yandy's gotten itself into over the years, this one deserves to be the one that burns the most. But will it?
When I ask Quintana whether the blowback the brand has received over the years has affected the types of costumes it puts out, she doesn't say yes or no. Rather, she goes on to describe the Yandy customer. "I don't think that they take us that seriously," she explains. "They understand that we're Halloween and we're out there just to have fun and to encourage people to have fun and be creative and just, you know, let it be for a day. Right now, I think our customers are happy, and they get us, and that's really what it's about. As long as we are making our customers happy." 
And so as long as there continues to be a customer base that's happy to buy culturally appropriative, exploitative costumes, Yandy will keep making them.