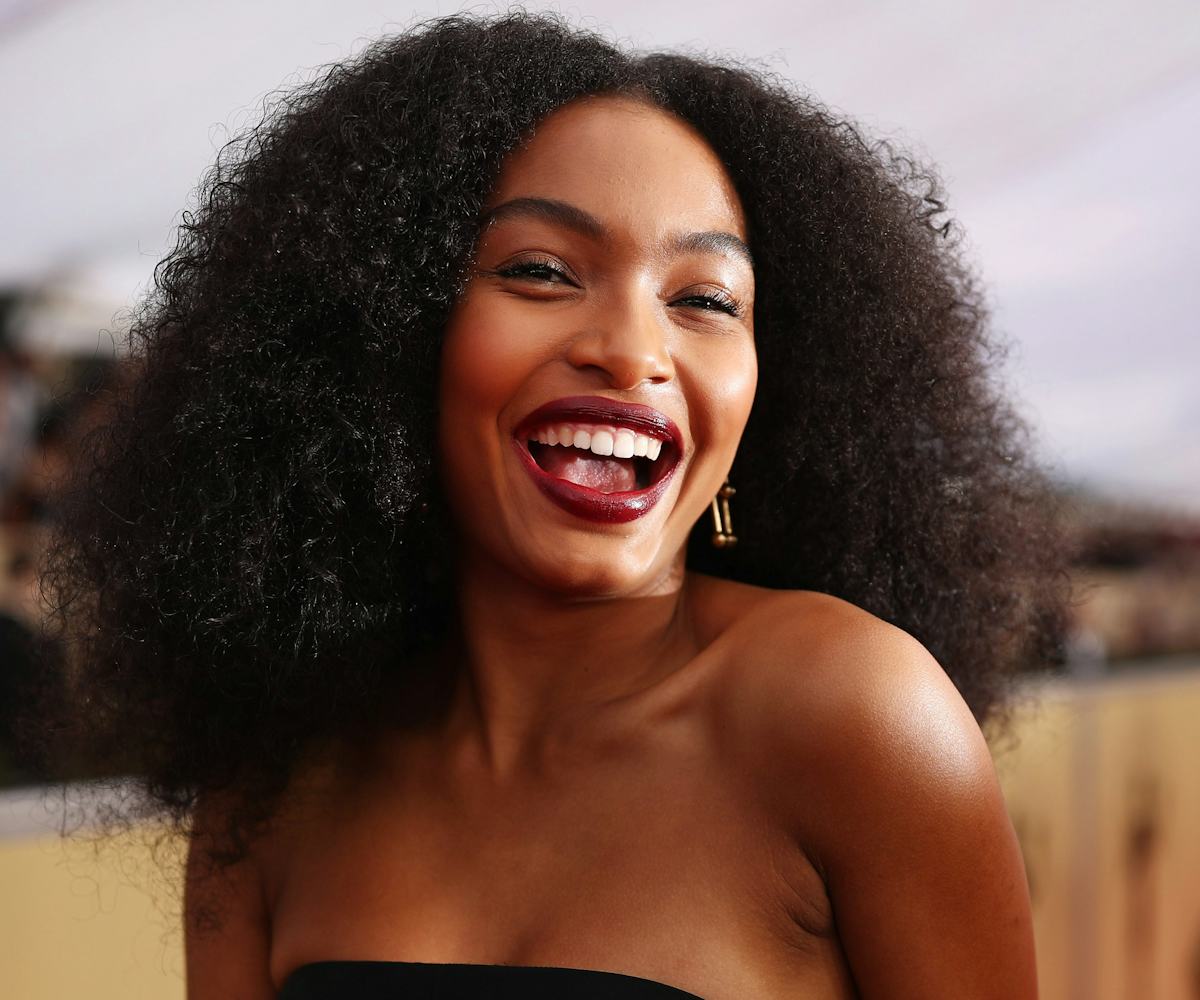 Photo by Christopher Polk/Getty Images
Yara Shahidi On Complications Of Social Media And Activism
We spoke to the actor-activist about her new social good campaign
Grown-ish star Yara Shahidi has kept busy since the show's season finale last month. From breaking down the importance of the upcoming midterm elections to making cameos in Drake videos, Shahidi's become one of the fiercest voices within teen-led activism, so it only makes sense that she'd be involved with spearheading a new campaign called Little x Little. Aimed at Gen Z, the United Nations-backed call to action encourages young people to commit two billion acts of good as a generation by 2030. Shahidi is excited to see her peers come together to fight issues like poverty, climate change, and wealth inequity with the #LittlexLittle hashtag, so, in honor of the campaign's goals, we took some time to speak to the 18-year-old actor and activist about the shadier parts of social media, how she made sure Little x Little wasn't just the brainchild of another ad agency, and how life has changed for her since the start of grown-ish. Read our Q&A with her below.
How did you get involved with this campaign and what did you want to bring to it?
It was a really natural alignment because what it stands for is this idea that, little by little, my generation can contribute to our world-at-large. I also appreciate that it really does have this globalist aspect—we're not talking about just the U.S. but how to benefit our global community through action. Because of that, I feel like we're able to really create something special. And targeting my generation [is great]. We really [are feeling the] power behind our voice, the power of our actions. That said, how do we exponentialize our action and voice? By being aware and unified.
There are a lot of different causes to focus on, like ending poverty, fighting inequity, and climate change. Is there a particular one you were drawn to?
[I think I liked Little x Little because of] the intersectionality of it. Oftentimes we do have to choose, but there were a couple causes I gravitated toward. What I [really loved about the campaign is that], for the first time, there was something that felt all-encompassing, quantifiable, [and] tangible, [through which], by 2030, we can commit two billion acts of good as a generation. Little x Little has a fantastic database about our generation and our wants and needs when it comes to being socially engaged. So many times when you enter this world of social engagement, it feels very isolating when you feel like it's only you covering this topic, or only you are involved. A lot of times we're not aware of our support network, so Little x Little is creating that support network for us.
Social media is obviously a huge part of the campaign. How have you noticed social media impacting your own activism? Do you think it's just made performative activism worse?
[Social media is] a double-edged sword. It's fantastic because you can create a support network that connects you with other activists you love and admire, but everything has to be public. So everything you're doing kind of feels like it has to be a statement or it didn't exist. [Some people feel like] they need to publicize it, otherwise it feels as though it didn't happen. But I like Little x Little because it evens out the playing field. It's not necessarily saying, "You have to have this many followers for what you do to count." You don't have to have a certain level of visibility. There's less of a linear hierarchy in terms of whose contributions are actually seen and publicized. 
In terms of the critique that ad and marketing agency-led social good campaigns are disingenuous, how did you make sure Little x Little was the real deal? Were there any hesitations about joining on your part?
Little x Little is backed by the real deal. It isn't for the sake of buying a product. It really is benefiting us. I feel like the reason I gravitated toward Little x Little was because there is no company backer. We're not pushing a product, we're pushing social good. But even in the weird, worst-case scenario that it is for the sake of advertisement, well, at the end of the day, we still committed two billion acts of good. With social good, there's really no wrong way to go about it.
On a lighter note, how have you been adjusting to grown-ish life?
It's been interesting. I think what's funny is that grown-ish life has definitely prepared me for the real young adult life. Experiencing so many firsts on grown-ish has been really funny. We shot grown-ish in a matter of three months, during 16-hour days. I think what's funny is that we're dealing with the idea of me growing up as Zoey and Yara at the same time. Like, by the second episode, my character was on Adderall. So [I'm] going through a lot of firsts as my character; I view it as a trial run of what I'm not going to do. I think it's, again, a funny situation and I'm glad that I can grow in an environment where they really do care about me as a human. They're taking my comfort into consideration. It's really a special environment, especially when you're doing things that aren't generally in one's comfort zone.
Did you have any input in the story lines?
For the story lines, we left it up to the writers, because they're doing the research and talking to college students. But, ultimately, we didn't want Zoey to become a version of Yara, because I don't think that's entertaining. You can watch me grow up just fine on Instagram, Twitter, and all of that jazz. It was about telling a different story. 
It was also about figuring out how to really remain as authentic as possible in terms of who Zoey is and stay committed to her. That's really where my input came in. I was like, "Well, she wouldn't do these things. She's a smart human, so she's not going to do things for shock value." But, at the same time, she's still figuring out who she is. How do we find that balance between "she's experimenting" and "she's making mistakes"? But it's not even just to make mistakes, it's not just because she's a rebellious college student. Even with the Adderall story line, it's not like we wanted to be edgy and show drug abuse on campus, but we did want to talk about how normalized it is. We wanted to talk about the idea of "How does somebody who walks into these situations having fairly strong morals [spiral]?" It's not like they're bad people for doing this, it's just the slippery slope of being in college and having so much to balance. Even with the dating story line, a lot of it is less about the guys and more about Zoey discovering who she is as a human. I feel she's juggling three guys not necessarily because she's a born player, but because she's figuring out her personal and public identity. I feel like the guys are a physical manifestation of the different versions of her. The different iterations of who she is.
Get involved and learn more about Little x Little here.