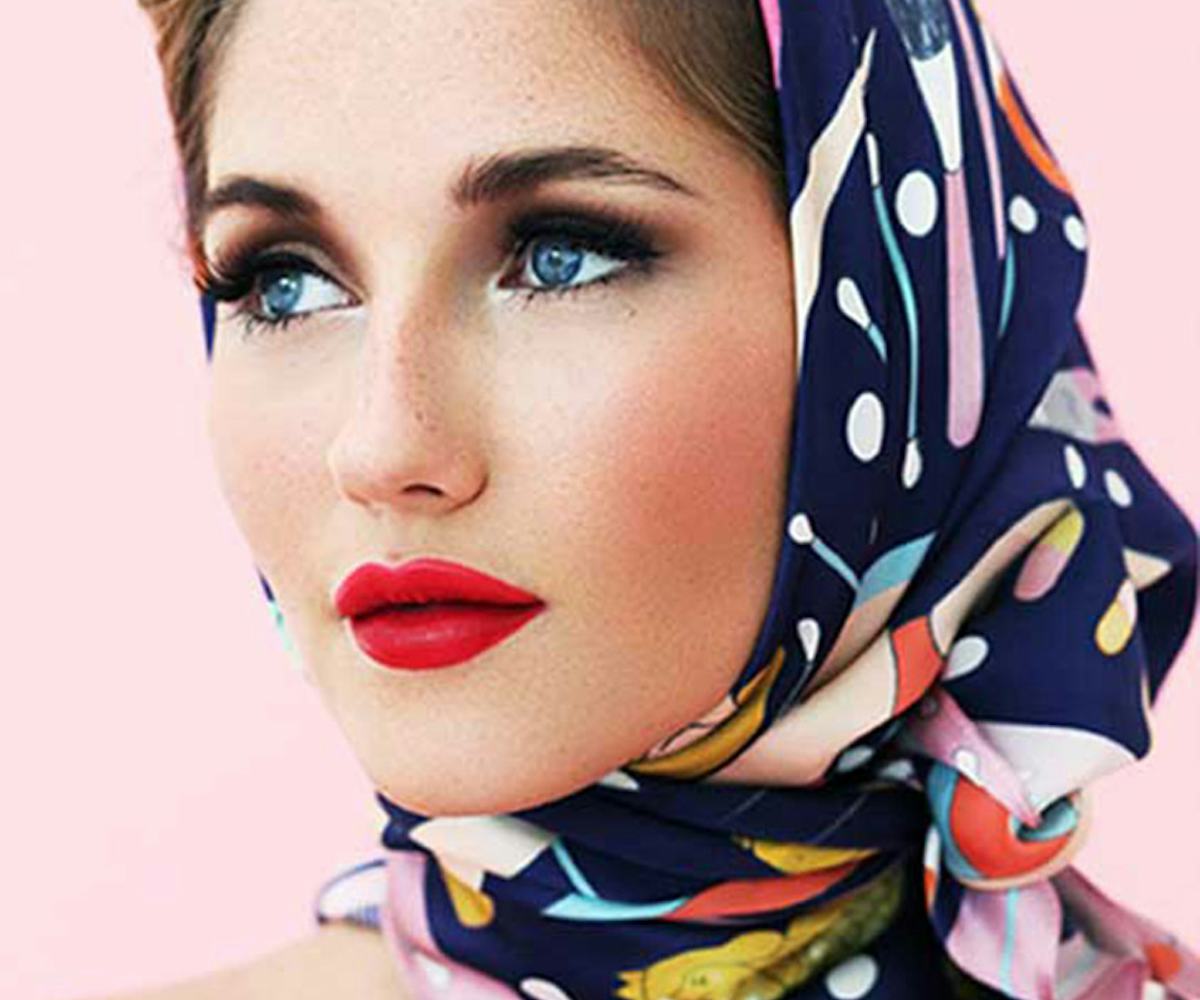 you oughta know: karen mabon
vintage-inspired scarves that go with everything.
In 2014, you probably don't consider a silk scarf your go-to accessory for pairing with platform sandals and cutout dresses. But what if those silk scarves came in patterns inspired by scenes from Hitchcock movies? Lucky for all of us, they actually exist. And it's all thanks to Karen Mabon, otherwise known as the Scottish creative who is obsessed with Grease 2 and vintage prints of insects.
I had the chance to chat with the seriously cool designer and artist about everything from her daily inspiration to the next band she's checking out live. Get it all in my interview below!
How did you get into making scarves specifically?
I studied jewelry at college and worked at a company designing it after, but I always did a lot of drawing and it just seemed like a natural way to combine drawing with making something wearable. I always wanted to do clothes, but I felt like the patterns you could get were quite boring and derivative and I wanted to do something that was a bit more unexpected. I like when you open the scarf up and there's something different going on in each of the corners. You can really enjoy it and it's like a conversation piece.
I saw you once created a scarf based on a scene from The Birds. What are some of your favorite movies and are there any scenes that you want to translate into a piece some day?
I really love Grease 2. It's by far the superior Grease. It's so ironic and I'm kind of obsessed with American culture and the way that we see it in Britain is quite different. We all grew up watching Sister, Sister (it's brilliant) and I think every kid in Britain just wished that they were at the Saved by the Bell school in America. I love The Grand Budapest Hotel, it's so good. Wes Anderson is so great. His films would translate so well into designs because he's got a natural aptitude for colors--he should be designing scarves. But I really want to do a scarf based on the scene from Romeo + Juliet where Leonardo DiCaprio is looking through that fish tank.
Do you watch movies all day in your studio for inspiration?
I'd love to, but then I would just sit there and watch movies. I really love YouTube. I just love watching these old clips of Elvis and I'm like, "Oh my god, he's so amazing." I did watch this documentary over the Christmas holiday...you know that poodle grooming championship in Hershey?  All these people carve the hair of their poodles into different shapes and one of them was like Memoirs of a Geisha and it had a little bridge over the back. 
What's the last concert you went to?
It's been a while, but soon I'm going to see The Libertines. I love Radio 6 music, too. It's great.
What can people expect to see from your 'fall 2014 collection?
Oh, well a lot of poodles...and lots of American things. Lots of ostriches and Las Vegas. I think it's good to be random. There's this dark beauty pageant scene that some people might think is too creepy, but I kind of like that. I love that film Drop Dead Gorgeous with Kirsten Dunst that's really dark and filled with black humor. It's so good.
Can't get enough of my new BFF? Me either--that's why I follow her on Instagram here.
Beverly Hills Hotel Silk Scarf
Coco Fennell x Karen Mabon Pageant Parade Silk Scarf
Magic Forest Cashmere Blend Scarf
Coco Fennell x Karen Mabon Ciggie Break Silk Scarf