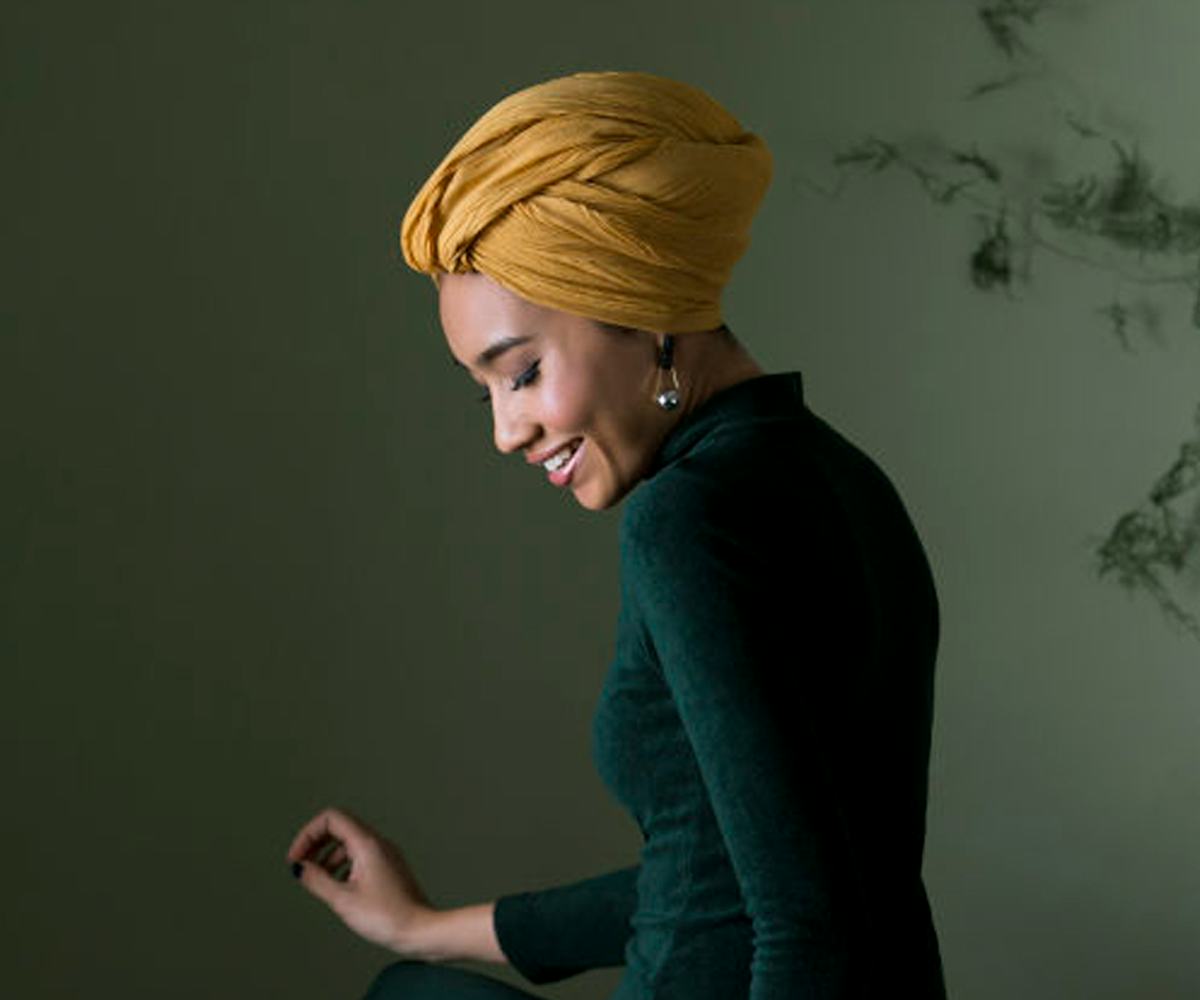 Photographed by Gizelle Hernandez. Dress by Meshit, stylist's own earrings, Yuna's own headscarf.
Yuna's Album 'Chapters' Explores Love, Heartache, and Self-Discovery
The following feature appears in the June/July 2016 issue of NYLON.
"I feel like I finally know what being a woman is all about," Yuna says over breakfast at her neighborhood café in Los Angeles. She's talking about her new record, but also about the past two years of her life, which brought the end of a relationship, as well as a whole lot of emotional and artistic growth. "I wrote somewhere around 80 songs for this album," she says, "but the songs I was writing were vague, typical, basic. I was writing without thinking. It wasn't until I gathered myself and cooled off that I figured out how to bring out the best in me."
In May, Yuna released Chapters, her third and arguably most self-assured studio album to date. "The last record was about falling in love and it was very happy and uplifting and colorful," she says. "This album is dark. Some of the songs are upbeat, but they're about me finding myself and embracing my womanhood."
Born and raised in Alor Setar, the capital of the Malaysian state of Kedah, Yuna grew up an only child. She began writing her own songs at 19, and continued to do so while she studied to become a lawyer. In 2008, with a growing local fan base behind her, she started posting her songs (in English and Malay) to MySpace, in the hopes of making it big in the United States. By 2012, she'd put aside her law degree, signed a recording deal, and moved to California.
"Back home, we are pushed to be doctors, lawyers, brain surgeons," she says with a laugh. "Now all my friends are getting married and having babies, and I'm doing something insanely different. In the last few years I've definitely had to remind myself that I need to stop worrying about what everyone else is doing."
While the themes in Chapters play to Yuna's strengths—exploring issues of love, heartache, and self-discovery with a deeply personal and infectiously positive attitude—the album's self-possessed vibe and old-school R&B and hip-hop influences are new for her. "When I started working with [my producer] Fisticuffs, I knew nothing," she says. "I came from the folk and acoustic world in Malaysia, but living in L.A. you're immediately connected to hip-hop music. You can't escape it. So I learned about Straight Outta Compton and N.W.A. I learned about Eazy-E. I studied."
Along with Fisticuffs, Chapters also features collaborations with DJ Premier, who produced the album's first single, "Places to Go," and Usher, who guest stars on "Crush." "He was wonderful and very particular," she says of the latter. "He wanted to know my background, where I was coming from. It was really nice because it shows that he obviously cares about his craft. It was overwhelming, though. We had to really think about how the song was going to come out, and how it was going to look if a Muslim woman was singing about love and he was on the track. He really thought about it."
Talking about her religion is something that Yuna has become plenty familiar with in recent years. Since coming to America, the singer's faith—and her headscarf—have become a source of constant attention. "It's something shocking, apparently," she says with a laugh, "but the majority of the people in Malaysia are practicing Muslims. We still love music and we still live our lives like normal people do. Where I come from, music is so huge—it's the fabric of our culture. Art is embedded in everything we do. I think in America, we're only familiar with Muslims in countries with conflict, but I come out here and meet American Muslims, and I can relate to them. I'm a normal girl, and I have a belief system just like everyone else does. I feel like I exist to remind everybody that there's a yin and yang in everything."
Now that Chapters is done, Yuna is refocusing on finding that normalcy, and nurturing her other love: fashion. Most recently, she relaunched her lifestyle brand under the name November Culture, and this August she'll release Hatta x Yuna, a clothing line in collaboration with designer Hatta Dolmat for Asian online retailer Zalora.
"Online shopping is huge in Malaysia, so we wanted to do something really different," she says. "It doesn't look like everything else they have in Asia. It's international, but it still feels very Los Angeles."
As if that wasn't enough, Yuna has been releasing music videos for each song on the new record, Beyoncé-style, and will be touring in Europe this fall. "The last two years have been challenging, so I've been trying to do as much as possible—music, fashion, just collaborating with friends and making stuff. Now it's all coming together. I'm so excited about all of it."