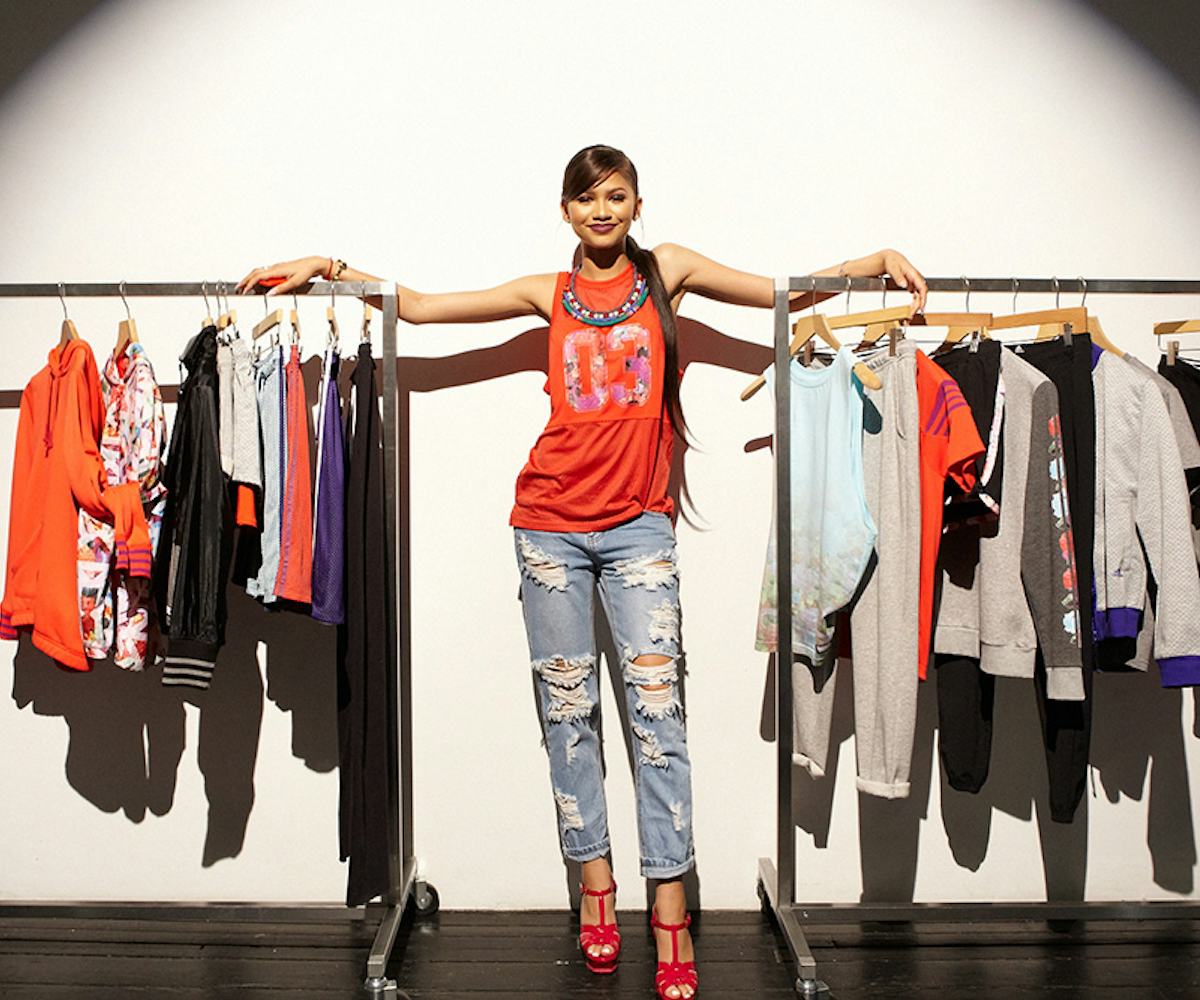 Photo courtesy of Adidas
zendaya schools us on self-confidence + cultural appropriation
catching up with the 18-year-old
This past year, the media and general pop culture-consuming public became well accustomed with Disney's latest triple-threat mononym. The 18-year-old has used her highly publicized controversies, including her withdrawl from Lifetime's Aaliyah: The Princess of R&B and Giuliana Rancic's on-air comments about the dreadlocks she wore to this year's Oscars—which many, including Zendaya herself, called out for being racist—and her massive social media following (she has over 9.9 million fans on Facebook alone) to propogate America's much-needed dialogue about race. 
When we met Zendaya at Adidas' adigirl launch last week, we asked her about how young people can learn and grow in a more worldly manner. As expected, she gave us some poignant advice.
What would be your advice for those who are trying to come into their own and be confident in their skin?
My number-one thing is that it doesn't just happen. You shouldn't feel discouraged if you're not waking up and feeling amazing about yourself. That's not necessarily how it works. It doesn't take one shopping spree to give you that confidence. It's a developing process. Everyone goes at their own speed. For me, it's just something you have to continue to work on. It's a growth and a process. As long as you take every opportunity to learn more about yourself and fall more in love with yourself every day, you're doing good. 
How do you get in tune with yourself and your being? 
For everyone it's different. For me, it's kind of been about fashion and experimenting, and trying things has made me less afraid of what other people think of me. I just do whatever the heck I want to do. Whatever I feel at this point—I'm unafraid. I'm ready to be out there and be different and take fashion risks. Like I said, it comes in time. For me it was fashion, but for some people it's sports or the arts. 
I think what's so great about 2015 is all the talk about different cultures and communities. How have you learned about different cultures?
It's a learning process. I don't know everything about every culture and every current event, but you grow and you learn. I just went to Africa and I learned so much about things I had no idea about or wasn't aware of. And I think as an African-American person, there's a disconnect that we're actually from Africa. We don't think about it as much as we should—we're not as connected to our roots. Partially, it's not our fault, but now that we have the resources and the ability to find out where we're from, we should. It was a very interesting experience and I got to learn a lot about where I'm from. It's a process for everyone and now with social media, I suggest that people try to become more aware and learn. I'm learning just like everybody else. 
Cultural appropriation is a big topic at the moment. How does one stay sensitive to other cultures while still trying to borrow different traits and create on shared culture?
You can go about it as cultural appreciation or cultural appropriation. You have to be very careful. Some things are really sacred and important to other cultures, so you have to be aware, politically, about those things before you just adopt them. In order to appreciate something, you have to know about it and understand. You don't just wear something just to wear it—you have to understand the history behind it. I urge people to take the extra step of knowledge and learn about things. I'm someone who feels uncomfortable with things unless I know [about them]. I'm not going to try something unless I've taken the time and effort to learn about it. I just think with the Internet and the resources we have, you should do a little research.