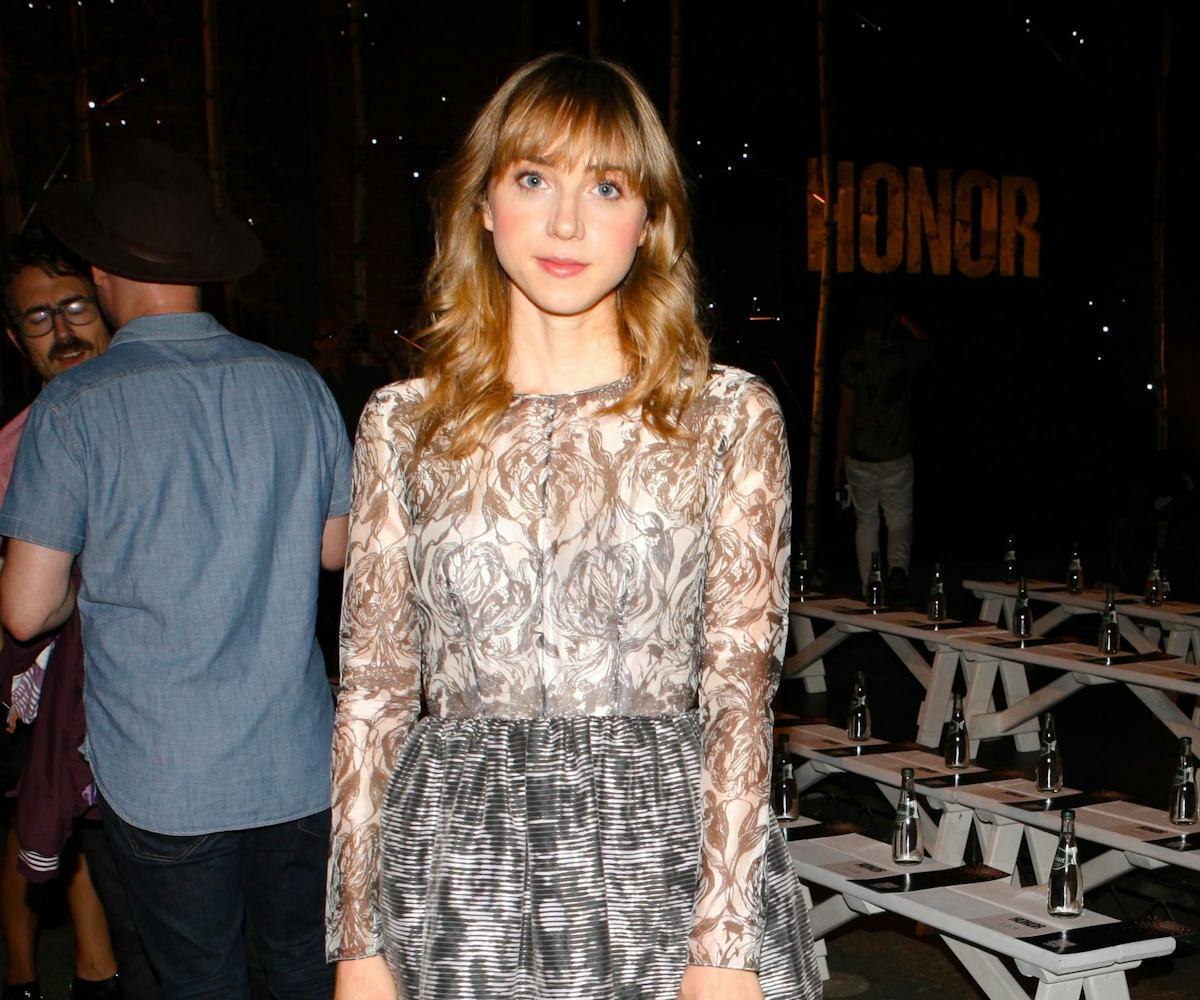 the insider: zoe kazan
"if i were on 'the voice' i'd definitely want to be on team cee lo!"
Zoe Kazan might be in Toronto right now promoting her film The F Word alongside Daniel Radcliffe-- but before the actress left town, she made a Fashion Week pit stop, joining Natasha Lyonne, Zosia Mamet front row at the Honor show . Dressed in a tea-length frock by the label's designer Giovanna Randall, the actress filled us in her black boot obsession, TV guilty pleasures, and why she probably won't be stepping foot in a gym anytime soon. If we thought we liked the Ruby Sparks star before, well, consider this girl crush status cemented. Get the scoop from Kazan below.Considering this is basically the first day of Fashion Week, does this mean we're going to be seeing you later on at other shows? 
Sadly, no! This is the only day I'm in town, so Honor is the main show I'm going to be going to. I'm going to Toronto Film Festival, and then I'm shooting this miniseries, so I'm glad I'm able to make this show!
Since you're shooting a miniseries, we have to talk about TV. What's your #1 guilty pleasure show?Oh man...I'm obsessed with The voice. I don't know how it happened--I think I was watching the Super Bowl with my sister one year and it was on after--but now I'm hooked. The audition rounds suck you in, man, and then from then on I can't stop!
Whose team would you want be on?That's a tough call, but if I were on The Voice I'd want to be on Team Cee Lo. He has his own cat accessory, so you know he's cool.
If we were to look inside your closet, what would we find most of? I have a shoe thing, but not, like, heels. I'm always on the look out for boots. I have way too many pairs of boots--ankle, tall, all kinds. I somehow always justify buying another one and tell myself, "But this one is different!"
What about sneakers and flats? Flats, yes. Sneakers, no. All those things they tell you that are good for your health--like wearing sneakers!--I refuse to do. I actually don't have a pair of running shoes right now, which says something about my level of fitness right now [laughing]. Oh, well.