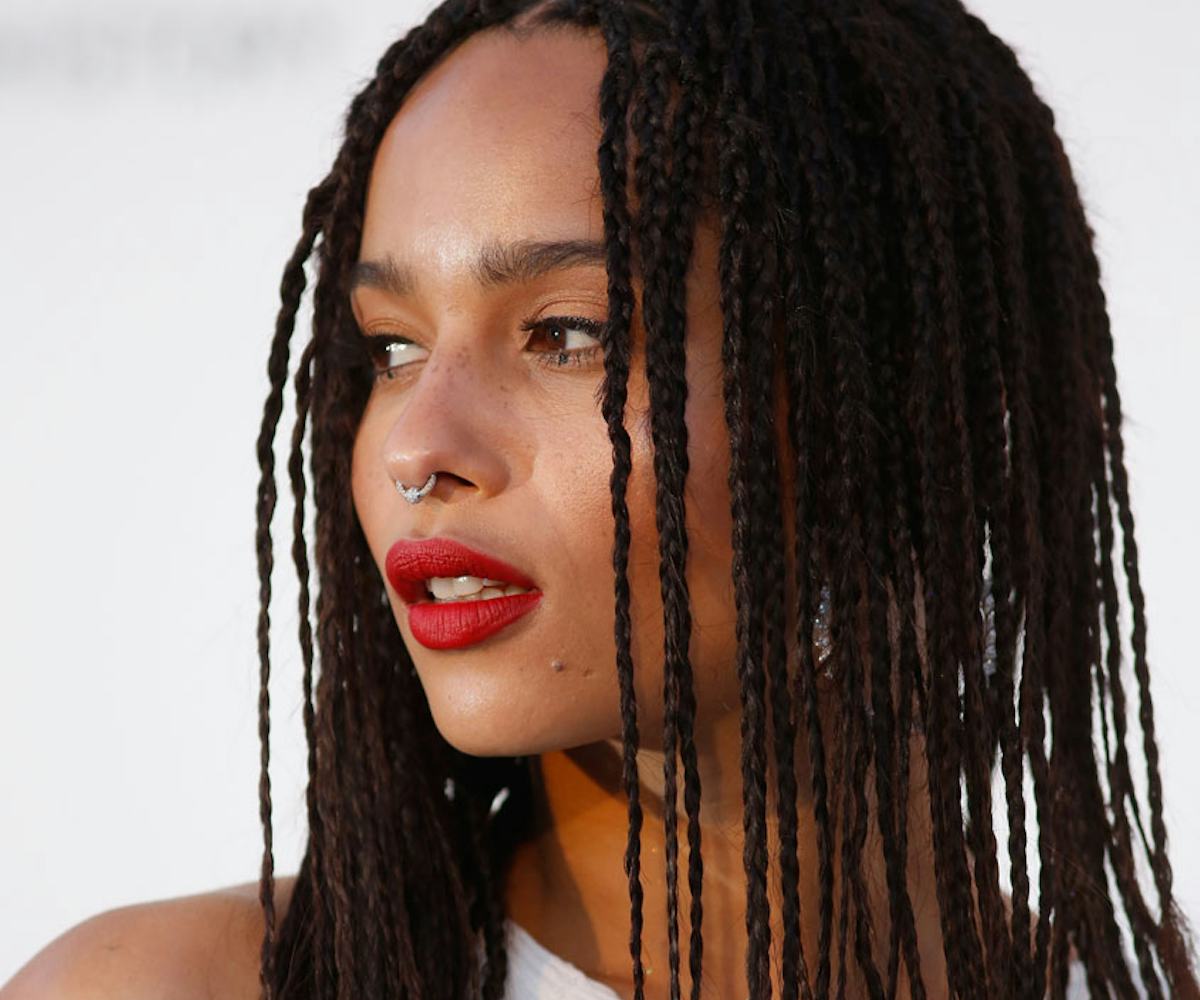 Photo by Tristan Fewings/Getty Images
the style evolution of zoë kravitz
As the daughter of everyone's favorite '90s couple, Lenny Kravitz and Lisa Bonet, the "celebrity child" descriptor will probably always follow Zoë Kravitz around, despite the fact that she surpassed the term long ago. With major feature and indie films under her belt, as well as a gig fronting one of our favorite bands, LOLAWOLF, the 26-year-old has developed a persona and style all her own. But, when you grow up in the spotlight and are forced into the public eye, every choice documented on and off the red carpet. While there are definite downsides to this—Kravitz has spoken openly about how these pressures led to an eating disorder—it also makes stars all the more relatable. After all, we all participated in our fair share of trends, both good and bad, and experimented with our looks. Now, we give you Kravitz's style evolution, a.k.a., a visual representation of how she's really come into her own.
more zoë kravitz, this way:
zoë kravitz on her very personal new role
watch zoë kravitz and miley cyrus tear it up in lolawolf's new video
zoë kravitz's new hair is super stellar
more style evolutions, this way:
the style evolution of rihanna
the style evolution of katy perry
2000
The Kravitz family only has one rule: When on the red carpet, wear leather jackets. Bonus points if you add a matching hat.
2005
The only thing more 2005 than wearing a white tank, gray suit vest, and bangles is Kelly Clarkson.
2007
Is it just us, or is it refreshing to see a 19-year-old actually dress her age on the red carpet?
2008
Boho meets the great outdoors meets the Tribeca Film Festival, and it somehow works.
2008
Although this seafoam velvet gown was baggy and ill-fitting, you have to appreciate the effort put into this Old Hollywood look.
2009
There is just a lot going on in this look, but you know you'd totally play dress up to sit front row at fashion week. Admit it.
2007
Here, we see the beginning of Zoë's cool, nearly flawless red-carpet style.
2010
Beetlejuice, Beetlejuice, Beetlejuice!
2011
To those who never thought you could make a knit dress look both cool and super-chic, well, we raise you this picture.
2011
Three years later, the slinky, loose velvet dress re-emerges. This time, though, it looks much more '90s-inspired, which really works for Zoë.
2011
Everybody makes mistakes and, in 2011, most of those mistakes involved making any and every outfit twee. Polka-dot stockings just don't really work. Period.
2011
Meeting Alexander Wang was definitely one of the greatest things to happen to Kravitz's style.
2012
It was 2012 and "hipster" had hit its peak.
2013
Lady's a vamp. What else can we say?
2013
With her Alexander Wang two-piece, silver jewelry, smoky cat eye, and braids, Zoë is basically the 2015 reincarnation of Medusa.
2013
Now *this* is how you wear a bra and a blazer.
2014
All you need to make a sweet, ladylike embellished two-piece look totally badass is a septum piercing, slicked-back hair, and a killer stare.
2014
Bleached hair, bleached brows, a rocking NYLON party. Yeah, sounds good to us.
2014
Is "Rocker's Daughter Off Duty" a thing? Let's make it a thing.
2014
When a monochromatic beauty and fashion look works, it works.
2014
This all-red peplum dress basically overtook the Venice Film Festival red carpet. It was absolutely stunning.
2014
We love how her wavy baby hair offsets the linear, graphic pattern of her jacket.
2015
Seriously, Zoë looks exactly like her mother here.
2015
This metal-mesh dress was made for Zoë.
2015
Now we have Frank Ocean's "Pyramids" stuck in our head.