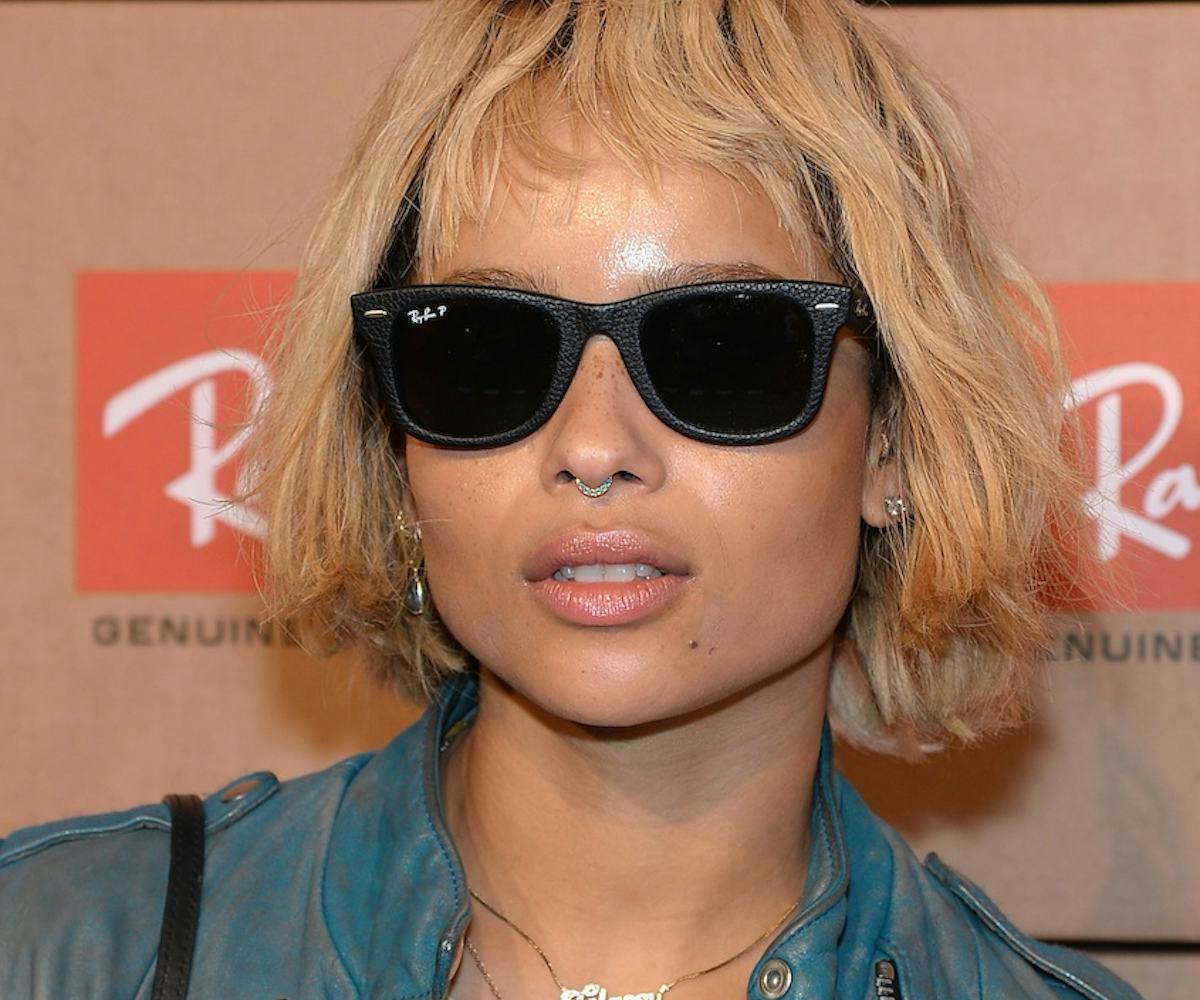 the insider: zoe kravitz
on divergent, her band, and finding the perfect septum ring.
There are creative types...and then there's Zoe Kravitz. The actress and singer might have a famous last name, but this 25-year-old multi-hyphenate definitely isn't coasting on her family's star-powered rep. In fact, she's doing exactly the opposite.
The Brooklyn resident has no fewer than six movies on the horizon (including the second Divergent flick, Insurgent), as well as working on her other gig, performing with her indie band Lolawolf. (Our only question: when does she sleep?)
During a rare break between all of her projects, Kravitz called us to chat about movies, books, and her awesome septum ring collection. Hey, we had to ask! 
You're in the middle of filming the newest Divergent movie right now [Insurgent]. How are things going?
They're great! We've been filming it in Atlanta, which is actually a really cool place to shoot. The cast is so fun--we're all good friends now, so it sort of feels like summer camp. You know?
Definitely. Do you guys hang out when you're not filming?
Yeah, we do. We actually just had a really nice girls' night at Shai's [Shailene Woodley's] house and cooked all these different meals and brought a bunch of different dishes. There are just so many rad, beautiful women in this film and I'm glad to be friends with them all.
The Divergent series is one of those types of books that are intended for kids, but that adults secretly read, too. What other YA books are you into?
[Laughing] Totally. I wasn't into Divergent beforehand, mostly because I felt a little old for them. But then obviously I read the books once I got the part, and it's totally a page-turner. I am actually rereading The Catcher in the Rye right now, because I'm on this kick where I'm rereading a lot of the books I was forced to read in high school.
That's so fun to do...because it's such a different experience now. 
Exactly, it's like, you didn't like them because you were forced to read them and you're 15 years old. 
How are you balancing doing movies in addition to playing shows with your band?
It's a challenge, but we make it work. The boys will come out to where I'm shooting and we'll work in the hotel room or something. It's all about the balance...we have the other two Divergent films to make, and then my goal is to do some traveling and get a tour together. 
Who are your dream tour companions for Lolawolf? 
A$AP Rocky would be awesome! He's a big supporter of the band. Also, Solange would be so fun.
Finally, we need to talk about your amazing septum ring. Where do you get them?
Which one?! [Laughing] I have so many. My gold one is from Love Adorned, and I wear it all the time. They've been hooking me up with rad jewelry for years, so they're my go-to.
Get the Divergent digital HD release and Blu-Ray combo pack now, and buy the DVD August 5th!