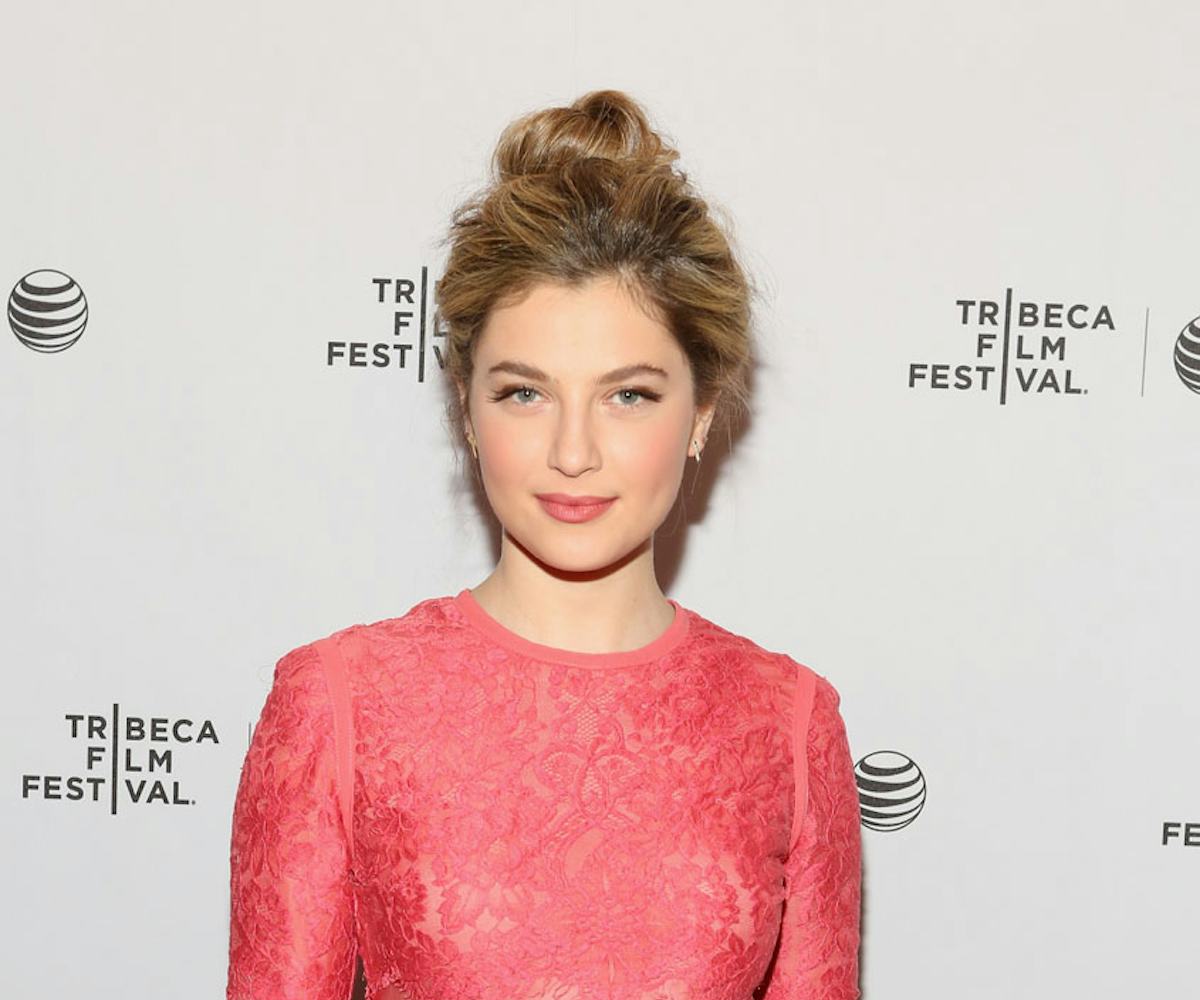 photo by getty images
beauty queen: zoe levin
get peachy with the palo alto star's hair and makeup tips.
Whether you're a girly girl or a straight up tomboy--or both!--you're probably looking for a little springtime beauty inspiration. Because although dark red lipsticks and sleek ponytails are great, sometimes you just want to lighten up your beauty game but not lose the edge. 
Well, we've got you covered with expert tips on how to recreate Zoe Levin's hair and makeup from the premiere of Beneath The Harvest Sky at the Tribeca Film Festival. With a loose top knot and '60s-styled makeup, Levin's look is equal parts peachy and punk--AKA what we want to look like everyday. 
Find out how to recreate her look with tips from her hair stylist, Josue Perez, and makeup artist, Edward Cruz, below.
HAIR:
1. Start by separating two inch sections of hair in front, side and back of the hairline. Then create a high ponytail with the rest of the hair. 
2. Leaving those sections still loose, tease the ponytail so it has more texture and then create a loose bun on top, securing with pins. 
3. Take those loose pieces and wrap hair around a 3/4" iron to create a nice wave. Complete this step for any pieces left out of the bun and finish with Elnett Hairspray.
4. Next, spray the loose pieces with Cake Satin Sugar Dry Shampoo, then gently shake out and pin hair back into the pony giving it the wave and textured look. Repeat same for the sides and back. Finish with more hairspray and gently add the loose ends of hair into the bun. And for a final touch, dab a small amount Moroccan Oil into hands and lightly smooth over the hair for added shine.
MAKEUP:
1.  Apply Shiseido Sheer and Perfect Foundation with their foundation brush to give a flawless application.
2. Sonia Kashuk Brightening Loose Powder powder highlights, brightens and filters imperfections. While most illuminating powders are pressed, this being in loose form allows you to dust it over your cheeks and eyes to "mend" your makeup giving it a finished, seamless look.
3. Mix a dab of Chanel Creme Blush in Affinité with the Shiseido foundation and blend into cheeks.
4. Apply Laura Mercier Illuminating Eye Colour in Opal Fantasy on the lids (from lash line to crease) for a clean look.
5. Draw a precise dark brown line from the center of the eyelid, using Clinique Brush on Cream Liner in Black Honey, winged out towards your temple; keep your eyes open to get the perfect extension past your lids. 
6. Cut Sonia Kashuk Lashes in Full Volume in half, and after the liner application, place the lash on the outer part of the lash line. 
7. Once the false lashes are in place and the glue is dry (two minutes), brush a few swipes of Chanel Inimitable Mascara in Noir Brun on the top lashes, and use whatever is left on the brush on just the bottom-center lashes.
8. Once you've finished your eye makeup, gently swipe your brows upwards with Sonia Kashuk Tinted Brow Gel. They will naturally settle down a bit, but will stay looking groomed!
9. Apply Make Up For Ever Aqua Rouge Lip Stain in Coral sparingly before the lip liner, and once it is on at the level of color you want, finish it with your lip liner to get the perfect shape. When choosing a bold color for the lips, go for a neutral lip liner and sketch over the natural shape of your lips, like Make Up For Ever Aqua Lip Waterproof Lipliner Pencil  in Rosewood. If you want to correct the shape at all, using a neutral liner is key.