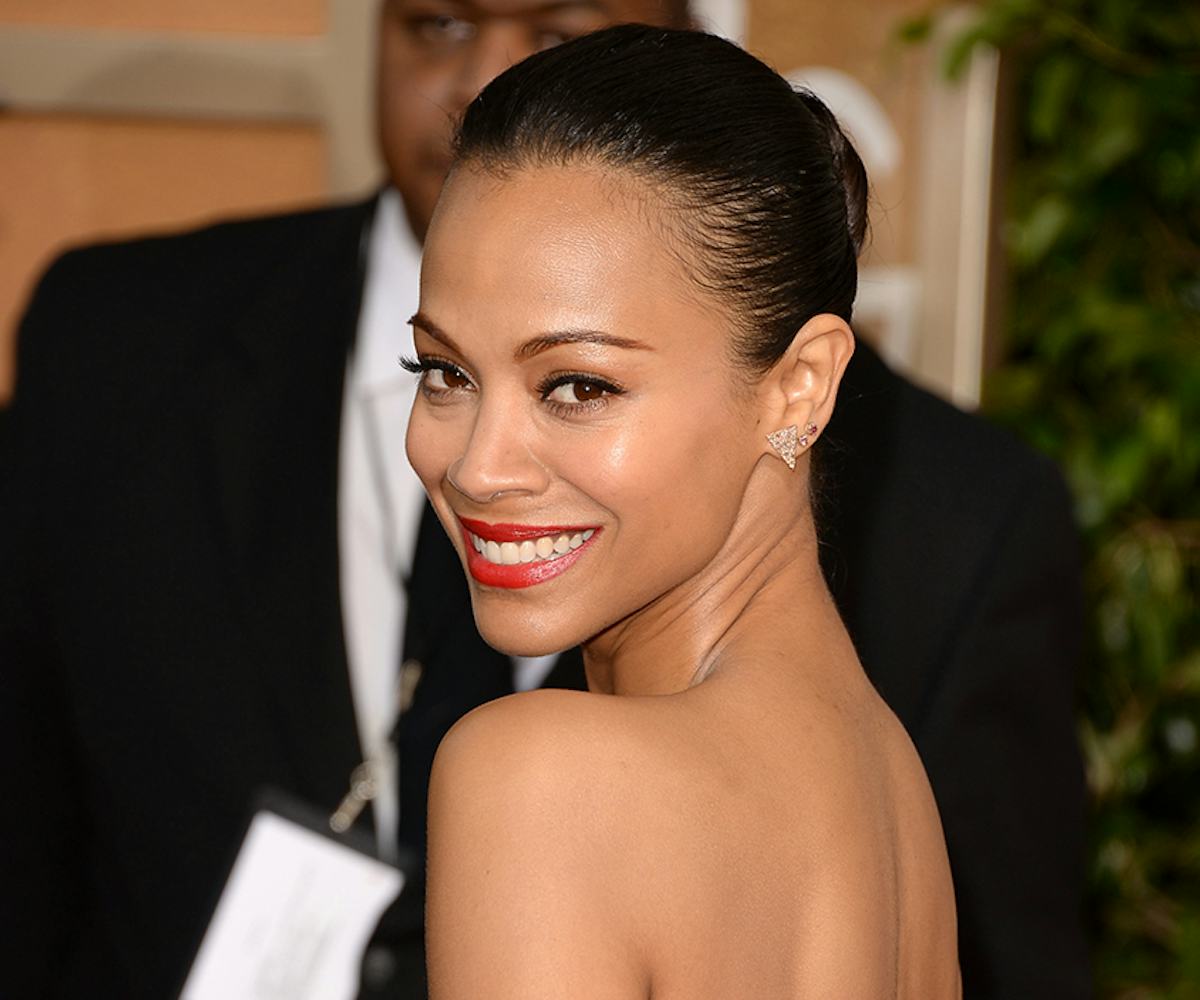 all photos by getty images
totally worth it
zoe saldana is the new face of l'oreal!
Finally! Early this morning L'Oreal revealed that it's latest spokesperson would be none other than the amazingly talented Zoe Saldana. (We've known she was bound for success ever since seeing her in Center Stage.) 
The actress joins Kirsten Dunst, Beyonce, Freida Pinto, Lea Michele, Milla Jovovich and more as a face of the skincare, haircare, and makeup brand. It shouldn't really come as a shock that Saldana finally has a beauty contract under her belt--she has been killing it on the red carpet for years. Her beauty go-tos are a berry lip and wavy hair, though she's been known to rock a serious cat-eye from time to time. Check our 10 favorite of Saldana's beauty hits in the slideshow, and tell us yours on Twitter and Facebook! 
Saldana's favorite berry lip in action.
TRY: L'Oreal Colour Riche Balm in Heavenly Berry -- $7.95
This is like the super-chic take on those "prom ringlets" (you know the ones we're talking about).
TRY: L'Oreal Ever Style Texture Cream -- $6.99
But when Saldana does opt for full-on waves, they look so, so good.
TRY: L'Oreal Elnett Hairspray -- $14.99
The berry lip 2.0.
TRY: L'Oreal Extraordinaire Colour Riche in rouge Allegro -- $9.99
Oh, and Saldana is also the master of simple, winged eyeliner.
TRY: L'Oreal Lineur Intense Eyeliner -- $8.48
If only we could wake up and look this radiant too....
TRY: L'Oreal Magic Luminizer -- $12.95
Isn't this the cat-eye of your dreams?!
TRY: L'Oreal Blackbuster Eyeliner -- $8.99
Few people can pull off an eyeshadow cat-eye, but this proves Saldana is one of them.
TRY: L'Oreal Color Riche Eyeshadow Palette in Cookies & Cream -- 7.95
But of course no cat-eye would really be finished without some mascara.
TRY: L'Oreal Voluminous False Lash Fiber Mascara -- $8.95
Boom. This is what perfect blush looks like.