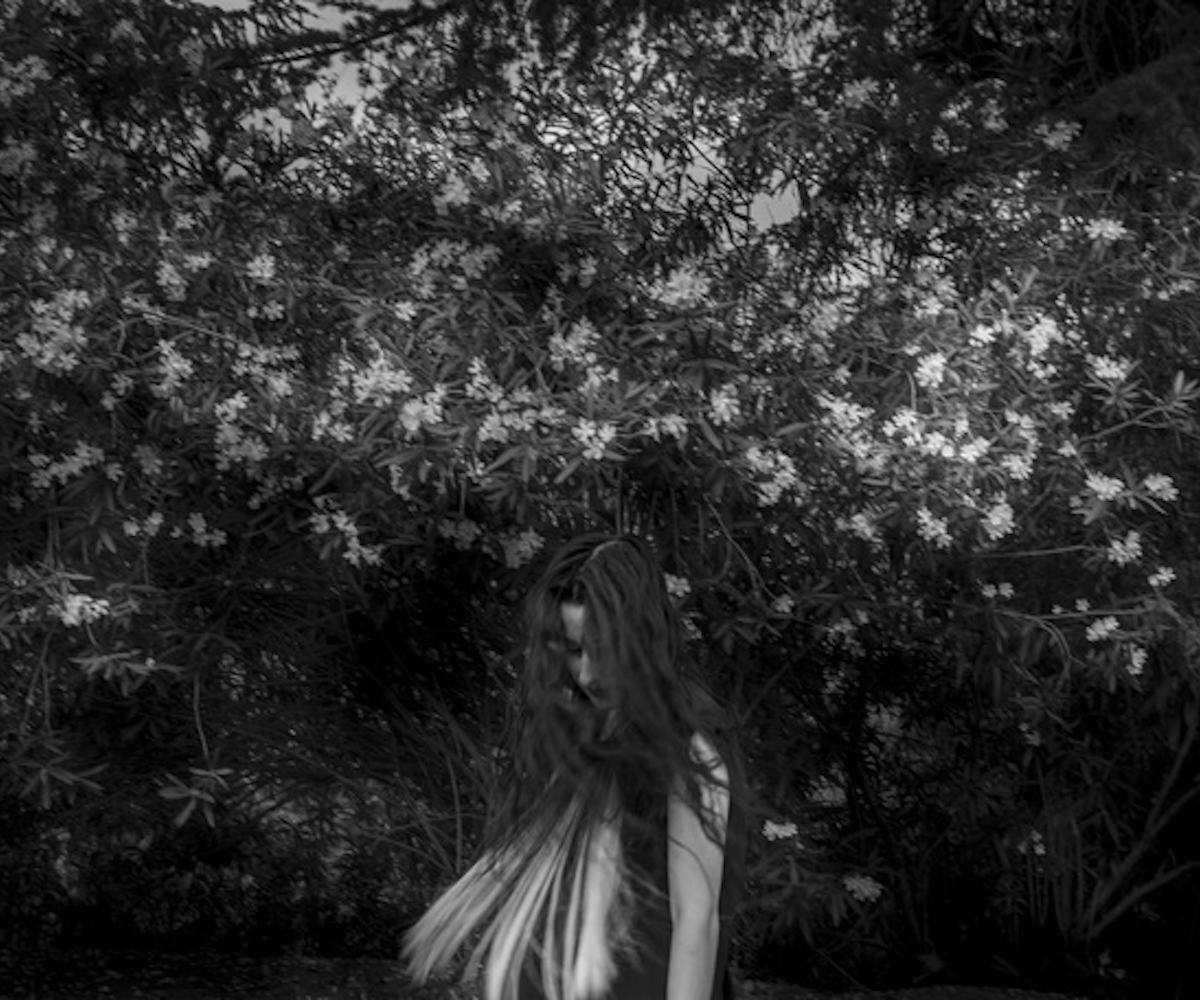 Photo by Nico Turner; Hair by Garrett Markenson; Makeup by Javier Mena; Wardrobe by Jenni Hensler; Assisted by Joi Webb
Born Again: Zola Jesus Is Exhumed
Zola Jesus isolated herself from the world she knew. She retreated to the Wisconsin woods she grew up around, built herself a new sanctuary, and produced one of her most cathartic albums to date. Okovi is a return to home in more ways than one. "It was kind of like a snake eating its tail," she tells me from her home there this past August. "I felt like I arrived where I started, but it took a long time to get there." That experience led back to Sacred Bones Records. From that homecoming and insular woodland experience came an album that's expansive; Okovi is textured with Zola Jesus' mysticism, earthly vibrations, and heartbeat. It's an album born from death and all its friends. To say it's the standout of Zola Jesus' decade-long career is an understatement. This is an album only she could make; from its intimate reflections on the death of a friend to the big existential questions we spend too much and still too little time mulling over, Okovi is a beacon of resilience.
"When I was making this album, I turned to music to understand things," she says. "For me, it was this place of rest and this place of hope. If I could transfer that onto the people listening to this album, then all the pain I went through, and all the pain everyone around me went through, would be worth it somehow." 
Read on to dive deeper into a mind that has, as the album's lead single suggests, exhumed itself. 
Okovi is out now via Sacred Bones Records.
Photographer: Nico TurnerHair: Garrett MarkensonMakeup: Javier MenaWardrobe: Jenni HenslerAssistant: Joi Webb
This album is heavy. It's about loss, redemption, and rebirth, but it's not particularly sad. How did you navigate around that feeling?
It's how I work. If I'm going through something, I try not to indulge in it too much, rather I like to work through things. I like to work through the darkness. That's something that I actively try to do, especially through my music.
Do you believe that your best work comes out of grief?
So much of why I make music is to make sense of the things I don't understand in life. So it's hard to write a song about something unless I feel like it's serving me in some way. Very often that's coming from a place of anxiety or depression or confusion.
You retreated to the woods for this album, to record and write. Did you feel like it was the only way for you to go?
Yeah. I was living in Seattle, and I just couldn't handle being so far away from my family. I decided to move back home, more for my mental health than anything. I started feeling healthier, more grounded, inspired, and creatively liberated. It just reminds me of when I was young and when I felt like no one else in the world existed. I just feel more isolated; for me, that's inspiring because I don't have the anxiety of the rest of the world on my shoulders. It's a little bit more pure.
What was your relationship with loss and death before writing this album, and how has that changed?
It's something I've dealt with my whole life, one way or another. The collision of so many people's trauma around me, and then going through my own, forced me to really reconcile how I dealt with loss and how I dealt with death. I felt like I needed to be strong enough to be able to comfort those around me, so I needed to go through that work myself. That's what's cataloged on the record.
Fate is a huge theme of the album. Do you believe in it?
I think to an extent. I didn't use to, but I think that some of my life has been written already. I tried to change it, but I couldn't.
Does that bring comfort to you?
It brought me anxiety for a long time because I wanted to have control over how it would unfold. I'm starting to now gauge the idea that there's no plan.
That brings to mind your song "NMO." It's a good reprise from everything that happens before and all that follows in the two final songs.
My last album was so full-on, in terms of every song being a big song. It was very important for me, with this album, that there was breathing room. It's so much more of an emotional journey. It gave some space to the record, however small it may be.
Absolutely. It's a small song, but with a sublime vibe to it. The final two songs bring up the ideas of legacies, the idea that there are two deaths in life: the physical death and death that comes once people stop talking about you. Is it up to us to maintain those legacies, do you think?
That's something that I'm still trying to figure out, the idea of legacies. There are several songs on the record about that because I'm very interested in how humans are so obsessed with mortality. It's like this intangible immortality. I feel the same thing, and I wonder why—why are we so predisposed to making sure something lives beyond us.