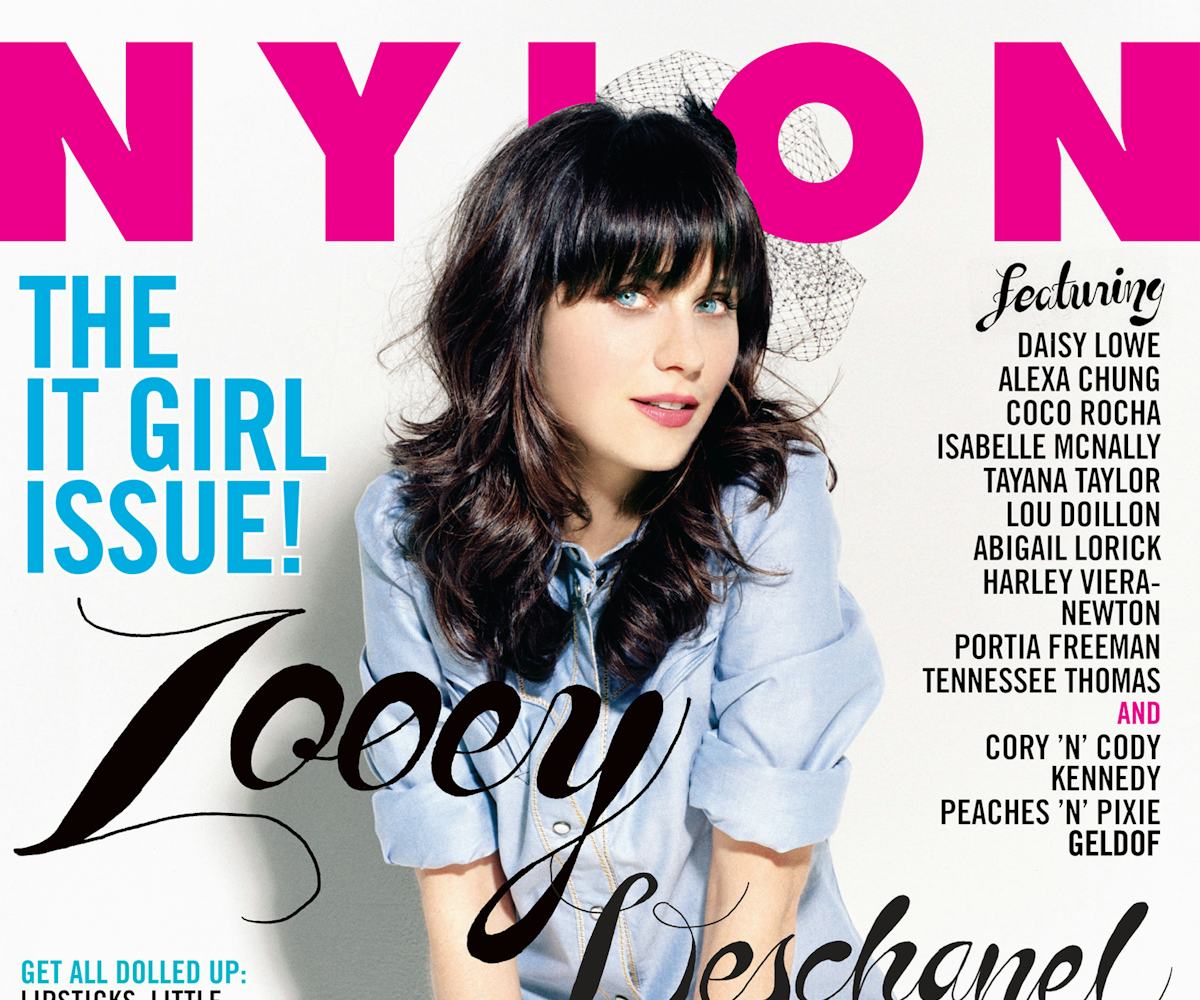 photographed by hilary walsh
#tbt: zooey deschanel pre-new girl
With news of a baby on the way with beau Jacob Pechenik, we couldn't help but be reminded of the ambitious 28-year old we fell in love with before her New Girl fame. Back then—in 2008, to be exact—Deschanel was writing a different list of priorities. But with a capsule collection for Target, a duet with Prince, and a fifth album with her band She & Him under her belt, the singer-actress is all grown up (yet still somehow so adorable). Check out the spread and reminisce with us below about our favorite TV fixture before she was Jess.
A door slams, and suddenly Zooey Deschanel is rushing towards me, her mouth an "O-shaped" silent apology, her eyes round with concern. "I'm late! And it's loud! It's never loud here!" she exclaims, sliding a canvas tote bag studded with colorful band buttons off of her shoulder and slinging it onto the back of a chair. Our meeting place is the aptly named La Conversation, a small French cafe in West Hollywood just around the corner from iconic rock venue the Troubadour, and yes, it is loud: the room is humming with the crash of cutlery and the din of lunch-diners shouting at one another over quiche. "Is it OK?" Deschanel asks, shooting me another worried glance.
Deschanel is wearing a black-and-white striped long-sleeved T-shirt, a high-waisted denim skirt, and black sandals. Her nails are painted a sunny Jackie O.-shade of coral, and a thin tortoiseshell headband glints coyly in her dark hair. Once we decide to stay put, she makes quick work of ordering mint tea--not even cracking her menu--and announces that she's done away with coffee entirely. "I had to stop, just had to. I mean, I liked the ritual of it, but..." A shrug. "Otherwise I don't miss it." She looks luminous and well-rested, and explains that--having recently wrapped up filming a slew of movies in addition to releasing her well-received debut album, Volume One (with raspy-voiced indie balladeer M. Ward under the moniker She & Him)--she's just had her first two weeks off in a year and a half. "I had my teeth cleaned," she says with a grin, "saw friends, caught up on my sleep.... You know, life stuff."
At 28, Deschanel possesses that rare quality of being both ethereally beautiful and damnably cute: On the surface she has a placid, ladylike poise, but it's undercut with a gawky, gamine, aw-shucks goofiness. She strikes me immediately as genuine, kind, and surprisingly normal for someone whose profession is--jazz hands!--entertainment; she has a clever, curious, expressive face (one can't help but think she would have made a riveting silent fi lm star; the kind who would have given original It Girl Clara Bow a run for her money) and a low-ish voice that renders everything she says a little wry. But while she may not look or sound like a typical California girl, Deschanel is Hollywood through-and-through: Her father is Academy Award-nominated cinematographer and director Caleb Deschanel (among other things, he manned the cameras for the legendary Rolling Stones live film Let's Spend the Night Together, which Zooey despairs that she's never seen: "I've been looking for a DVD of it forever--it's so hard to find!") and her mother, Mary Jo, is an actress who starred inTwin Peaks, as Donna's mother, Eileen. "I wish I remembered the Twin Peaks time a little better," she says, wistfully, "but I was too young. My parents would let me see an episode every once in a while, but when you don't know what's going on--well, even when you do-- that show really messes with your head. I'd try to sneak downstairs at night to watch it, but I'd always get caught and sent back to bed." She and her older sister Emily (now best known for her starring role in TV crime drama Bones) spent a lot of time on fi lm sets growing up, which Zooey never enjoyed ("I liked the food. Otherwise I found it pretty boring. I mean, if you're not working, there's not much to do"), but that didn't immunize her from the acting bug. Her first true love was movie musicals--she was enthralled by the spectacle of riotous color and elaborate costumes, the dazzle of artificiality. "My dad has all of these short films he made of me when I was little, and one of them is me when I was two watchingThe Wizard of Oz," she recounts. "I was just..." she widens her eyes to illustrate, "transfixed. And then in another one I was singing 'Somewhere Over the Rainbow,' and I knew every word--which is pretty crazy when you think about the fact that I was still just learning to speak at the time." There was no question about it: She was destined to someday make her own kind of movie magic.
"I was really sassy," she says, laughing. "As soon as I could pursue a career, I did. My sister went to college first, but I guess I just couldn't wait." Deschanel began college, too, at Northwestern University in Chicago to study theater--but when she got word that she had landed the role of teen-runaway-turned-stewardess Anita Miller in Cameron Crowe's Almost Famousshe decided to take a leave of absence, and never returned. "It was a whim decision," she says, stirring her tea with a dainty spoon. "At first I thought I'd just take some time off, so I made an arrangement to store my stuff in some space outside the city. But when I got there, they had no record of my reservation, so I shipped everything home, knowing I would never go back. It was a big decision that was just kind of made for me."
Since then, she has worked steadily, making her name playing offbeat characters--from sardonic Retail Rodeo employee Cheryl inThe Good Girl (2002) to free-spirited hippy Kat in two seasons ofWeedsto Sarah Jessica Parker's batshit-crazy roommate in Failure to Launch (2007). She's not afraid to take chances on whatever material happens to intrigue her, whether that be starring in the Sci-Fi Channel'sWizard of Oz-inspiredTin Man series (if only to fulfill her deep-seated childhood desire to play Dorothy) or, more recently, M. Night Shyamalan's unfairly malignedThe Happening, which if you watch in the spirit of mid-century horror films like Village of the Damned or Day of the Triffids, is actually quite good. "It's got that super '60s, slightly exaggerated feel," Deschanel agrees, "which I really like." Deschanel herself is something of a throwback to starlets of yore: her nostalgia for the golden era of Hollywood seeps into everything from the sort of roles she takes to her passion for vintage fashion ("I love every decade," she says, "but I think '60s clothes are my favorite. And I love big hair. I'm secretly a country singer at heart"). When asked who she'd most like to appear in a fi lm with, she doesn't miss a beat before answering, "Cary Grant. I love Cary Grant. And Jimmy Stewart." Her eyes tilt towards the ceiling dreamily. "Maybe they could add an extra role in Philadelphia Story and I could just show up..."
She even seems to experience modern-day L.A. through the lens of someone who has devoted herself to learning about its past: Not for her is the velvet-rope-and-celebrity-DJ scene; her stomping grounds are repertory theatres and supper clubs. When I mention that I'm staying at the Roosevelt, for example, she says, "Oh, cool!" But when I add that the hotel can be noisy, she furrows her brow as if she's trying to remember something. "Yeah... don't they have parties there or something?" Refreshingly, the place where many current starlets regularly faceplant is completely outside the realm of Deschanel's Hollywood. She keeps her private life private and is, she admits, a "homebody," sharing a house with her sister. "It's so good," she  says. "Our dynamic hasn't changed much since we were kids. When she calls me, she always says, 'It's your big sister!'... She's still very protective of me."
In the coming months, Deschanel will be appearing opposite Jim Carrey in Yes Man(which is based on a memoir by Danny Wallace in which he challenged himself to say "yes" to everything for an entire year), in Gigantic with Paul Dano (whom she describes as "an amazing actor; very thoughtful"), and in 500 Days of Summer with Joseph Gordon-Levitt. She's thrilled with all of them, yet right now her heart clearly lies in her music--when the subject comes up, her whole face brightens, as if a secret she's been keeping for a long time is finally out and she's elated to be sharing it.
"It's a lot easier for me to talk about music," she admits, "because I actually have answers about the finished product. Acting is basically providing a ton of raw material for people: You're like clay. 'I'm making a bunch of clay for you. Here's a bunch of clay.' And then you leave, and they can make that clay into a whole earth or into a pile of garbage. So sometimes it's like, 'Hey, I love that sculpture you made from the clay I provided,' and other times it's like, 'Uh, I'm really embarrassed by that.'" She tucks her hair behind her ear. "With the record, it's like, I know I like it; I don't feel like I compromised my integrity in any way, and it's an incredible feeling to be involved with something from the beginning to the end. That's how I prefer to work, and maybe that means that in the future I need to be more hands-on when I make movies. Maybe I need to direct them or write them, because I enjoy having more control over the process." Her jaw drops as though an idea has just occurred to her, and her voice lowers to a conspiratorial whisper. "Maybe someday I could even make a movie where I do the music and direct it and write it and star in it...like a one-man band!"
She glances down at my tape recorder, which is halfway hidden behind a small china pitcher filled with cream. "Um... I don't think that's turning anymore," she says, poking it cautiously. I pick it up, shake it, and confirm that the device is indeed deceased. "Maybe it's my energy," Deschanel offers, scrunching her forehead in concern. "We all have, you know, electrical fields." She wiggles her fingers in front of her face and makes cartoon-ghost noises, "Woooooh, woooooh..."
It's nearly time for her to go, anyway, so after briefly debating whether or not we should run off in search of batteries, we decide to let sleeping dictaphones lie and just pick up our conversation on a different day. Deschanel scoops up her bag, gives me a wonky high five, and bounces merrily out the door. When we talk two weeks later, Deschanel is on a tour bus with M. Ward and their backing band, which includes her good friend Becky Stark of Lavender Diamond; they're "somewhere," she says hazily, "in Georgia." She calls me an hour late (again, with a flurry of sweet apologies); it turns out that, cocooned in her bunk with the curtain pulled, she accidentally overslept. "It's so hard to wake up on the bus because it's dark all the time," she says. "And my schedule is all crazy. I have to go to bed so much later than I'm used to." She laughs. "Still, out of all of us, I'm usually the earliest to bed and the earliest to rise."
This is She & Him's first ever tour, and Deschanel is loving the communal living and vagabond rock 'n' roll lifestyle. "It's great," she chirps happily. "I really like being around people, so I love waking up and having all my buddies right there. And the girls outnumber the boys on the tour, which is rare, so that makes it especially fun. The crowds have been really enthusiastic and responsive: It's just such an amazing feeling to look out and see all of these people singing along to my melodies." She pauses, thoughtfully. "I'm so, so lucky. Honestly, I am living the dream."
Deschanel has been writing songs for as long as she can remember--alone in hotel rooms while on movie sets, in her room at home with her computer and a four-track--but it took a long time before she had built up the confidence to play them publicly. Not that the world didn't already know that the girl could sing: search YouTube and you'll find footage of her singing "Mr. Big Stuff" on The New Guy (when she was very, very young), performing with friend Samantha Shelton in their cabaret act If All the Stars Were Pretty Babies, and belting out tunes in Elf, Winter Passing, and Raving. Her dulcet back-up vocals graced ex-boyfriend Jason Schwartzman's Coconut Records album last year, and this month she can be heard on Jenny Lewis's latest solo LP ("Jenny has such a magical amazing voice," she gushes. "It's just beautiful. Everything she does has a golden touch"). When she was a teenager, Deschanel would spend hours impersonating old records, training her voice to hit jazz notes like Ella Fitzgerald and croon torch songs like Peggy Lee, which she thinks ultimately played into the singing style she has now. "I was especially good at Anita O'Day and Judy Garland," she says with a giggle. "It was a fun challenge to try to emulate different people. You really learn how to convey different emotions by using your voice in different ways." She & Him's Volume One bears all the earmarks of someone who came of age under the spell of vinyl classics: Deschanel's songs conjure ghosts of the '20s, '30s, and '40s, while also giving a wink and a nod to the Carpenters, Linda Rondstadt, June Carter, and the Ronettes. Like Deschanel herself, the album is playful, sentimental, and endlessly charming. It's a winsome, broken-hearted masterpiece by a hopeful romantic; and if it were a movie, it would be soft-focus and sepia-tinged. While many actors' musical efforts turn out to be little more than embarrassing vanity projects, Deschanel's record is a revelation of true talent. She has a mastery of melody, a fl air for emotionally evocative lyricism, and a voice... well, like an angel. And anyone who has fallen in love with it will be happy to know that there will be a volume two sometime in the spring.
"I love making records so much," she says. "And now that I've experienced what it's like to stand up there and sing my own songs, I just can't imagine wanting to do anything else. It's something I've wanted to do my whole life."
The next time I see Deschanel, she's onstage at Terminal 5, a cavernous venue in New York, wearing a Roaring 20's-looking spangled white halter dress and a headband with a gigantic white flower onthe side. She's jumping up and down giddily before her favorite songs,doing funny little shimmy dances around the microphone, beamingwith delight at seeing a room full of lips mouthing the lyrics she once held so closely and shyly to her chest. Her joy is so true, so immense,that everyone present can't help but be swept up in it. Tonight Zooey Deschanel is living proof: Sometimes, the dreams that you dare to dream really do come true. -- APRIL LONG