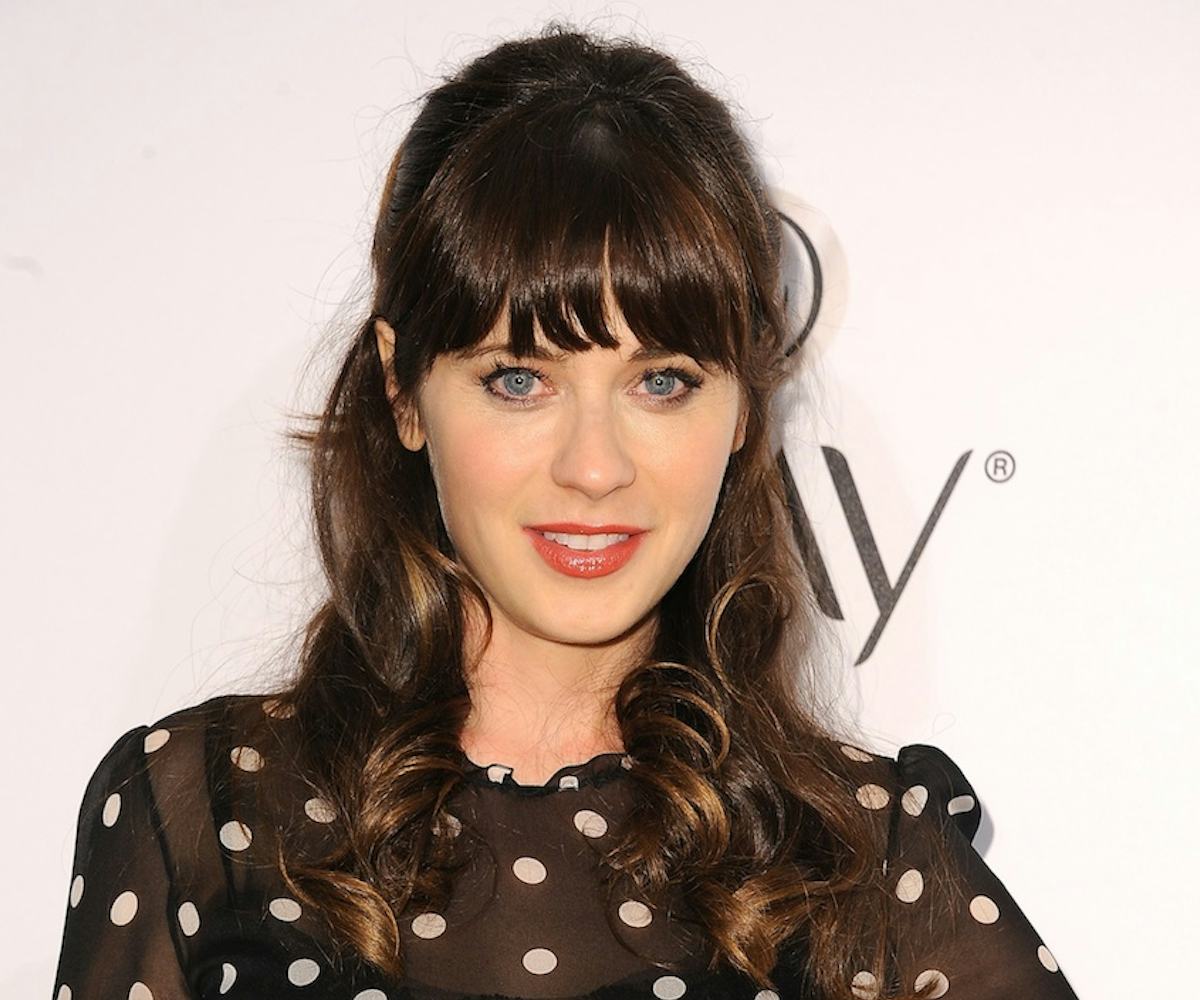 all photos by getty images
zooey deschanel lands a design gig
16 dresses we want to see in her tommy hilfiger capsule collection.
Fact: When it comes to having a signature style, there's nobody who does it better than Zooey Deschanel. From practically day one the New Girl star has stuck with a tried-and-true uniform of flouncy dresses, tights, and slightly off-kilter accessories. You can call it quirky, twee, or whatever you want, but either way, we're obsessed...and so is Tommy Hilfiger, who's recruited the singer and actress to design a capsule line for his label. 
Influenced by "what she likes and what she doesn't like, the kind of fabrics and what kind of colors," Hilfiger told WWD that the collection of 16 dresses will debut at Macy's this spring. According to the designer, expect '60s-inspired frocks that take a cue from Jean Shrimpton-meets-Twiggy. "There is a lot of red, white and blue, but done in a Zooey way with interesting detail and flirty fabrics." In other words, pretty much everything that Deschanel wears in real life, on the red carpet and off. 
While we wait for the collection to launch on April 14, take a trip down Zooey Deschanel dress memory lane and see which pieces we want for ourselves. Because even if we don't have a Grammy or a hit TV show (or a fake relationship with Jake Johnson), at least we can snag her wardrobe...and that's definitely the next best thing.
In Oscar De La Renta at the 2014 Golden Globes.
At Elle's Women in Television brunch in 2014.
At a Fox event in 2014.
In J. Mendel at the 2013 Emmy Awards.
At the 2013 Fox Fall Eco-Casino Party.
At the Costume Institute Gala in Tommy Hilfiger.
At the 2013 Golden Globe Awards in Oscar de la Renta.
At the 200th episode taping of So You Think You Can Dance? in Hollywood.
At the 2012 Billboard Music Awards in Moschino.
At the GQ Man of the Year Awards.
At the premiere of Winnie The Pooh.
In Naeem Khan at the LA premiere of 500 Days of Summer.
Vanity Fair's Oscar party in 2009.
At the Vanity Fair Oscar Party in 2012.
In vintage at 2012 Writers Guild Awards.
In custom Prada at 2012 Golden Globe Awards.