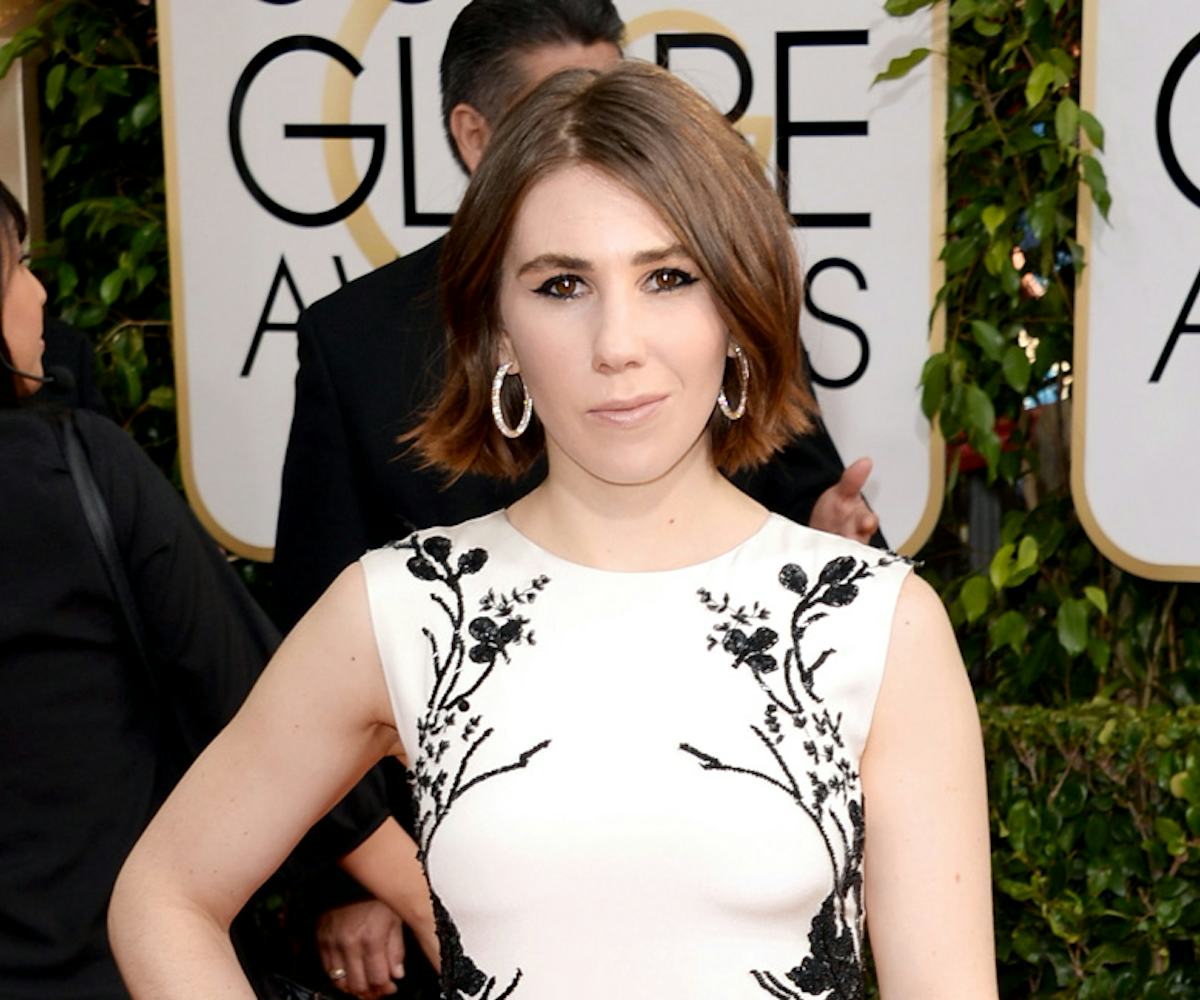 photo by getty images
dos and don'ts: the new '90s bob
zosia mamet's hairstylist breaks down the key to her nostalgic crop.
When I first saw Zosia Mamet step onto the Golden Globes red carpet, I actually exclaimed, "Wait! What?!" despite the fact that I was sitting alone in my living room. She of the ridiculous buns and twists on Girls and the perfect flowing center-parted hair IRL had just transformed her locks into a radically different bob. And to say I was instantly jealous might be the understatement of the year. 
The thing that really caught my eye about Mamet's new 'do was its nostalgic feel. Instead of opting for a longer bob (AKA a "lob"), Mamet went shorter and hit that soft spot right between Louise Brooks' vampy hairstyle and Alexa Chung's criminally chill one. And then there's the '90s factor. I'm talking about the beach-y texture that results in slightly flipped out edges, akin to those sported by Rachael Leigh Cook in She's All That. So aside from overalls, platform kicks, and rainbow everything, The Rachael (Lee Cook!) is the latest '90s trend to be reborn.  
Since the Golden Globes, Camilla Belle has stepped out a similar appropriation of The Rachael (Lee Cook, obvs), and Emma Roberts debuted a shorter, blunter bob. I knew what must be done (other than make a haircut appointment ASAP). I hopped on the phone with Mamet's hair stylist for the Globes, Jamal Hammadi, to learn the tips and tricks of styling a '90s-meets-'10s crop. 
DO USE A SHEA SPRAY
"I wet Zosia's hair first with my Hammadi shea spray which is a beach-y spray. You can use Hammadi, John Frieda, or Oribe salt sprays, but I use my own brand because it's more organic, and it has essential oils that put nutrients back in the hair while you're working a style. I chose a shea spray because it helps with fly-aways and it minimizes frizz. It's about creating texture in the most natural way."
DO GET PIECE-Y
"Afer I used the shea spray, I put in Hammadi hair cream, but I just use very little. I put it on my finger tips first so I don't over product the hair. Because once you overdo that, it's over! Then the hair is too greasy. It's better to use creams than oils because the oils weigh it down too much, and gives a greasier effect. Gels make it too hard. It's about a cream. Pick up pieces of hair, and put product in it with your finger tips, like your fingers are brushing a section of your hair. So, it's like little finger tip sections maybe about quarter inch thick, and just run it through your hair while your hair is wet and set your hair that way."
DON'T TOUCH!
"Don't over touch it. Sometimes if you touch your hair too much when you're wet setting, you create too much frizz."
DO SHAKE IT
"Once the hair is dry, I shook it out from underneath. Don't run your fingers from root to tip, just put your hand right up close to your scalp and give it a little shake. That's really the best way."
DON'T GO PART CRAZY
"I framed Zosia's face by running my fingers through her hair, finding her natural part and using it! It wasn't a middle part and it wasn't a side part. The shape that it created on her face, it just worked."
DO HAVE GOOD INSPIRATION
"A short bob is so Linda Evangelista.  There's one famous picture of Linda Evangelista and Christy Turlington looking like dudes with their hair short and sort of slicked back. It's a bob and it has movement, but it was stricter than what someone would want today. It was wet, it was more refined, it was more fashion-y. It wasn't the kind of texture it is today."
BUT DON'T TAKE YOUR INSPIRATION TOO LITERALLY, THOUGH
"When they did the loose look in the '90s, it still wasn't really loose. It was very structured in a way that you had to work the hair. The difference today is that the structure comes from the naturalness of your texture. Kids today have so much more information and the way they wear their hair today is confident and has an airiness and naturalness that I'm loving. The new generation is all about natural."