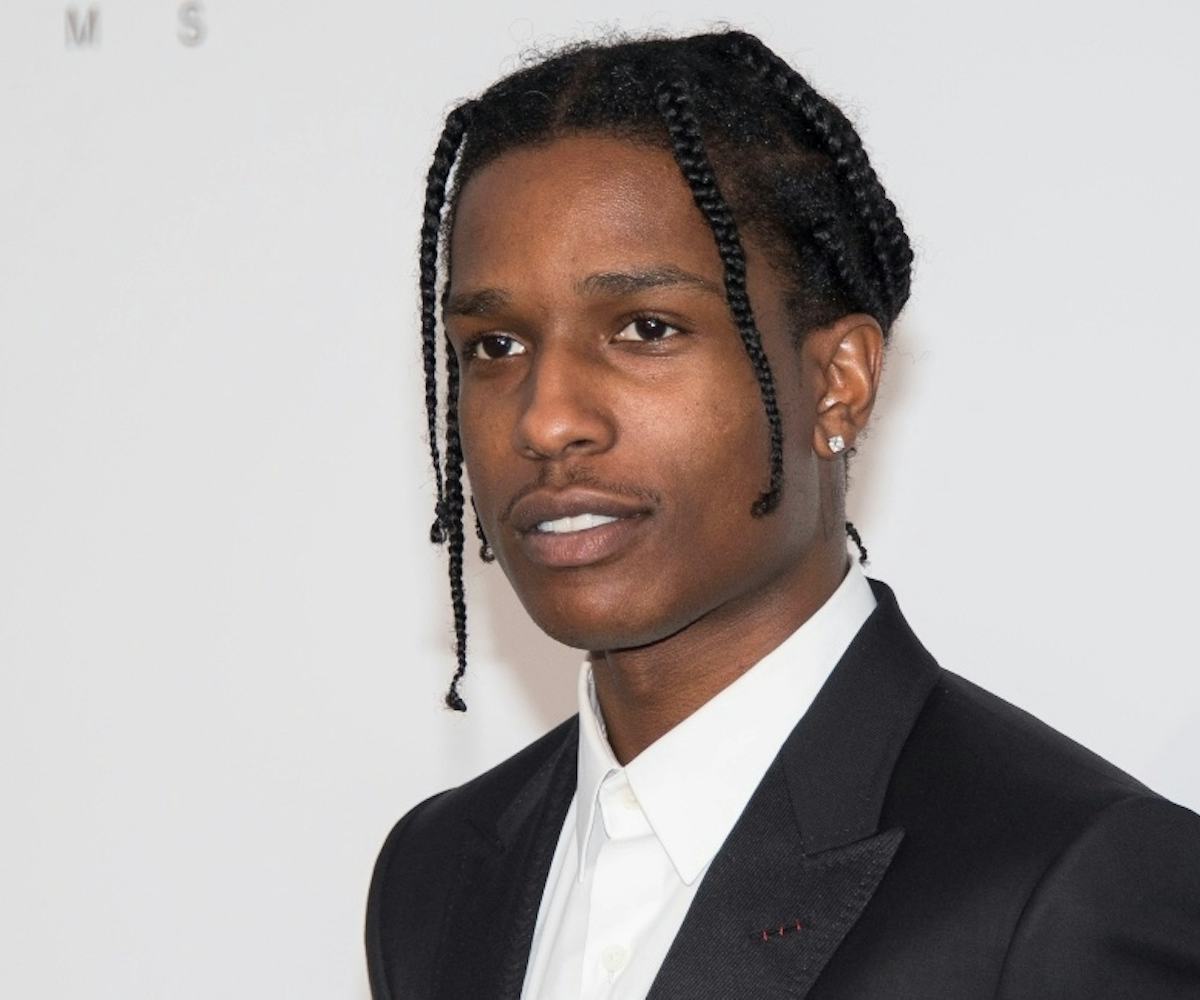 Photo by Invision/AP/Shutterstock.
A Guide To Events Leading Up To A$AP Rocky Assault Charges In Sweden
Harlem rapper, fashion boy, and video director A$AP Rocky (neé Rakim Mayers) has just been charged with assault following a fight in Stockholm, Sweden, last month, according to TMZ. The events leading up to the charges have been highly publicized and have prompted conversations about how his race may have played a part in how he's been treated. Here's a quick guide to everything going on.
Why was A$AP Rocky in Sweden?
The rapper was one of the performers at Smash Festival before the incident occurred.
What led to the fight?
In one of the videos, uploaded by A$AP Rocky himself on Instagram, his security guard can be seen arguing with a man, Mustafa Jafari, who seemingly won't stop accosting him. The security guard tells Jafari to walk the other way and becomes agitated when he refuses. The video then jumps to Jafari swinging at the security guard and hitting him with a pair of headphones. The security guard throws the headphones, and they break.
Another video shows Jafari and his companion still following A$AP Rocky's group, upset about the headphones. The security guard continues to tell the two men to walk the other way. A$AP Rocky also pleads with Jafari and his companion to leave them alone, but the man persists. Then a female bystander tells A$AP Rocky's group that either Jafari or his companion slapped her and her partner's butts earlier.
A separate video then shows A$AP Rocky throwing Jafari to the ground and punching and kicking him with other members of his group.
Who was arrested and charged, and when?
A$AP Rocky and the two men in his group were arrested on July 3. He is still in custody. Since A$AP Rocky was deemed a flight risk, the authorities held him while they gathered information to determine whether or not to charge him with assault. Charges against his security guard were thrown out for "insufficient evidence," and no charges were brought against Jafari. According to Swedish law enforcement, in addition to the videos, they have evidence based on witness testimony that contradicts A$AP Rocky's self-defense claim.
Who is on A$AP's side and who's not?
A slew of celebrities like Kim Kardashian, Kanye West, Diddy, Nicki Minaj, and Justin Beiber have expressed public support for A$AP Rocky and called for his freedom; especially after it was reported that he was being held in inhumane conditions in the jail. Donald Trump spoke to the Swedish prime minister to advocate for A$AP Rocky. Tyga pulled out of a show he was supposed to perform in Sweden to protest the treatment of his fellow rapper. G-Eazy and A$AP Rocky's mother insist that the rapper is receiving such harsh treatment because he's Black.
Not everyone is ready to point to race, though. The rapper notoriously went on record in 2016 to say that he couldn't relate to the Black Lives Matter movement. He emphasized that he would rather talk about his clothes, drugs, and women than race. On the Breakfast Club radio show, he referred to the movement as a "bandwagon" and said "all lives matter." This, in addition to videos showing A$AP Rocky punching and kicking Jafari, has made some people reluctant to hop on the #FreeASAP train. To his credit, the rapper is sticking to his guns on race neutrality. Despite what many think, he insists that he is not being unfairly treated in Sweden because he's Black.
What happens now?
If convicted, A$AP Rocky could face two years in prison, but prosecutors told TMZ they won't be pursuing the full sentence. His trial is set to begin on Tuesday and last three days. Today, it was also revealed that Jafari has a criminal background that includes assault.