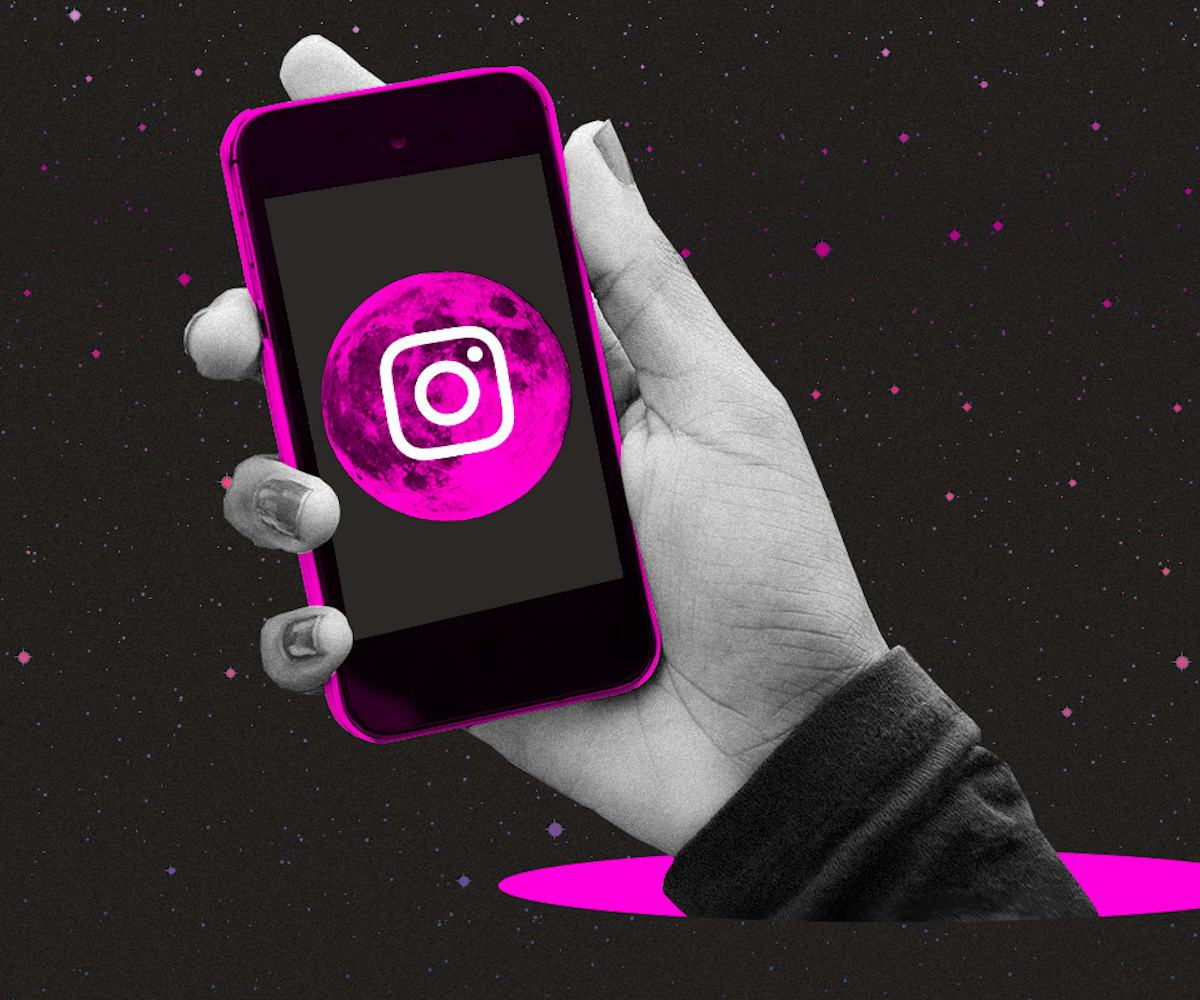 Images Shutterstock & Getty Images/Collage by Lindsay Hattrick
Love Astrology? Here Are 12 Instagram Accounts You'll Want To Follow
From ones posting memes to ones giving daily readings
No one can deny that astrology is experiencing a cultural moment right now that extends beyond the traditional weekly sun sign horoscopes in the back of the newspaper. It has blossomed into full-fledged readings and advice-giving based on mathematical calculations — and the public is here for it. But if you don't have access to a personal astrologer, this new glut of information and entertainment can be overwhelming. So how can you curate your astrological experience? One way is through another tool that has become part of our daily existence: by following astrology Instagram accounts.
Most contemporary astrologers have their own Instagram pages, so if you prefer to follow the teachings and style of a particular individual, this is a good place to start. Then there are the apps. These tools can provide daily horoscopes or hyper-personalized chart information in a number of technologically intricate ways; the visual medium that Instagram provides can be a great introduction.
Lastly are the cosmic meme accounts that have become a huge slice of the meme pie over the past two years. Nearly all of the accounts listed below will incorporate some level of astro-memery, because who doesn't want a little humor sprinkled in with predictions that can often feel perilous? But there are some accounts that sprang up with the horoscope meme as its sole purpose, and they excel at giving great visual comedy in addition to their insightful skewering of the 12 signs of the zodiac.
Below, 12 accounts, in honor of these 12 slices of the zodiac circle, that embody the best of all three of these categories.
The Astrologers
Chani Nicholas & Jessica Lanyadoo
Los Angeles-based Chani Nicholas and the Bay Area's Jessica Lanyadoo have both been practicing astrological counseling for over 20 years and have been well-known to the queer community for many of those. But with both releasing books this January, they've stormed onto the mainstream scene to become America's reigning queer queens of the zodiac.
The New York Times bestselling author of You Were Born For This: Astrology for Radical Self-Acceptance, Chani Nicholas is Oprah magazine's resident astrologer and has been featured in numerous other places from the Rolling Stone to The Atlantic and Netflix. Her Instagram is a mishmash of personal and international news, portions of audio and video interviews, quotes from her own work as well as that of folks she respects, and pieces of her full moon and new moon horoscopes she has been publishing on her own site for over 10 years.
Lanyadoo's self-described reference book, Astrology for Real Relationships: Understanding You, Me, and How We All Get Along, has also garnered much acclaim as she has toured the East and West Coasts touting astrology as a mathematics-based spiritual toolkit. Her Instagram is equally diverse with just a few more lighthearted memes and, most importantly, snippets from her popular weekly podcast, Ghost of a Podcast, in which answers one listener's personal question before going into how the week's transits are likely to affect us all.
Bronx native Mecca Woods played East Coast co-host to Lanyadoo's West Coast flavor on TLC's Stargazing show in addition to her many other projects. Her Instagram account mixes some no-nonsense commentary with plenty of selfies and reveals about her own chart and how the coming transits might affect her personally. She also uses Instagram to highlight astrological-adjacent artwork including a full set of coloring books she authored in addition to her year-old book, Astrology For Happiness & Success.
Jaliessa Sipress (OMA)
Jaliessa Sipress of Obsidian Moon Astrology, former bodyworker and lover of Doc Martens, centers her practice around the self-care of those living in the margins. This highly personal and restorative approach to astrology lends itself well to her portrait-heavy Instagram. Often an introduction to her depth-delving classes or a tender look at the day, these intimate photographs consist largely of women and non-binary people of color living, healing, and just being great style inspirations for us all.
Practical astrologer Sam Reynold writes about "stars, planets, astrology and whatever streaks nude across [his] mind," but his most interesting investigations might be the astrology behind serial killers. His Instagram is not quite as curated as some but is delightfully unpretentious in its regular horoscopes and affirmations.
Colin Bedell is a gay Gemini Twin from Long Island and resident astrologer at Cosmopolitan. In 2018, he published A Little Bit of Astrology: An Introduction to the Zodiac, as part of the Little Bit book series that became an Amazon bestseller. In addition to updates and astrological artwork, Bedell's Instagram also includes some hilarious dance numbers and performance snippets to personify the transits of the week.
The Apps
The popular hyper-personalized astrological social network allows you to see not just your chart and that of all your friends but outlines how each current transit hits your own chart, what it means, and how long it will last. It also gives you all the good, bad, and ugly about how your planets line up with those of your friends, family, and lovers. Their Instagram account takes this wealth of data and uses it for almost exclusively text astrology jokes that take a certain topic and drag each sign for how they embody it. They even drag themselves occasionally, like a recent post that characterized how each sign has complained about the early lack of an Android version of their app. My personal favorite is Aquarius: "What is the status on its completion? I will make my own version if it will be much longer."
This interactive app uses a conversational tone in its daily forecasts and live readings, as well as an audio podcast reading, for each sign that greets you every morning to start your day. Its Instagram is a multicolored jump-off point that uses whimsical pastel cartoons to illustrate subtle but beautiful jokes and gentle ribbing in contrast to Co — Star's stark black-and-white. Recent examples include each of the signs as candy hearts, Super Bowl dips, and classic childhood books.
The Memes
Los Angeles-based comedian and screenwriter Courtney Perkins started the Not All Gemini's Instagram as a joke account in early 2018 that by summer shot to the top of the astrology meme game. Or rather, perhaps Perkins actually started the trend of combining astrology and memes. Either way, now her account has over half a million followers. This combination has become extremely popular on Instagram, a phenomenon that Perkins attributes to the relatable nature of memes becoming even more personalized with the addition of astrological signs.
For those who like a real roast, look to Astro Pigz and Jake's Astrology. Jake Register, known for his hilarious astro-Bingo memes also writes "Sexoscopes" for Cosmo, while Astro Pigz bills themselves as "astrological shit talk str8 from the slop trough served by 2 haughty fire signs." Both took the astrology meme trope and made it just a little naughty.
For those who like charts, graphs, Venn diagrams, and visual representations of math and organizational systems more than pop culture, Julia's (no last name given) Look Up the Stars Instagram account is for you. We may not fit all of our sun sign stereotypes, but it's statistically likely we'll find something of ourselves and loved ones within those pie chart wedges telling us "How to recognize an Aquarius in a few words," "How NOT to dump an Aries," or "What to expect when marrying a Cancer."