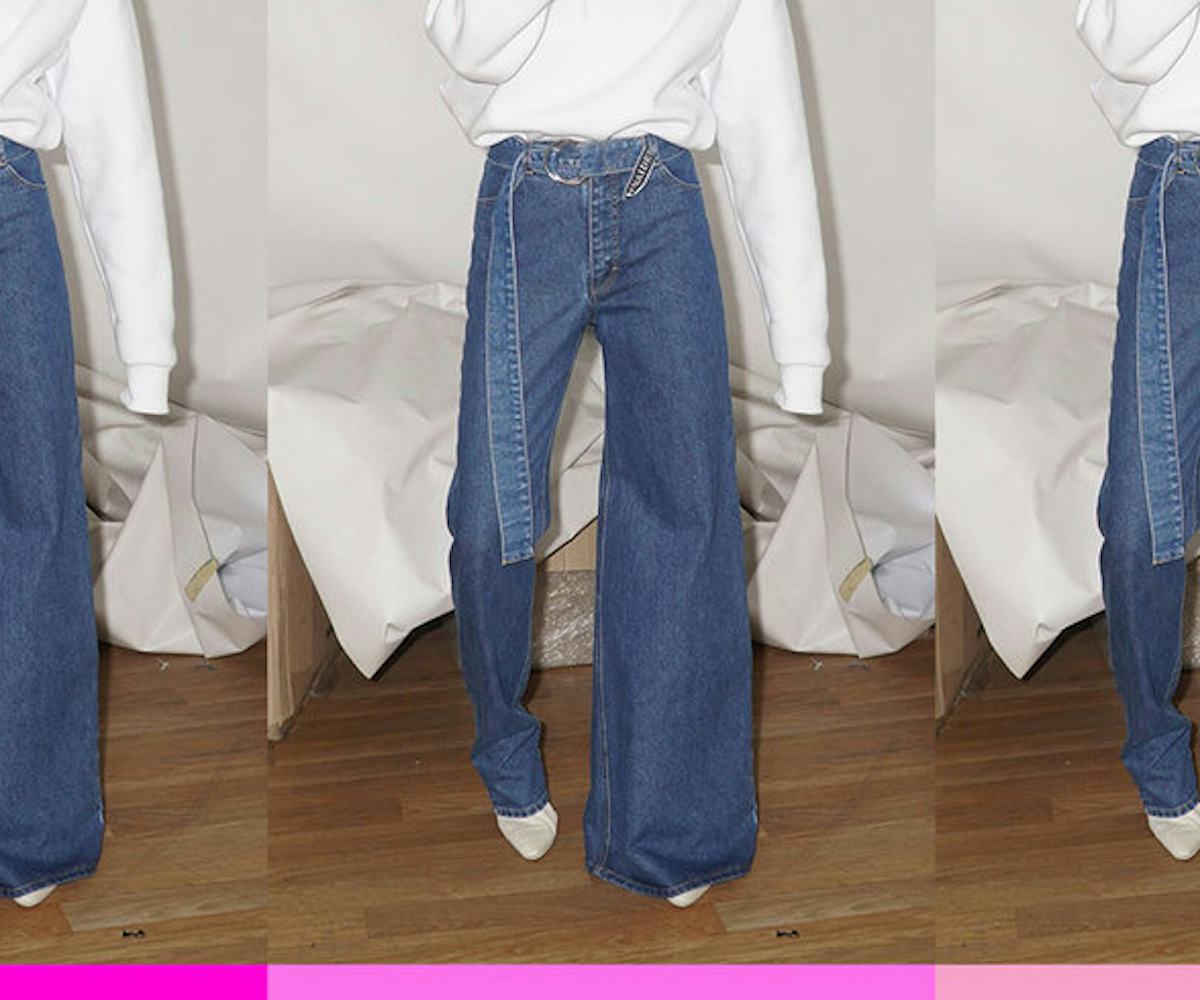 Photo courtesy of Ksenia Schnaider
Ksenia Schnaider On How Those Viral Asymmetrical Jeans Came To Be
The wide leg-mom jean hybrid that's not for the faint of heart
No stranger to viral denim, Ukranian designer Ksenia Schnaider is back with another jaw-dropping pair of pants—and once again, the internet is divided. The brains behind demi-denims, the jort-pant hybrid worn by the likes of Bella Hadid, has announced that she has a new style in the works: asymmetrical jeans, a style that features a loosely fitted boot cut on one side, a flared wide leg on the other, and a belt on top.
For Schnaider, designing these pants was a matter of what she wanted for herself. "It was my idea to combine our two best-selling models, wide leg jeans with mom jeans, both high-waisted," she says. "My husband and partner Anton said that it was too crazy and that no one needed jeans like this, so I gave up on the idea for a couple of seasons. And then, a few months ago, I realized that at least one person needs these jeans, and it's me."
Not everyone has been on board with these, with most news outlets referring to the design as "bizarre" or "weird." However, Schnaider doesn't let the haters get to her. "Negative comments that are kind of witty make me laugh, and I love to share them with my colleagues to amuse them a bit," she says. "I try not to take them too personally and just focus on my work instead, because we still have so many crazy ideas planned for the future." She's also had quite the positive response from others, like people that suffer from leg lymphedemas or swelling due to a lymphatic system blockage, as this design is the rare style of denim that will actually comfortably fit both legs.
So, how does one wear these two-for-one pants? Schnaider says the key is keeping the rest of your look simple. "They look amazing with heels and hoodies, with sneakers and formal shirts, with loafers and boring sweaters," she says. "They are crazy enough, so I think other items should definitely be classic. Only with basic or classic items will the jeans look fresh and stylish, and not like you're wearing some kind of masquerade costume."
While these jeans may not be for the faint of heart, they're certainly a statement-maker. And with New York Fashion Week just around the corner, we're banking on seeing some street style gold with these bad boys.