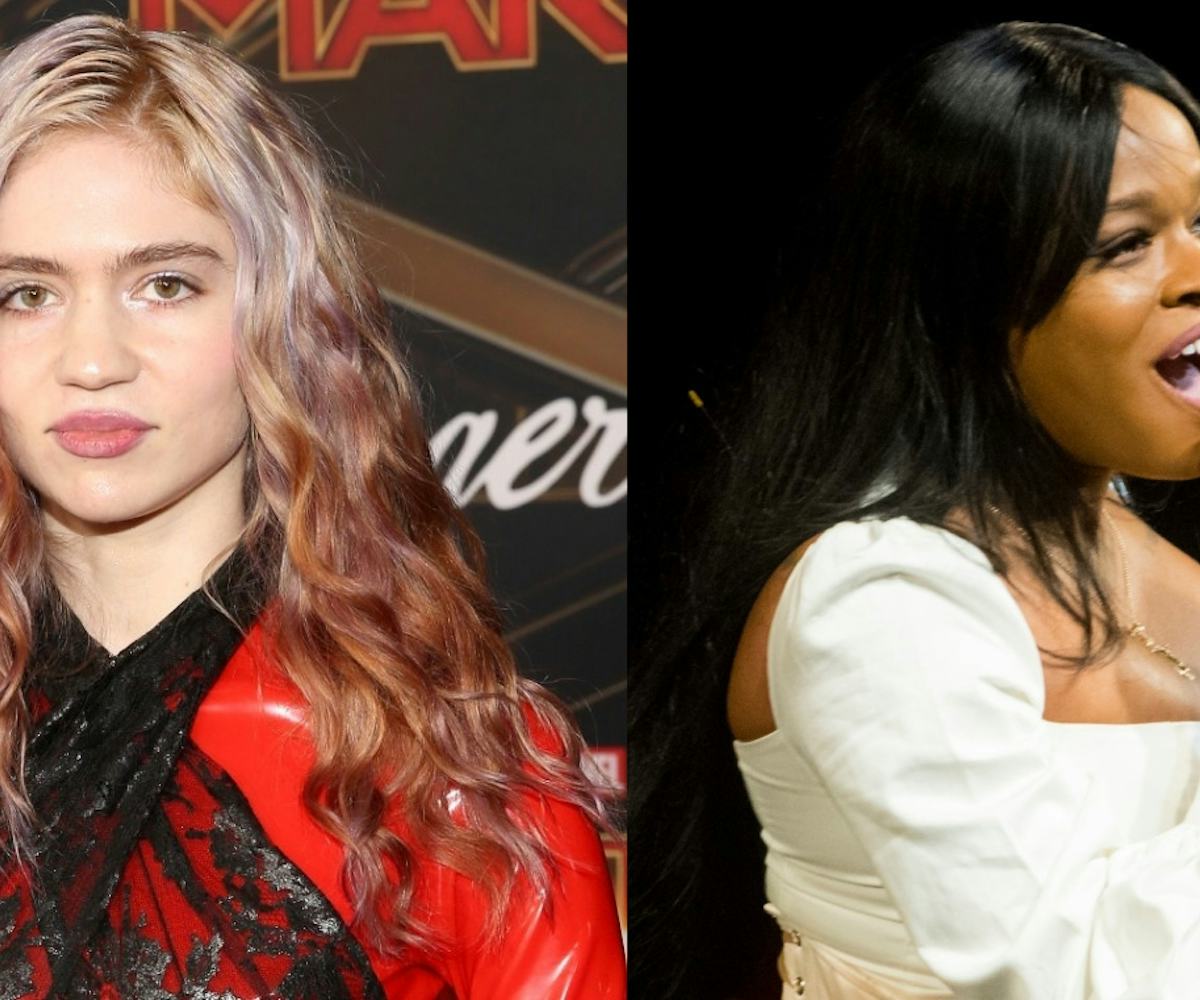 L: Jesse Grant/Getty Images for Disney; R: Photo by Matthew Baker/Getty Images
Azealia Banks Congratulated Grimes On Her Pregnancy. Is The Beef Over?
Banks says she's "filled with so much joy"
Is the Azealia Banks and Grimes beef officially over? Well, it just might be if the message Banks posted on her Instagram stories Thursday night is any indication. Not long after Grimes' made her pregnancy announcement post Thursday afternoon — a completely unexpected and slightly chaotic one at that — Banks quietly congratulated the pop star in a very chill and sweet Instagram Story post.
"Congratulations c.," it read. "You made it to the future. Incredible. Inspiring. Blessed. I am filled with so much joy. Love, Azealia." Aww.
Coincidentally, this make-nice comes nearly exactly a year after Grimes and Banks were subpoenaed by a California district court in relation to a class-action lawsuit Tesla investors were filing against Elon Musk — Grimes' partner and the assumed father of her child — also marking a complicated and very serious end to a months-long beef between the two pop stars.
If you're in need of a refresher, let's revisit that deranged period of time, shall we? Way back in August 2018 Banks posted a series of harrowing Instagram posts complaining that she had been trapped in "Elon Musks house alone for days waiting for @grimes to show up and start these sessions." In signature Banks fashion, she went on an incredible rant, calling both Grimes and Musk "crackheads" and Musk, specifically, a "beta male pig" (and that's just the least offensive insult). She then divulged a lot of intel regarding Tesla's business affairs, which eventually led to Grimes firing back at Banks for her indiscretion, allegedly calling her a "narc" in a series of leaked text messages between the two. Ultimately, after the drama led to actual legal consequences, it all slowly petered away after one last word from Banks in January 2019, who posted on her Instagram stories that all of it was "getting out of hand."
Either way, it seems like all's well between the two stars now. Which now begs this important question: When's the Grimes and Banks collaboration coming?