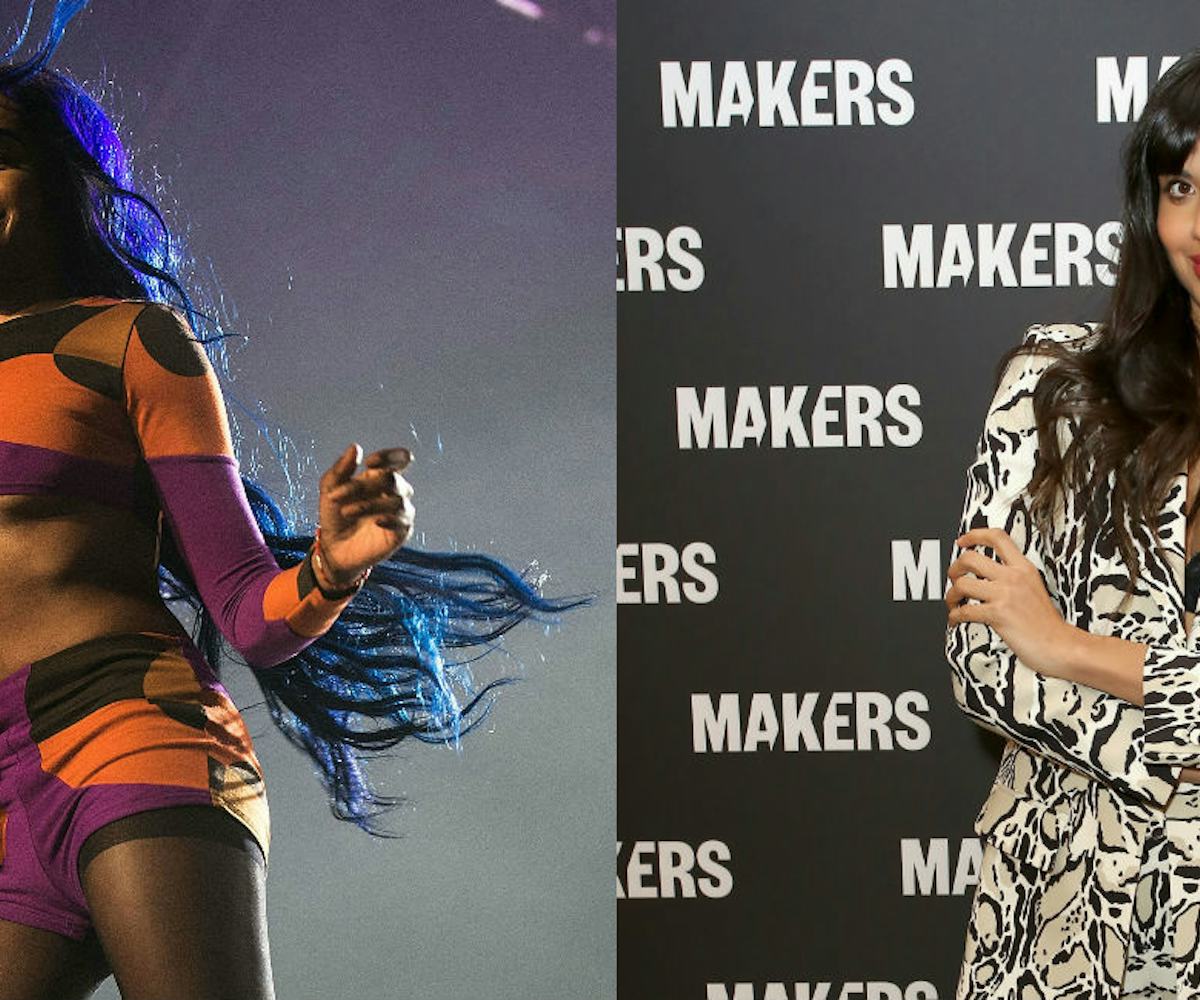 Photo by Cassandra Hannagan/Getty Images; Photo by Rachel Murray/Getty Images for MAKERS.
Jameela Jamil Calls Out Azealia Banks For Being "Obsessed" With Her
The two are feuding on Twitter
Another day, another Azealia BanksTwitter feud. This time around, the rapper appears to be taking issue with Good Place actress Jameela Jamil.
From what we can gather, things started a couple of days ago, after Banks replied to Jamil's tweet in which she wrote that bleaching and whitening creams should be banned. "Sis… you obviously use some sort of 'brightening' serum or nighttime repair product with skin lightening ingredients because your face is lighter than your body," Banks wrote. "You don't realize that a lot of the things you tweet come off as judgmental."
A couple of days later, Jamil replied saying that the choice to change "your eyes, hair, skin colour, body" is ultimately yours but that it "comes from some deep self hating programming." At first, Banks dismissed her response, noting that she's "days late," but then doubled down on her brightening accusations: "She's mad white in the face lol. Sis is a whole yawn tho. We been moved past her." To which Jamil then wrote: "You can't move past me. You keep trying me, with your endless thirst. You're obsessed with me." She then suggested that Banks go and make some new music: "You're so talented and intelligent, enough with your relentless toxicity, and fear of people accepting their skin and weight. It's SO tedious."
Jamil also revealed that she blocked Banks on Instagram, which the rapper swiftly denied. "I blocked YOU on Instagram after your 2% milk looking boyfriend tried to make us be buddies when all I wanted was some better beats," Banks wrote, referring to Jamil's boyfriend James Blake. "Your nigga cancelled our collab because I said I didn't like Lena Dunham. Foh."
You can follow along with the drama, if you want, on Twitter.