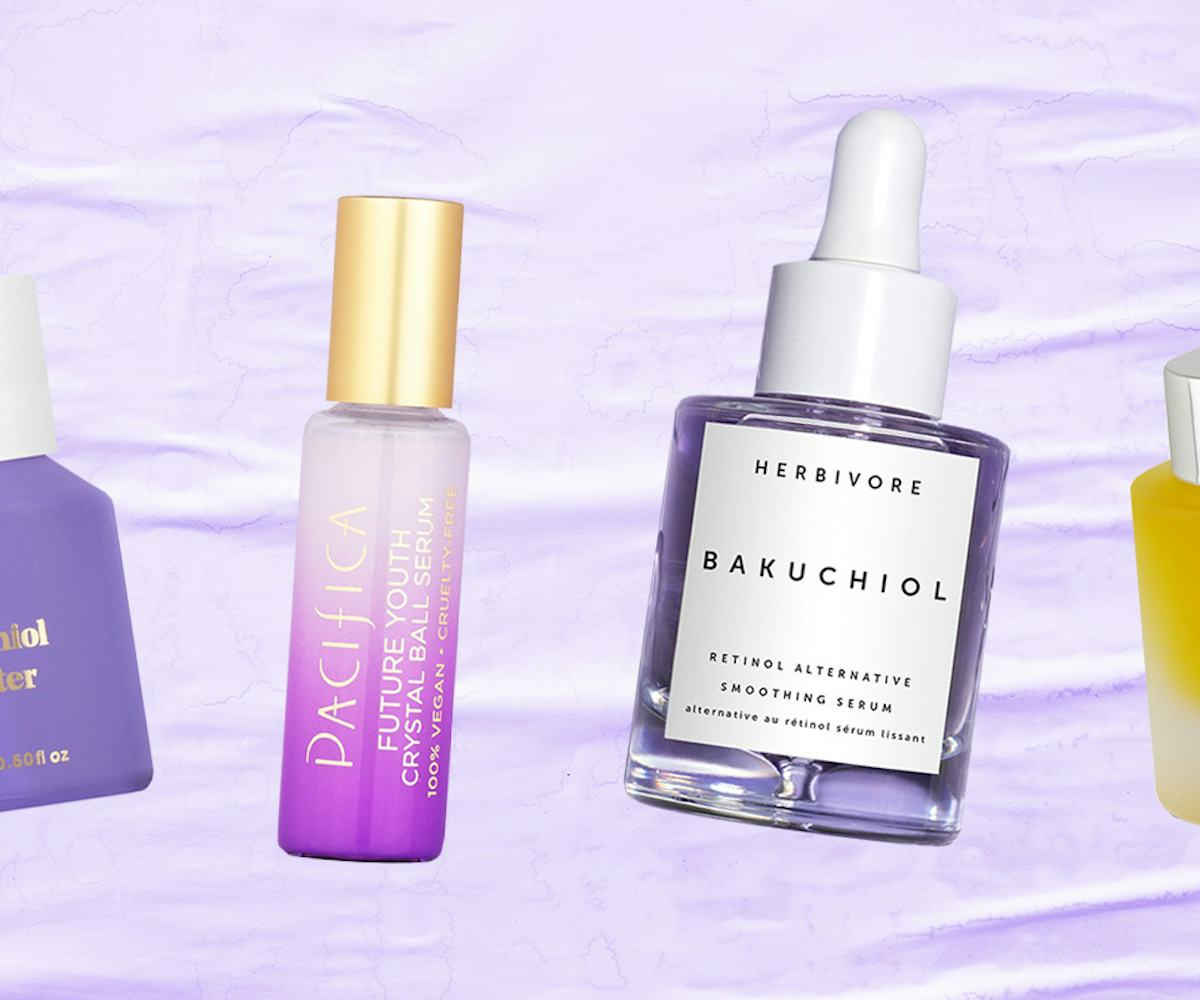 Everything To Know About Bakuchiol, The Non-Irritating Answer To Retinol
The experts give us the lowdown on the natural alternative to retinol
It seems that the whole beauty world has become fascinated with retinols, the over-the-counter version of retinoids, a form of vitamin A that offers skin-care benefits such as treating acne, increasing collagen production, fading age spots, and treating and preventing wrinkles—just to name a few of its uses.
However, along with all retinol's benefits come some possible negative side effects, which can include irritated, scaly, and dry skin and increased sensitivity to sunlight. These worrying side effects have made retinol unapproachable or intimidating to many—particularly anyone with dry, sensitive, or problematic skin, aka most of us. (For a more in-depth dive into retinols, read this.)
But with the recent boom of retinol in common skin-care products there has also come a new boom of its natural alternative, a newly buzzy ingredient named bakuchiol, which promises fewer of the not-so-great side effects of retinol, making it a miracle product for those unable to handle retinols.
While we know bakuchiol certainly isn't a new discovery, we've seen its popularity, especially in the natural beauty world, skyrocket over the past few years—and particularly in the past couple of months—as it has rightfully earned its title as the new magic ingredient of the moment
So, what exactly is bakuchiol? In simplest terms, it's a plant-based ingredient that yields similar benefits to retinol; but for a more in-depth explanation, holistic dermatologist Dr. Keira Barr told us this:
Bakuchiol is a meroterpene phenol, an antioxidant, most abundantly found in the seeds of the plant Psoralea corylifolia [otherwise known as the babchi plant], but can also be found in other plants including Psoralea glandulosa, Pimelea drupacea, and Poper longum. It has a long history in medicine for its anti-inflammatory, antioxidant, anti-proliferative, and anti-acne properties. Although it has no structural resemblance to retinoids, bakuchiol has been shown to function similarly to traditional retinols by targeting similar cellular pathways.
It also has a long history, too. According to Mia Davis, director of mission at clean beauty retail authority Credo, this wonder ingredient has long been a part of traditional Asian and Ayurvedic medicines.
Barr explained why bakuchiol has become so acclaimed, telling us that its "benefits include skin with smoother texture, less hyperpigmentation, improved elasticity, and fewer wrinkles," and adding that it would be of use to anyone "looking to even out skin tone, texture, decrease hyperpigmentation, fine lines, and wrinkles, and to boost elasticity and collagen production. Basically, anyone looking to get glowing skin without the significant irritation that is so common with retinols."
She added that, unlike retinols, bakuchiol influences a number of different antioxidant processes that may contribute to its anti-aging abilities: "It activates signals that play a role in the skin's ability to combat oxidative stress, fight free radicals, and reduce hyperpigmentation."
To further prove these benefits, she highlighted a 12-week study that was published in the British Journal of Dermatology, which showed "significant improvement in lines, wrinkles, pigmentation, elasticity, and skin firmness, with an overall reduction in photoaging without the dryness, scaling and irritation typical of retinols." Barr finished: "Same results, and better tolerated… can you say win-win?"
As Davis further explained, the fact that bakuchiol is plant-based is also a compelling proposition: "Considering that it's a safer alternative to conventional ingredients, it's a smart swap for those looking to makeover their skin care regimen."
While some natural ingredients can be irritating for sensitive skin, apparently bakuchiol can be used by pretty much anyone, and can be especially beneficial to those for which retinols aren't well suited. "Bakuchiol is well tolerated without the irritation, scaling, and dryness of retinols, so it's suitable for all skin types, and may be especially helpful for those with sensitive skin," said Barr. "It also provides anti-inflammatory and anti-bacterial properties for those with oily or acne-prone skin. And, given that it's structurally different than retinols, it's a useful alternative while pregnant or breastfeeding."
However, it is important to keep in mind that, while bakuchiol may not necessarily cause the intense sun sensitivities caused by retinols and retinoids, and can be applied in the morning (something warned against for retinols), that doesn't mean you don't need to still use SPF. "There isn't enough information to say no, conclusively [that bakuchiol doesn't cause the same sun sensitivities as retinol], though it is structurally different than retinol and doesn't appear to irritate skin," said Davis. "If you do use it during the day, don't forget your SPF—always, of course! Or, grab some shade."
So, there you have it. A perfect alternative for natural skin care enthusiasts and sensitive or oily complexions alike, bakuchiol is pretty much a no-brainer for everyone from teens suffering from acne to those in their 30s and above who are looking to reap some anti-aging benefits.
We rounded up some of our favorite products containing the new, natural miracle ingredient of the moment. Shop them, below.
Herbivore, Bakuchiol Retinol Alternative Serum, $54, available at Herbivore.
Pacifica, Future Youth Crystal Ball Serum, $16, available at Pacifica.
Omorovicza, Miracle Facial Oil, $120, available at Omorovicza.
Alpyn, PlantGenius Melt Moisturizer, $60, available at Credo.
Ole Henriksen, Goodnight Glow Retin-ALT Sleeping Créme, $55, available at Sephora.
Graydon, Green Cream, $43, available at Credo.
Bybi, 1% Bakuchiol Booster, $16, available at Bybi.
NYLON uses affiliate links and may earn a commission if you purchase something through those links, but every product chosen is selected independently.