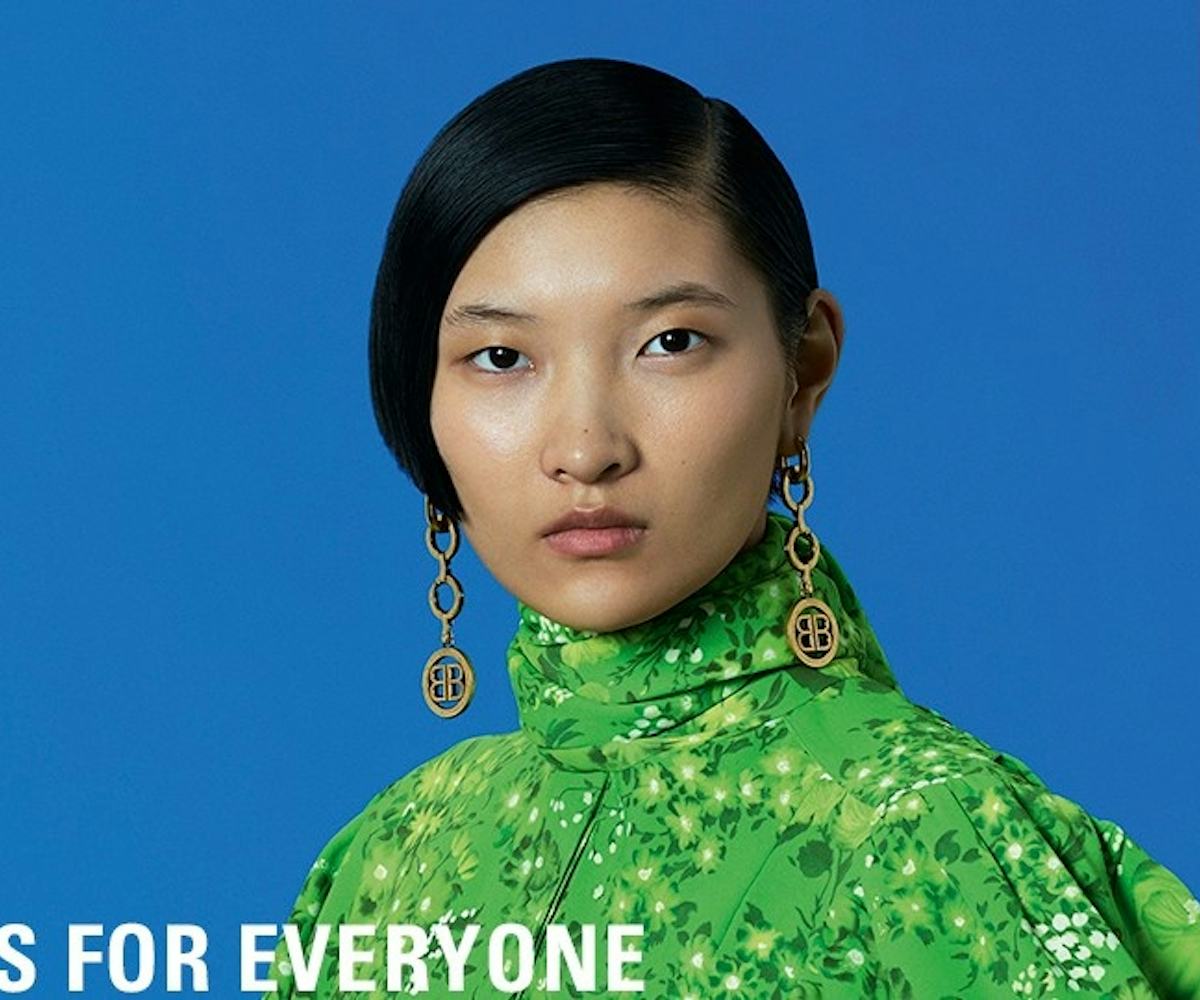 Photo by Laurence Chaperon
Balenciaga's New Campaign Has Extreme Presidential Primaries Energy
The presidential primaries are upon us and Balenciaga's Spring 2020 campaign would like to get in on the action. Photographed by Laurence Chaperon, whose previous work includes political posters, the new imagery for the French fashion house highlights very familiar political-leaning phrases, such as "Love Is For Everyone," "Power Of Dreams," "Think Big," and "We Vote For Tomorrow."
It is far from the first time Balenciaga has adopted political motifs for fashion inspiration. Back in 2017, Creative Director Demna Gvasalia debuted a collection seemingly inspired by the Bernie Sanders campaign, using red, white, and blue colors and a logo (eerily similar to that of the presidential candidate) on hoodies, scarves, and jackets.
While Sanders even acknowledged the similarities, commenting, "Of my many attributes, being a great dresser or a fashion maven is not one of them." However, Gvasalia later revealed that the collection was not intended to be a direct support for the presidential candidate.
"To be honest, the collection was not inspired by Bernie Sanders, it was inspired by [all things] corporate," he said during Vogue's Future of Fashion conference in October 2017. "One of the things we wanted to create was a logotype that gave a corporate vision very vividly. In my research, Bernie Sanders's was most present at that time; that's why it resembles it so directly and obviously I was very aware of it. I wanted it to be [similar] — that was my message with this collection."
The Spring 2020 collection includes a slew of anticipated pieces from Balenciaga, including the slimmed-down Tyrex sneaker, an updated version of the Hourglass handbag, and a new Ghost bag. It also includes a collaboration with Sanrio on a handful of Hello Kitty accessories, because Hello Kitty 2020, I guess?
See more from the new Balenciaga campaign, below.